Posted September 27 by Niranjan Reddy
Sep 27 by Niranjan Reddy
The Best Ecommerce Platforms for Small Businesses:A Comprehensive Guide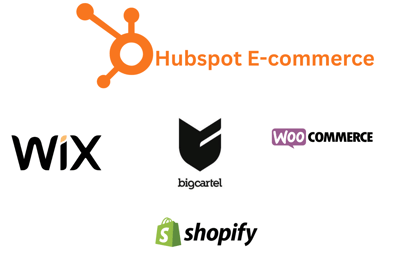 Introduction:
In today's digital age, establishing an online presence is crucial for the success of any small business. Ecommerce platforms offer an accessible and cost-effective way to reach a global audience, enabling small businesses to compete on a level playing field with larger enterprises. With a plethora of options available, finding the best ecommerce platform and small businesses can be a daunting task. In this comprehensive guide, we'll delve into the top ecommerce platforms tailored to the unique needs of small businesses, focusing on factors such as user-friendliness, features, pricing, and scalability.
HubSpot Ecommerce: The All-in-One Solution
HubSpot is renowned for its inbound marketing and CRM (Customer Relationship Management) software. In recent years, HubSpot has expanded its offerings to include a robust ecommerce platform, known as HubSpot Ecommerce. What sets HubSpot apart is its focus on providing a holistic solution that combines marketing, sales, and ecommerce management in one integrated platform.
Key Features of HubSpot Ecommerce:
Integration: HubSpot Ecommerce seamlessly integrates with HubSpot's marketing and sales tools. This means you can manage your online store, track customer interactions, and automate marketing campaigns all within the same platform.
Personalization: HubSpot Ecommerce enables businesses to create personalized shopping experiences for customers, tailoring product recommendations and content based on their behavior and preferences.
CRM Integration: With its CRM capabilities, HubSpot allows businesses to track and manage customer relationships effectively, helping with customer retention and upselling.
Analytics: HubSpot provides robust analytics and reporting features, giving businesses insights into their ecommerce performance and customer behavior.
HubSpot Ecommerce is an excellent choice for businesses looking for a comprehensive solution that combines ecommerce with marketing and CRM. It's especially beneficial if you want to create personalized shopping experiences and have a unified view of your customers across all touchpoints.
Shopify: A Versatile Solution for Small Businesses
When it comes to the best ecommerce platform for startups and small businesses, Shopify consistently stands out. Known for its user-friendly interface and robust feature set, Shopify caters to businesses of all sizes. It offers a wide range of customizable templates, allowing businesses to create a professional and unique online storefront. Moreover, Shopify's app store provides a plethora of add-ons, enabling businesses to tailor their ecommerce site to their specific needs.
For small businesses, Shopify's integrated payment gateway and secure hosting services are invaluable. The platform also offers a variety of pricing plans, making it accessible to businesses with different budgets. From inventory management to marketing tools, Shopify provides a comprehensive solution for ecommerce for small business owners.
Shopify is renowned for its user-friendly interface, making it accessible even to those with minimal technical expertise. This is particularly beneficial for small business owners who may not have a dedicated IT team.
The platform offers a wide variety of customizable templates, allowing businesses to create a visually appealing and unique online storefront that aligns with their brand identity.
Shopify boasts an extensive app store that provides additional functionality and features. Small businesses can easily integrate apps for inventory management, email marketing, and analytics, among others.
Shopify provides secure and reliable hosting services, which is especially crucial for small businesses as it ensures the safety of customer data and transactions.
Payment Gateway Integration:
Shopify offers its integrated payment gateway, Shopify Payments, which simplifies the process of accepting payments online. It also supports numerous third-party payment gateways for flexibility.
WooCommerce: Seamless Integration with WordPress
For businesses already leveraging WordPress, WooCommerce emerges as an excellent choice for ecommerce. As a plugin, WooCommerce seamlessly integrates with existing WordPress websites, transforming them into fully functional online stores. This makes it an excellent option for businesses looking to maintain a unified brand identity across their website and ecommerce platform.
WooCommerce offers a range of customizable themes and an extensive library of plugins, allowing businesses to add features like advanced analytics, SEO optimization, and email marketing. Additionally, WooCommerce is a cost-effective solution, as it is open-source and offers a range of free extensions. This makes it one of the best ecommerce platforms for startups and small businesses looking to keep costs down while still enjoying robust ecommerce functionality.
If your small business already has a WordPress website, adding WooCommerce is seamless. It transforms your existing website into a fully functional ecommerce store, saving you time and effort.
WooCommerce is highly customizable, allowing you to tailor your online store's appearance and functionality to your liking. You can choose from a wide range of themes and plugins to enhance your site.
As an open-source plugin, WooCommerce is free to use, making it a budget-friendly option for small businesses. While some premium themes and plugins may have costs, there are many free options available.
WooCommerce has a large and active community of users and developers, ensuring that you can find help, support, and additional features easily.
Big Cartel: Ideal for Creative Entrepreneurs
Small businesses in the creative industry, such as artists, designers, and crafters, often seek a platform that aligns with their unique needs. Big Cartel caters specifically to this niche. It offers a simplified, intuitive platform that focuses on showcasing products effectively. The platform allows for easy customization, making it an ideal choice for businesses with distinct branding and design requirements.
While Big Cartel may have fewer features compared to other platforms, it is a cost-effective solution, especially for those just starting out. The platform offers a free plan for small stores with limited products, making it an attractive option for artists and creators looking to establish an online presence.
Big Cartel prides itself on simplicity. It's easy to set up and use, making it perfect for creative entrepreneurs who want to focus on their craft rather than wrestling with a complex ecommerce platform.
Customization for Creatives:
The platform is particularly suitable for artists, designers, and makers who want to showcase their unique creations effectively. You can add high-quality images and descriptions to highlight your products.
Big Cartel offers a free plan for stores with a limited number of products, making it an attractive option for those just starting out. They also have affordable paid plans for growing businesses.
Direct Artist-Consumer Connection:
Big Cartel helps artists and creatives establish a direct connection with their audience. It's a platform where customers can discover and purchase products directly from the makers.
Wix: All-in-One Website Builder with Ecommerce Capabilities
Wix, celebrated for its user-friendly website builder, significantly expands its offerings with Wix Stores, specifically designed to cater to ecommerce platforms for small businesses. This comprehensive solution empowers businesses to craft visually captivating websites while seamlessly integrating ecommerce functionality. With a diverse array of templates and an effortlessly navigable drag-and-drop editor, Wix is the preferred choice for businesses seeking a stress-free ecommerce platform that perfectly aligns with their needs.
Wix also provides a variety of features, including inventory management, order tracking, and multiple payment options, making it suitable for a wide range of businesses. With its competitive pricing and user-friendly interface, Wix is an attractive option for small businesses seeking a comprehensive solution.
Wix's drag-and-drop website builder is one of the easiest to use, allowing small business owners to create a professional website without coding skills.
Wix focuses on aesthetics, offering visually stunning templates that can be customized to match your brand's look and feel.
Wix Stores seamlessly integrates ecommerce capabilities into your website. It provides features like product management, inventory tracking, and order processing.
Wix offers competitive pricing plans, including a free option with Wix-branded domain names. This affordability is attractive to small businesses looking to minimize costs.
Finding the Perfect Fit:
Selecting the best ecommerce platform for startups and small businesses requires careful consideration of factors like user-friendliness, features, pricing, and scalability. Shopify, WooCommerce, Big Cartel, and Wix all offer unique advantages tailored to different business needs. Whether it's the robustness of Shopify, the seamless integration with WordPress in WooCommerce, the creativity-focused approach of Big Cartel, or the all-in-one solution of Wix, there's a platform for every small business to thrive in the digital marketplace. Careful evaluation of these options will lead to the selection of the best ecommerce hosting for small business owners, setting them on the path to online success.
Conclusion:
In this comprehensive guide, we've explored the top ecommerce platforms tailored to small businesses. Shopify stands out for its user-friendliness and robust features, while WooCommerce seamlessly integrates with WordPress, making it a great choice for existing website owners. Big Cartel caters to creative entrepreneurs with its simplicity and affordability. Wix, known for its user-friendly website builder, offers an all-in-one solution for businesses seeking an appealing online presence. Ultimately, the best ecommerce platform for your small business depends on your specific needs and budget. Whether it's Shopify, WooCommerce, Big Cartel, or Wix, these platforms empower small businesses to thrive in the digital marketplace.

Niranjan Reddy leads Hermitcrabs, Inc, an B2B Tech Inbound Marketing agency and eCommerce Agency, Google Certified & HubSpot partner. Who specialize in helping some of the world's largest B2B enterprise tech, tech Start-ups, professional service, and pharmaceutical companies increase and nurture their sales and marketing pipelines. Hermitcrabs, core services include inbound marketing, sales enablement, account-based marketing, modern lead generation digital strategies and web development in HubSpot COS, Wordpress, Magento, and Shopify.