Posted January 31 by Niranjan Reddy
Jan 31 by Niranjan Reddy
Top Ways Inbound Marketing Uses HubSpot CMS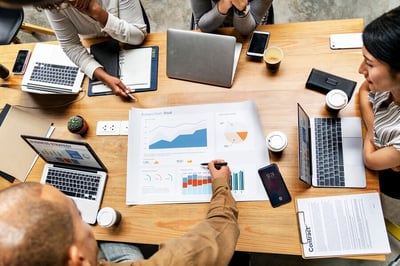 Indeed, different types of marketing techniques exist these days for businesses. Among them, inbound marketing is a technique that attracts customers by creating valuable content. Above all, this marketing technique works by creating content that is customized to customers. When you take the case of outbound marketing, it can disturb your audience with content that they do not always need. But, inbound marketing creates associations that they look for and resolves their issues. When these helps are provided to your customers, they will become loyal to your business.
When you intend to create a website for your business, the best thing you can do is to use HubSpot CMS.
Before understanding the ways inbound marketing uses HubSpot CMS, it is better to first understand what is inbound marketing.
Inbound Marketing – The Meaning:
Inbound marketing, as mentioned earlier, is a style of marketing. The key objective of this marketing technique is to generate brand awareness. It also aims at achieving client relationships that last. The marketing technique helps businesses achieve this by focusing on audiences that actively need the products or services. Also, the marketing technique achieves it by providing clients with the support and resources that help them achieve their goals.
So, the basic idea of inbound marketing is to find target audiences, who have a better probability to become your customers. Also, the idea of this marketing technique is to make them long-term customers by providing solutions to their issues. This marketing technique uses digital channels like social media or search engines as against traditional marketing techniques that use print media, television or digital channels.
How Inbound Marketing Works in HubSpot?
In HubSpot, inbound marketing takes three key stages. They are to attract, engage and delight customers.
1. Attract:
In this stage of inbound marketing, the marketer will develop brand awareness and will position himself/herself as a forerunner on specific topics in the industry for generating leads. According to HubSpot, some common strategies to follow for attracting customers include:
Creating appropriate and helpful content like guides, videos, social media posts or blogs.
Optimize your website and your content so that prospective customers can easily find them online.
Using non-interruptive advertising that offers valuable information to users.
2. Engage:
In this phase, marketers will take steps to nurture the leads. They will do this by providing them with more advanced content. Also, marketers will do this by answering the queries of customers. They do this by positioning themselves as solution providers. By doing this, they make potential customers buy their product or service as a solution to their issue. Some of the strategies to follow in HubSpot for engaging customers include:
Answering the calls of potential customers or following up after they call the business.
Another method to engage customers is to sell products or solutions to their issues.
Also, chatting with customers online can help with engaging them. For instance, the business can try to provide prompt support and answer questions when a customer is in the phase of decision- making.
3. Delight:
In this phase of inbound marketing, marketers offer excellent customer service and support so that customers can achieve their goals. They do this with the hopes that customers will continue their relationship with the business and will suggest the services and products of the business to their friends and family.
The common strategies to delight customers according to HubSpot are:
Offering fast support to customers via live chat and chatbots
Conducting feedback surveys to get feedback from clients so that they can be served better.
Social listening is another technique to delight customers. It means keeping an eye on what people say about the online presence of the business and responding graciously and quickly to feedback.
The HubSpot Sales Funnel:
Most marketers would have heard about the traditional sales funnel. According to this traditional sales funnel, awareness is on the top layer followed by interest and then decision and finally action as given in the picture below: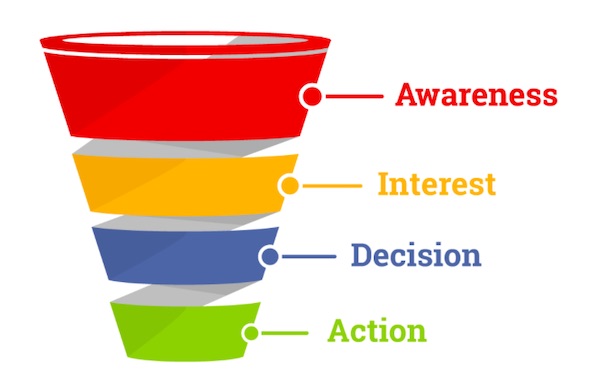 On the other hand, HubSpot does not follow the traditional approach above. But, HubSpot decided to replace it with a flywheel model as given in the picture below to explain the inbound marketing process: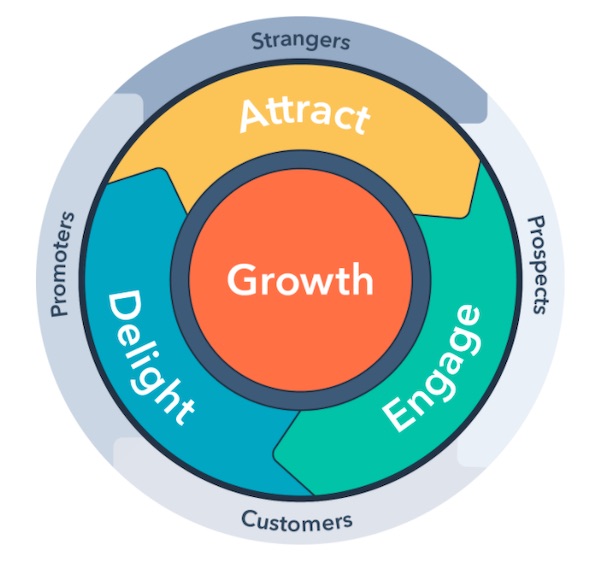 After seeing both pictures, you might think that both funnels are the same but only the shape is different. But, in reality, the funnel followed by HubSpot is called Flywheel. It denotes how inbound lead generation work, while the traditional sales funnel denotes the outbound lead generation procedure before the arrival of the internet.
Here comes the question of how are they different from each other. When you take the case of a traditional sales funnel, it is linear. In other words, it will take you from the initial phase a customer communicates with your business to the time they decide to place an order with your business. After they buy your product or service, they reach the bottom of the funnel and move away.
But, the positive thing about inbound marketing is that it is cyclical. The flywheel indeed begins with the initial communication of the customer with your business to arrive at the buying decision. However, it does not stop here and let the customer go out of the cycle. It will make the buyer stick to your business and make repeated buying.
Above all, a few of these customers have a higher probability of telling their business contacts and personal contacts about your products or services. Do you know that nearly 92% of consumers follow the recommendations from their family and friends over all forms of marketing? In turn, you can expect to get some great leads.
Building Momentum in Flywheel:
With HubSpot CMS, you can spin and can develop momentum in your flywheel. You can do this by spending time and resources on strategies that attract and retain customers. They can function as forces for your flywheel.
However, you should be cautious about flywheel friction. Flywheel friction is something that can slow down your flywheel. In most instances, the biggest sources of friction to your customers get into play when the sales team hands over the customers to the customer support team. To prevent this friction, there should be good communication between teams. Proper communication between teams will make the flywheel of inbound marketing spinning to keep things smooth.
Use Inbound Marketing to Grow Your Business to New Levels:
Not only HubSpot CMS but also the HubSpot CRM platform provides the best support for inbound marketing. It extends the support to all content management, customer service, sales and marketing endeavors of your business. In turn, your business can keep the customer relationship as the core.
In addition to being powerful, these tools perform better when they are used together. In turn, you can grow your market with inbound marketing.
When you bring together inbound marketing and HubSpot, you will see your business grow and get more customers to buy your products or services. Above all, they will continue to stay with your business and will refer your business to their friends and family.
What Will You Get With HubSpot Inbound Marketing?
Indeed, as a marketer, you will think about whether HubSpot CMS's Inbound Marketing tools will help your business grow. Here are certain things you can achieve with HubSpot's Inbound Marketing:
Quality Leads:v
Inbound marketing in HubSpot will help you generate persona-driven content. Studies show that this particular aspect of HubSpot increases the volume of Sales Qualified Leads by 45% according to LinkedIn.
Buyer personas will let you create content that goes with the requirements of people, who want and need your products or services. Buyer personas are nothing but friction characters that denote a group of your target audience.
When you write content that answers the questions of potential buyers, those looking for answers to their questions will be able to find you online. Above all, well-written content can help your business earn its trust. You know the value of trust for any relationship to stay long.
Less Expensive Leads:
According to HubSpot, inbound marketing costs nearly 62% lesser per lead as compared to traditional outbound marketing as per HubSpot. The reason is that the strategies used by inbound marketing are affordable like SEO, social media marketing and content marketing. Above all, you can publish the content on your own website without spending anything. Otherwise, you can post them for free on social media.
Better Conversion Rate on Your Website:
The other way inbound marketing in HubSpot can help your business is that it can literally double the average site conversion rate. When it comes to making your website findable online, search engine optimization can play a crucial role. When SEO is combined with high-quality development, user-friendly design and strong web copy, your website will turn out to be a safe and pleasing digital face for your business.
When inbound marketing is done well, it can increase the volume of potential visitors to your website. The reason is that potential customers may see useful SEO content published on your website through search engine result pages. From there, they visit your site.
Apart from these things, inbound marketing using HubSpot CMS can bring other benefits like easy-to-track results and mutual benefits to your business and customers.

Niranjan Reddy leads Hermitcrabs, Inc, an B2B Tech Inbound Marketing agency and eCommerce Agency, Google Certified & HubSpot partner. Who specialize in helping some of the world's largest B2B enterprise tech, tech Start-ups, professional service, and pharmaceutical companies increase and nurture their sales and marketing pipelines. Hermitcrabs, core services include inbound marketing, sales enablement, account-based marketing, modern lead generation digital strategies and web development in HubSpot COS, Wordpress, Magento, and Shopify.