Posted February 22 by Niranjan Reddy
Feb 22 by Niranjan Reddy
Our Secret to WCAG and ADA Site Compliance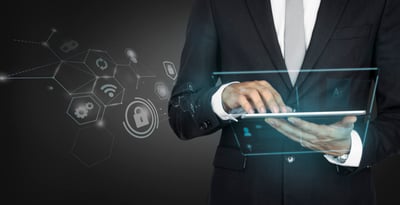 In this free world, everyone has equal access to digital online content. There can be no discrimination based on nationality, race, or based on the physical and mental condition of a person. As a business owner, you may take certain decisions to benefit your customers, but other decisions bind you legally. The Americans with Disabilities Act (ADA) concerns both the above. While on the one hand, it protects the rights of people with disabilities to have equal access to online content and services, on the other it makes it puts the onus on business owners to build ADA-compliant websites. Apart from ADA, the Web Content Access Guidelines (WCAG) have put in place some principles to make sure that people having any kind of disability get an equal opportunity to access online content.
The World Bank has estimated that around the world, nearly one billion people are living with some kind of disability. Making your website ADA-compliant and building it as per WCAG guidelines means that your website will provide the same benefits and will be equally relevant to these people with impairments as to the other visitors or potential customers. Your website should be so designed that everyone can freely use it without any hassles, irrespective of their physical or mental condition. So, today it has become necessary to build such mobile apps, software, e-services, and digital content that can be fully accessed by people with disabilities. Let us first look at what is ADA and WCAG.
The Americans with Disabilities Act (ADA)
ADA is legislation for the U.S. civil rights for the protection of people with disabilities and is aimed at stopping any discrimination against them. This means that such people get equal access to opportunities pertaining to employment, participating in government programs and services, and purchase of merchandise. There are no specific guidelines in ADA to describe how a website should be made to make it accessible to people with disabilities. But it provides that disabled people have the right to take legal action for failure to provide them equal access to websites and online services. Although ADA has not included websites specifically in its wording, many court rulings have deemed them as places of accommodation as per the law.
Now the question arises how does ADA benefit people with liabilities. There are disabilities that are common among people and which restrict their free use of websites. Some people may not be able to recognize some colors while others may be unable to read small fonts. Some others might not be able to view some of the visual content on the website. And some may be able to use their hands in a limited way thus restricting their ability to navigate freely through your website. So, ADA ensures that websites are designed keeping in mind the needs of all these people and that they are able to use every website as freely as other people.
The Web Content Accessibility Guidelines (WCAG)
WCAG is a set of guidelines for accessing digital content and services that is acknowledged across countries. These guidelines were enacted by the international web standards group World Wide Web Consortium (W3C) which also manages it. This is more of a reference for the businesses. ADA does not specifically describe requirements for accessibility. Moreover, every possible disability has not been mentioned specifically in ADA. It rather describes a disability as some kind of physical or mental infirmity that restricts the normal everyday functioning of an individual. So, the Web Content Accessibility Guidelines act as a standard to measure the accessibility of a website. There is a checklist available under WCAG by which you can determine whether your website complies with the criteria laid down by them. WCAG has described three levels of accessibility. These are:
Level A: This is the minimum level of accessibility that a website fulfills. This means that the website is accessible to only a few users.
Level AA: At this level of accessibility, the website fulfills the requirements of accessibility defined by the law. So, here almost all users can access the website.
Level AAA: This is the maximum level of accessibility and it exceeds the legal requirements. This means that the website can be accessed by all users.
It should be noted here that Level AAA is the recommended level to be attained by a website. However, it is quite probable that some websites and content may not be able to attain this level. In order to avoid any legal actions or lawsuits, you must strive to attain at least Level AA.
The importance of website accessibility
Now, the next question is why it is important to make your website accessible to all? There are three aspects to this which are discussed below.
Legal - It doesn't need to be stated that website accessibility is a legal requirement according to ADA. Almost all websites come under this act. Apart from this, many genuine litigants and espousing groups are constantly active in defending the right to accessibility. So, to avoid these hassles, it becomes essential to make your website accessible.
Diversity, Equity, and Inclusion (DEI) - Everyone, including people with disabilities, has a right to digital inclusion. Irrespective of location, race, or physical or mental condition, each and every person should be included in the reach of digital content and services. It has to be all-inclusive and never exclusive. No one should feel left out of this. Nothing can best describe this than the situation during the pandemic when everyone had to turn to the internet for virtually everything. That was the best example of the necessity and importance of accessibility.
Opportunity - There are over one billion people with different kinds of disabilities all over the world. There are people with disabilities like vision, hearing, and cognition that restrict their access to websites. Making websites accessible to them provides them with an opportunity to move with the rest of the world.
How does your website become ADA-compliant?
There is just one simple way to make sure that your website complies with ADA - follow the WCAG guidelines. These guidelines were initially published by the University of Wisconsin-Madison and have been regularly updated to incorporate new web developments and things arising from new research. Its most recent version is WCAG 2.1 which has divided the guidelines into four main categories which are Perceivable, Operable, Understandable, and Robust and they are called POUR in short form. Following these guidelines in building your website would make it ADA-compliant. Let us discuss each of these categories in detail.
Perceivable
Your website must be such that users can perceive the information presented to them there. Your website must fulfill its success criteria to the fullest even for users with any kind of disabilities. If there is any content on your web pages that users are unable to recognize or can't interact with, your site is deemed inaccessible. They may be unable to view the text on the pages or videos or images presented on the page. So, to make it accessible, it is important to provide alternative ways for users to perceive the content on your pages. This may include providing audio for text for the visually impaired or providing written text as a substitute for audio to the hearing impaired. You can do this in the following ways.
If there is any non-text content on your site, create an ALT text so that whenever a media file appears on your web page, it can provide a simple description of that content.
Whenever and wherever some multimedia like video appears on your website, provide a simple caption for users with hearing impairment.
You should create your text in a way that includes assistive technologies like screen readers. You may follow a predictable intro-text inclusion structure and try to avoid putting text on images.
Design your website in such a way that color becomes a non-essential choice so that people with color blindness do not face any difficulty in navigating through your website.
Operable
Every user must be able to operate your website without any difficulty. In other words, irrespective of the device they are using, users must be able to easily navigate through your website and use every feature that your website is offering. The components of the user interface must be operable. And this includes the ways and provisions of navigation and interaction with your site that must be accessible. The user interface should not need any interaction that a user can't perform. You can make your website operable in the following ways:
Make sure that all functionalities are approachable from a keyboard
Users should get enough time for reading and using content. Avoid strict time limits or autoscrolling
Ensure that other methods of input like mouse and voice recognition are equally smooth
Do not use any content that could result in convulsions or confusion in audiovisual
Include assistance for navigation on your website. This can be done by intuitive menus.
Understandable
This one explains itself. The content on your website should be as normally understandable to users with disabilities as to others. This should encompass not only the main content but also any extra tools on your website like navigation and forms. A perceivable website doesn't necessarily mean it is understandable also. To make your website understandable to a wide range of users, the content on your website must be focused and precise. Users should also be able to understand the operation of the user interface easily. You can make your website understandable by including the following in your website:
The header HTML tag of every page should make its language clear. Don't overuse jargon and idioms because assistive technology may be unable to recognize them.
Make sure that content appears and navigation can be done in a predictable way. It should be consistent throughout the entire website
Users with disabilities should be provided assistance for avoiding and correcting mistakes. For this, you can use labels and error correction tools along with instructions.
Robust
And lastly, to make your website ADA-compliant, make it robust in a way that users with disabilities needing assistive technologies get the same experience as other users. For this, such technology must be used in building a website that would be reliable for many different types of user agents because websites have to function on different platforms and devices. This means users must be able to access your website even with advancements in technology. Also, your website must be compatible across browsers so that users can choose the browser of their preference. You can make your website robust by the following means:
Do not use any duplicates. IDs should be kept unique. For this, HTML and any other markup language should be optimized
When the user has taken enough action, make use of messages for giving feedback that provides status like a message conveying the success of the activity performed on your website.
Make sure that the user interface components have clear names and roles so that they can be determined directly in the code.
Websites keep changing regularly with the addition of new content and design interface being updated and fine-tuned. All website designers aim to reach the AA level of accessibility and try to reach the AAA level of compliance. It is always important to keep the needs of the physically and mentally impaired in mind while designing a website. It is crucial for the future success of your website. And understanding and conforming to the ADA is important for all businesses. So, following the WCAG guidelines is the right way to provide equal opportunities for all. Following all the four techniques described above under the WCAG guidelines. you can easily make your website ADA-compliant.

Niranjan Reddy leads Hermitcrabs, Inc, an B2B Tech Inbound Marketing agency and eCommerce Agency, Google Certified & HubSpot partner. Who specialize in helping some of the world's largest B2B enterprise tech, tech Start-ups, professional service, and pharmaceutical companies increase and nurture their sales and marketing pipelines. Hermitcrabs, core services include inbound marketing, sales enablement, account-based marketing, modern lead generation digital strategies and web development in HubSpot COS, Wordpress, Magento, and Shopify.