Posted March 25 by Niranjan Reddy
Mar 25 by Niranjan Reddy
What Do HubSpot CMS Consultants Do?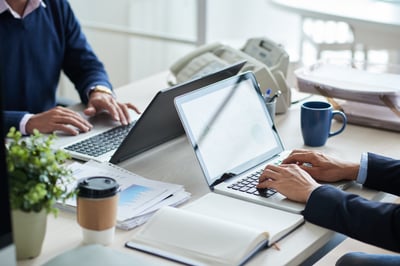 You might have decided to use HubSpot CMS. You might also have registered your HubSpot Account. But suddenly, you feel that you need some support to handle your HubSpot CMS. Thanks to HubSpot CMS Consultants! They can provide the right guidance and help with HubSpot CMS. Who are they and what can they do for you? Let us find out here:
Who are HubSpot CMS Consultants?
HubSpot CMS Consultants or Content Management System Consultants are professionals. They are specialized in helping businesses improve their websites. Even, they help businesses improve their online content and landing pages with the help of HubSpot CMS. These professionals offer a wide range of services to their clients. With the support of a HubSpot CMS Consultant, your business can create and even maintain a dynamic online presence. Most importantly, this expert will help you ensure that your website is optimized for lead generation. Not only for lead generation, with the help of a CMS Consultant, you can also get convert those leads into customers. Also, you can retain customers.
Why HubSpot CMS?
You might already have a website for your business. But, is it functioning as a powerhouse of visitor engagement and conversion? If not, you should consider moving to HubSpot CMS. It can function as a foundation for your website. When the content management system that you use on the backend of your portal is non-dependable and weak, the sufferer will be your website and your business.
With the help of HubSpot CMS Consultants, you can leverage its full potential. In turn, you can focus on other growth activities related to your business. These consultants can help you make your website stand out from that of your competitor websites. The good thing about HubSpot CMS is that it is empowered with HubSpot CMS which offers a wide range of sales and marketing benefits.
What Type of Help you can Expect from a HubSpot CMS Consultant?
When you get an opportunity to work with a HubSpot CMS Consultant, you can get help to grow your business to a new level with HubSpot.
Many businesses these days are aware of the value of HubSpot usage. CMS Consultants can help businesses with not only the formulation but also the implementation of strategies that work. You might be an experienced or inexperienced HubSpot User. HubSpot consultants can use their expertise to implement suitable strategies on the best practices on HubSpot CMS so that your business can get the optimized use of HubSpot.
Guidance to Make the Best Use of HubSpot:
You might have signed up for HubSpot Enterprise or Professional recently. But, you might not have realized or evaluated the return on investment you have made in one of these programs. But, professional HubSpot Consultants rightly understand that mid-market organizations wish to get the complete benefit from HubSpot. Nevertheless, issues can come up when you transition to any fresh platform or when you implement any fresh process. This is where CMS Consultants can help you. These professionals are highly trained and experienced in HubSpot CMS. Not only in CMS but also they will have expertise in marketing automation and CRM best practices. When you have a dedicated consultant to work with you on an ongoing basis or even a project-by-project basis, you can get help with everything starting from getting started with HubSpot CMS to mastering particular HubSpot Tools. Even, a CMS consultant can help you with crafting a multi-channel inbound marketing strategy. You can also get help with activating your sales team for achieving a specific business goal. Irrespective of your level of knowledge in HubSpot, having a HubSpot CMS by your side will help you ensure that you get full use of HubSpot.
Data-Backed and Highly-Informed SEO Recommendations:
You know that SEO is important for the success of any website. When you have an expert HubSpot CMS consultant by your side, he/she will provide you with highly-informed SEO recommendations. Most importantly, the data-backed recommendations offered by these experts will help you gain confidence when applying the SEO techniques recommended by the consultant. Above all, when you see the results in the form of SEO ranking for your website, you will feel more satisfied and excited.
KPI-Tracking and Reporting:
You might have heard about KPI-Tracking. It is a term used for referring to the tools and techniques that organizations can use for keeping an eye on performance metrics. When you measure Key Performance Indicators, you will get a lot of benefits like those mentioned below:
KPI Tracking can be helpful for your employees to drive improvements. This becomes possible for them as KPI tracking provides each of your employees with a sole source of truth for managing performance. With the easy-to-use dashboard offered by HubSpot, no data expertise is needed. So, every person in your organization can take advantage of actionable insights, thereby improving productivity and efficiency.
Customized HubSpot Setup:
Further, with the help of HubSpot CMS Consultants, you can get help with customized HubSpot Setup. Indeed, everyone does HubSpot Setup. but, to get the utmost advantage from HubSpot CMS, it should be done in a personalized manner. In turn, your team will be in a position to achieve the best results from the Content Management System of HubSpot.
HubSpot Implementation Services:
Let us consider that you have bought HubSpot Enterprise or Professional Software plan. Also, you have already done the setup and onboarding process. You might have integrated from Microsoft Dynamics or Salesforce. Also, you might have tried running some campaigns. Further, you might have entrusted someone with the responsibility to forerun HubSpot Implementation. Even after doing these things, you do not find any value yet. This is where the HubSpot implementation services offered by CMS Consultants can help you. With this service, you can get a solid foundation for your CRM platform. Also, they will help you make the most out of the powerful marketing automation software of HubSpot to instigate maximizing your outcomes.
Guidance to Build a website:
Further, a HubSpot CMS Consultant can help you build a website using pre-built website themes in HubSpot. In turn, you can build a website that is completely integrated with HubSpot. Also, with the help of a consultant, you can get your navigation, website design and custom logo needs to be met.
Planning Marketing Campaigns:
Right from initial setup to even planning marketing campaigns on HubSpot CMS, a HubSpot CMS consultant can help you. Also, with the guidance you get from this expert, you can establish efficient sales processes. Overall, you can get the right guidance from a HubSpot Consultant to develop a customer-first organization.
Guidance on Sales and Marketing Alignment:
You should not underestimate the importance of aligning sales and marketing. When you have a well-created process for handing over the process from marketing to the sales team, it will be possible to establish the responsibilities of both teams. Also, this type of process will ensure that every lead is obtained, kept track of and followed up with accordingly.
With a dedicated HubSpot Consultant, you can create a blueprint for the handoff procedure. A consultant can do this by guiding you in spotting and defining the stages of the lifecycle you should use. Also, with guidance from the consultant, you can spot what actions will trigger every stage, stating the tools that will be used and spotting which members of the team will take care of what.
Provide Personalized Engagement Experience:
Further, with the help of a HubSpot CMS Consultant, you will be in a position to provide a personalized engagement experience to your visitors. The reason is that the consultant will guide you with the implementation of a process within HubSpot CRM for keeping an eye on the visitors to your website. In turn, you will be in a position to achieve better conversions.
What Does HubSpot Consulting Involve?
In short, with the help of HubSpot CMS Consultants, you can grow with the guidance that meets your needs. Also, you can stay protected against blind spots. Professional consultants will align their product expertise, technical knowledge and strategic expertise to meet your needs so that you can get the best out of HubSpot CMS.
The CMS Hub is a cloud-based content management system that is popularly used by many businesses these days. With the CMS Hub, it will be possible both for marketers and developers to have the appropriate tools that need for the creation of websites that look appealing and attractive with the utmost attention to providing the best experience to customers. With the help of CMS Consultants, you can get complete guidance on:
How to use free tools in CMS?

How to Scale your content marketing functions with the advanced features that HubSpot offers?

Options that HubSpot offers with a premium Content Management System.
Conclusion:
If you are new to HubSpot CMS, guidance from CMS consultants will surely be of great help to you. You can get to know everything from a consultant right from basics to advanced levels. You can get the best knowledge transfer from a consultant to make HubSpot usage fun-filled.

Niranjan Reddy leads Hermitcrabs, Inc, an B2B Tech Inbound Marketing agency and eCommerce Agency, Google Certified & HubSpot partner. Who specialize in helping some of the world's largest B2B enterprise tech, tech Start-ups, professional service, and pharmaceutical companies increase and nurture their sales and marketing pipelines. Hermitcrabs, core services include inbound marketing, sales enablement, account-based marketing, modern lead generation digital strategies and web development in HubSpot COS, Wordpress, Magento, and Shopify.