Posted March 07 by Niranjan Reddy
Mar 07 by Niranjan Reddy
What is Mailchimp Integration and How to Connect with HubSpot?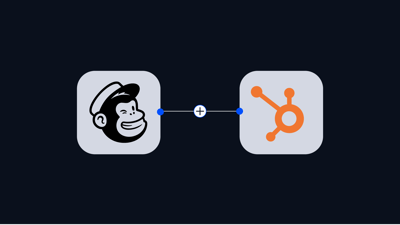 Before you understand how to do HubSpot Mailchimp integration, it is better to first gain a basic understanding of these two tools:
Mailchimp – An Introduction:
Mailchimp is an email marketing platform. Right from its launch in 2001, this platform has gained popularity as the best tool for the effective management of mail campaigns on the web. This platform now has more than a couple of million monthly active users. It has more than 13 million users in total. The annual revenue generated by the company is over $500, which is an indication that this platform is widely used by businesses.
The marketing software of Mailchimp lets you not only create but also manage your customer mailing list. Even, with this platform, you can effectively manage your marketing campaigns, newsletters, etc. With Mailchimp businesses are in a position to manage and control their end-to- end email marketing efforts with the help of email marketing tools they get with this platform. The central dashboard of Mailchimp helps with the effective management of marketing campaigns, campaigns and crafting emails with the help of its out-of-the-box marketing tools.
HubSpot – An Introduction:
HubSpot is again a software tool that many businesses these days use for effective communication with their evangelists, leads and customers. The satisfying thing about this platform is that it offers a wide range of tools for effective management of customer service, marketing and sales everything in a single place.
You can use HubSpot Tools for hosting your landing pages and your entire website. Apart from helping with the creation of blogs and email sequences, this platform can help you with the management of integration with your customers and leads. Above all, with HubSpot, you can evaluate how successful your marketing campaigns are. Even, you can keep an eye on the behavior of your users so that you make appropriate changes to your product or services to meet their demands.
Now, you know that both these platforms are effective in their own ways. So, integrating them will bring you better benefits. When you connect Hubspot to Mailchimp, you can engage your contacts, see Mailchimp email activities in HubSpot and can do more. Therefore, it is time to know how to do Hubspot Mailchimp integration.
Use HubSpot's Integration with Mailchimp:
You can bring together your HubSpot with Mailchimp Account for the addition of contacts forms other than HubSpot Forms to your lists in MailChimp and submitting pop-up forms. With the integration, you can view email activities done in Mailchimp in contact records. However, this is possible only when the Mailchimp Campaign meets specific required conditions. When using this integration, it will be possible to sync only contacts from HubSpot to Mailchimp and the reverse is not possible. In case, you wish to achieve a two-way sync, you will have to use HubSpot's Data Sync.
With the help of HubSpot Data Sync, you have the option to create either a two-way or one-way sync between HubSpot and other apps. You can use it for integrating HubSpot with Mailchimp as well. By doing this, you can unite all your customer data in a single platform. With Data Sync, you can sync activities and mail communications. When you integrate using Data Sync, you must have App Marketplace or Super Admin Permissions in your HubSpot Account.
Things To Remember When Integrating:
When you integrate HubSpot with Mailchimp, you should remember the points mentioned below:
It will not be possible for HubSpot to retroactively add contacts to a Mailchimp list.
HubSpot will alone send the email address, last name and first name of the contact to Mailchimp.
HubSpot cannot sync with a Mailchimp list that the needed merge tags as HubSpot do not send a value to these tags. It is suggested to sync your form with another Mailchimp list or get rid of the needed merge tags.
HubSpot can only trigger auto-response communications with the help of the automation feature of Mailchimp.
Bringing your Mailchimp to HubSpot:
To bring together your Mailchimp to HubSpot, you will have to follow the steps listed below:
In HubSpot Account, tap the settings icon. You can find this sign in the routing bar in the main page.
On your left-hand side menu, look for integrations and then choose email provider.
Tap "connect email provider"
Now, choose Mailchimp
You will be taken to a screen, where you can login. Here, you will have to provide the login credentials of your Mailchimp and then will have to tap login.
Review the permissions needed for your account and then click "Allow".
Now, you will be taken to the Email Provider section of your settings.
Just in case, you think about getting rid of the Mailchimp association from your HubSpot, you can tap the "Disconnect" option that you can find in the top right corner.
How To Push Contacts to Mailchimp?
The next thing you will have to do is to make changes to your non-HubSpot forms and pop-up forms for pushing contacts to Mailchimp. Here is how to do it:
Pop-Up Forms:
Log in to your HubSpot Account and go to marketing. Then, tap on the lead capture option followed by forms.
Now, move your mouse over the pop-up form that you wish to push to Mailchimp. When you do this, you will find an option called "Actions". Click on it and then tap edit form.
In the pop-up form editor, tap the options tab
In the push new contacts to your email provider section, tap on the option called "Select Lists".
In the dialog box, choose the Mailchimp list for the addition of contacts submitting this form and then click on the "Save" option.
In the top right corner, you will find an option called "Next". Then click the "Update" option. Non-HubSpot Forms:
In your HubSpot Account, look for the marketing option and then lead capture followed by forms.
Move your mouse over the non-HubSpot form you wish to push to Mailchimp. Then, tap the "Actions" dropdown menu and choose "Edit Mailchimp Lists".
In the dialog box, choose the Mailchimp list for pushing contacts to and then click on the "Save" option.
Synchronize Mailchimp Email Activities in a Contact Record:
You will be in a position to synchronize and see Mailchimp Email bounces, clicks, opens and sends on a contact record.
Turn on Mailchimp Activities Synchronization:
Your Mailchimp Campaigns will only synchronize with HubSpot if the conditions given below are met:
The date of sending a communication for the campaign is not earlier than 30 days before your Hubspot Mailchimp integration.
The campaign has a subject line and title that are not empty
The campaign is not part of an A/B Test
It is not part of the customer journey
To turn on the Mailchimp activity sync, you will have to follow the procedure listed below:
In your HubSpot Account, tap the settings icon
On your left-hand sidebar menu, go to integrations and email provider
Tap to switch on the option that denotes Mailchimp mail activities on HubSpot contact records.
To turn on the Mailchimp activity sync, you will have to follow the procedure listed below: When you turn on this setting, you can get to see mail activity of Mailchimp on the contact timeline. Also, you can create lists on the basis of mail functions and can register links into workflows on the basis of their email actions. Once in 15 minutes, synchronizing different activities in your email from Mailchimp for contacts that already exist will happen in HubSpot:
Email communication to a contact
The receiver opened the email
The receiver clicked the link in the email
Bounced email
See Mailchimp Email Activities in a Contact Record:
To view when emails are bounced, clicked, opened and received by contact on your HubSpot Contacts, you will have to do the following:
In your HubSpot Account, get to contacts and then click on the option called "Contacts"/li>
Tap on the contact's name/li>
In the record of the contact, choose the Mailchimp Checkbox below the integrations sections when you filter activities on the ticket record timeline, company or contact.
What Will You Get With HubSpot MailChimp Integrations?
Thankfully, HubSpot offers MailChimp that will help you Sync HubSpot contacts to Mailchimp. With this HubSpot Certified App, you can synchronize activities in both directions. If Mailchimp is already your email provider, this app offered by HubSpot is for you. With this tool, you can easily connect HubSpot to Mailchimp. Here are certain things that this app can do for you:
You can automatically sync your HubSpot CRM Contacts to MailChimp using this app
You can get to see the email activities happening in MailChimp in HubSpot
With this app, you can also keep an eye on the sync errors if any.
So, two-way integration becomes easier with this HubSpot Certified App.
Conclusion:
At Hermitcrabs.io, we have the best expertise and teams to handle not only HubSpot Mailchimp integration but also the integration of any other tool you use with your HubSpot Account. So, you can hand over the integration task to us when you can focus on the core activities to improve your business. We have got you covered for hassle-free HubSpot Integrations.

Niranjan Reddy leads Hermitcrabs, Inc, an B2B Tech Inbound Marketing agency and eCommerce Agency, Google Certified & HubSpot partner. Who specialize in helping some of the world's largest B2B enterprise tech, tech Start-ups, professional service, and pharmaceutical companies increase and nurture their sales and marketing pipelines. Hermitcrabs, core services include inbound marketing, sales enablement, account-based marketing, modern lead generation digital strategies and web development in HubSpot COS, Wordpress, Magento, and Shopify.