Posted March 04 by Niranjan Reddy
Mar 04 by Niranjan Reddy
How to Choose Right Content Management System?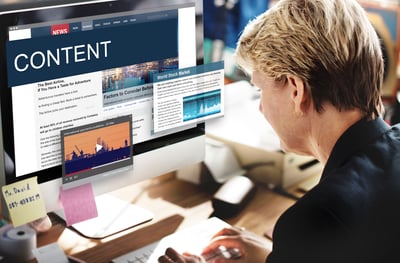 Selecting the right content management system or CMS for your portal is one of the most crucial decisions for your business. The reason is that the CMS will provide your business website with the functionality and framework not only for its design and development but also for your entire organization to thrive and grow online.
Nowadays, there is a considerable increase in the number of businesses operating in the digital space. In turn, the need for the right CMS Solutions has increased considerably. Many businesses search for the right CMS to do more with less, to bring down the overhead and total cost of the project. They know that the right CMS will help them stay competitive in terms of user experience both for site administrators and end-users.
Now, with these things known about a CMS, here are some ideas on how to choose the right Content Management System for your business website:
Tips To Choose The Right CMS for your Website:
1. Do not Build In-House/Bespoke CMS:
Indeed, you might believe that the website development team in your organization can build a customized CMS for your business including open source. Nevertheless, it might not work. Indeed, you might think that your team is good at planning and so they can handle things perfectly. But, irrespective of the level of planning they do, your team might not have years of experience in handling the complexities associated with developing a CMS. The level of developer support required when building a customized CMS undoubtedly outweighs the cost of choosing and buying a CMS. Also, custom CMSs tend to fail. If it fails, the precious time that your team spends in building it will turn out to be a waste. To avoid this, it is better to throw away the idea of developing a custom CMS.
2. Know About the Four Key Pillars of CMS:
When you intend to choose a web-based content management system, experts recommend that you should know about the four pillars of the best CMS:
a. Support: A good CMS will provide you with comprehensive support. It means that the support will not be restricted to fundamental project matches. You should get comprehensive support like strategic guidance, user mentoring, hosting support and even web development support.
b. Vision: The roadmap of any product will be determined by the way that a vendor views the market and its role. In the same way, when the vendor and the customer are rightly aligned, then desirable features will be added in an ongoing fashion and the product will continue to grow with the customer. If so, even if new features are added to the product, they turn out to be just cluttered. So, you should give importance to the vision of the CMS before choosing one.
c. Community: Before you choose a CMS, it would be good to look at your existing customer community for references and vision from organizations or people, who have similar goals and challenges.
d. Focus and Stability: Indeed, the CMS should pay attention to growth. But, it should not over- emphasize growth. The reason is that this emphasis can leave you on exit strategy and thereby you can become stranded. In case, you wish to choose a large enterprise CMS, ensure that the CMS is the core of the overall strategy of the business.
3. Customers and Personalized Experiences on Demand:
With digital technology, people these days, have grown accustomed to personalized, immediate, choice and convenience in any service they hire. More than a product, consumers are more demanding these days. They look for an experience, where your business knows, who they are, what is their history with your business and what they might require.
In short, to serve your customers better, your CMS should be in a position to consolidate all their interactions with your business. The source of communication can be anything like your mobile app, business website or even in-person communication. In turn, you can better anticipate their requirements and can offer them a straight path to getting what they require.
4. Core Functionality:
The core functionality of the CMS is an important factor to consider before you choose one. When thinking about the management of content, most people think about organizing, editing, deleting and creating website pages. They also assume that all CMSs do this and so they take things for granted when selecting one. Nevertheless, these functionalities should be presented by a CMS intuitively. For instance, not all blogging platforms permit users to organize and manage their pages in a tree hierarchy.
On the other hand, most CMSs automatically organize each post on the basis of category, date, popularity and other factors. Indeed, in most instances, organizing posts on the basis of these factors will suffice. Even, the availability of these simple facilities will make the CMS easier to comprehend and simple. However, for some users simple organizing can be frustrating.
The idea here is to consider the fundamental functionalities you look for from a CMS. Indeed, you might think that you do not need the ability to organize and structure the pages now. But, you might need it in the future. So, it is better to keep away from a CMS that does not permit you to complete these core tasks.
Further, you should ask yourself how easy it is to complete these tasks in a CMS that you have shortlisted. The idea here is to test the CMS for usability before you buy it.
5. Consider the Purpose of Your Website:
Before you choose a CMS, you should consider the purpose that your website is going to serve. Let us consider that you wish to develop a website that will sell products online. For this cause, you should look for features that the CMS offers related to eCommerce. Examples include mobile commerce, generation of reports, multi-store management, etc.
On the flip side, if you are working on a blog or you have an informational website with limited sales, you should choose a CMS that will make content marketing easy for you. Most importantly, in this case, publishing and managing content along with SEO should be done with ease. So, you should choose a CMS based on the purpose for which you intend to develop a website for your business.
6. Security:
Security is one of the key considerations in selecting a CMS. You should look for a CMS that will keep your customer data and content secure against present and also future threats. So, do not forget to consider the weightage the CMS gives to security before shortlisting one.
7. Market Prevalence:
Another key technique you can follow when it comes to narrowing down a CMS is by looking at the list of presently highly successful customers. Let us consider that if some reliable brands in your industry use a particular CMS, it is an indication that the features of the CMS are valuable and will expand with your growing needs. Even, if you are already working with a CMS, you might feel that it is not helping you to achieve your goals. In this case, looking at the CMS used by other brands in your industry will help.
Also, when you look at the CMS used by other brands in your industry, you can gain inspiration for your content strategy.
8. Access and Permissions:
You can identify whether a content management system is worth buying when it offers multiple levels of permission. Indeed, access should be available to the admin on certain areas of the website. Nevertheless, it should provide lower-level access to people so that they can edit a few sections of the website.
9. Needs of your Team:
The Content Management System you use will have a considerable impact on your team. Yes, it will impact the technical aspects that your developers will have to deal with, user experience for the content team and marketers and even workflows that cross-functional groups must be engaged with like sales, marketing and customer service. The idea here is to choose a CMS that should meet the needs of all people involved.
Before you choose a CMS, it is important to create a list of business needs and wants for each department. Thereafter, you should create a matrix that will launch priority for each. When you organize the process in this way, the decision-makers in your organization can access and can compare all alternatives and select the most effective one. The table below will help you understand things better:
| Department | What They Do Not Want? | What Do They Want Most? |
| --- | --- | --- |
| Upper Management | Increased Costs | The best collaboration between departments Efficient outcomes with the least requirement for support and maintenance |
| Customer Relations | Need for dependence on third parties or other departments to gather contact details of existing clients | Smooth system for the management of comments or questions for present customers. |
| Developers | Little control over key aspects like content structure and security | A system that fits their present experience and strengths Open source such that they can have greater access to a support community |
| Sales | Need to depend on third parties and other departments to gather contact information for leads | Integration or inclusion with an appropriate CRM to follow up on leads and close fresh customers. |
| Marketing | Need for experience in any programming language | Compatibility with different forms of browsing for reaching a wide range audience Intuitive interface for drafting and publishing blogs |
Conclusion:
You can get help from the 9 tips given above when choosing the right content management system. Apart from these factors, it is also better to ensure that the CMS does not make you heavily reliant on a developer.

Niranjan Reddy leads Hermitcrabs, Inc, an B2B Tech Inbound Marketing agency and eCommerce Agency, Google Certified & HubSpot partner. Who specialize in helping some of the world's largest B2B enterprise tech, tech Start-ups, professional service, and pharmaceutical companies increase and nurture their sales and marketing pipelines. Hermitcrabs, core services include inbound marketing, sales enablement, account-based marketing, modern lead generation digital strategies and web development in HubSpot COS, Wordpress, Magento, and Shopify.