Posted January 10 by Niranjan Reddy
Jan 10 by Niranjan Reddy
HubSpot Onboarding vs. Elite HubSpot Partner Onboarding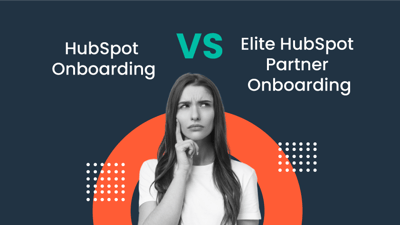 Have you used HubSpot earlier? Otherwise, do you know a friend using HubSpot? If so, you might have heard that HubSpot brings the opportunity for data-driven strategic insights. In turn, it will be possible to activate comprehensive digital marketing campaigns with HubSpot. Even, it will help with the creation of a more valuable feedback loop between teams. Indeed, many business owners expect to buy their licenses. They wish to immediately transform their lead management process. Nevertheless, it can need a highly customized approach. This approach is required for the creation of a bespoke foundation that your business requires.
What Does HubSpot Onboarding Mean?
Onboarding, as you know, is a term used for denoting the process of getting into something new. For instance, when you hire an employee and he joins one of your teams afresh, it means that he is onboarding into your organization. The same meaning applies to HubSpot Onboarding as well. You have bought a HubSpot account but do not know how to start using HubSpot. In this case, HubSpot Onboarding services can help you.
The purpose of HubSpot onboarding services is to support you in every step of the onboarding process. As soon as you buy a HubSpot Account, the onboarding services of HubSpot will develop a bespoke onboarding plan. They will do this after discussing things with you. Finally, they will decide on an onboarding process that will help your business reach its crucial goals that too at a faster pace.
How Is An Onboarding Plan Designed?
Experts in HubSpot will design a HubSpot Onboarding plan based on:
The highest priority goals of your business
The complexity and size of your organization
The products you have bought from HubSpot
Your present technology stack and how it gets together with HubSpot
On the completion of onboarding with HubSpot, you will gain the confidence. This confidence is required for using HubSpot to reach your organizational objectives.
When you choose HubSpot onboarding services, you will get onboarding help for all hubs like Marketing Hub, Sales Hub, CMS, and Service Hub. Here is what you will get under each of these hubs:
Marketing Hub Onboarding: Get strategic and technical guidance from HubSpot Team on how to set up and use Marketing Hub. You will learn how to grow traffic, convert leads, and achieve the goals related to your marketing department.
Sales Hub Onboarding: With Sales Hub Onboarding Service from HubSpot, you will get technical help for setting up Sales Hub. Even, you will get actionable guidance to scale and simplify your sales process. In turn, your sales team will become competent enough to complete more deals.
Service Hub Onboarding: Yes, you will get technical assistance with setting up the Service Hub. Even, you will get strategic advice on methods you can follow to serve your customers better with the help of HubSpot.
CMS Onboarding: You have guessed it right! You can get your website set up and joined with HubSpot CMS with this onboarding service. With this guidance, you can gain the confidence required for optimizing your site. Also, you will get help with effective data management on your website and improving your content strategy.
Now, you know everything about HubSpot Onboarding Services. At this juncture, you should learn about Elite HubSpot Partner Onboarding.
What is Elite HubSpot Partner Onboarding?
When you hire Elite HubSpot Partner Onboarding, you will get the onboarding service for HubSpot from an Elite Partner of HubSpot.
You might wonder when to get help from an Elite HubSpot Partner. Here are some instances that will make getting help essential when:
Your company has recently bought a HubSpot License
Your processes require a bespoke approach to setup and automation
You need guidance with the technical setup of the HubSpot Platform
You require additional training for you and your team for the better utilization of HubSpot's Tools.
HubSpot Onboarding Solution Partners – Who Are They?
HubSpot Certified Partner Agencies are organizations that work with HubSpot. These agencies are also called HubSpot Solutions Partners. They work for delivering IT, CRM, and Web design. Customer, sales, and marketing services to business clients. These service providers are certified by HubSpot and they hold a high level of knowledge in their appropriate domains of service.
HubSpot trusts in development together. With this thought, HubSpot positions its Solution Partners according to a Tier System. They were previously called HubSpot Agency Partners. They are Elite, Platinum, Gold and Partner. At present, more than 4500 agencies work with HubSpot on varied tiers with the level of business they bring to HubSpot.
What Can an Elite HubSpot Partner Onboarding Service Help You?
HubSpot Onboarding is essential for any individual or a business buying any HubSpot Suite. An Elite HubSpot Partner Onboarding Service can help you:
Learn the software and the options it offers in detail
Get rid of delay and begin using the platform as fast as possible
Get the most out of the money you have invested in HubSpot
Get a strong foundation and training for your team
Get organized to start executing strategies to achieve your business goals
Why Choose an Elite HubSpot Partner Onboarding Service?
You might think that you can go with the HubSpot Onboarding service itself as the company knows its products well. But, remember that the Elite HubSpot Partners are equally knowledgeable. They are certified by HubSpot. So, you can expect similar help from an Elite HubSpot Partner Onboarding service as with HubSpot Onboarding service. Here are some reasons to consider if you are wondering whether to hire a third-party onboarding service:
An Elite HubSpot partner will be driven by process. So, you can expect a guaranteed outcome.
Further, you can expect similar and even better support from an Elite Partner as compared to HubSpot Team itself.
An Elite partner will have a highly skilled team to take on any challenge.
A partner of HubSpot will have a more flexible onboarding process.
Also, the team will have the experience required to get your business to the top.
Conclusion:
Now, you might wonder whether to choose HubSpot Onboarding or Elite HubSpot Partner onboarding. You can expect equally good service from both. So, the ball is in your court to decide now. But it is better to get onboarding help to get things easy with HubSpot initially.

Niranjan Reddy leads Hermitcrabs, Inc, an B2B Tech Inbound Marketing agency and eCommerce Agency, Google Certified & HubSpot partner. Who specialize in helping some of the world's largest B2B enterprise tech, tech Start-ups, professional service, and pharmaceutical companies increase and nurture their sales and marketing pipelines. Hermitcrabs, core services include inbound marketing, sales enablement, account-based marketing, modern lead generation digital strategies and web development in HubSpot COS, Wordpress, Magento, and Shopify.