Posted February 02 by Niranjan Reddy
Feb 02 by Niranjan Reddy
Why Hubspot is more often used for Web Development?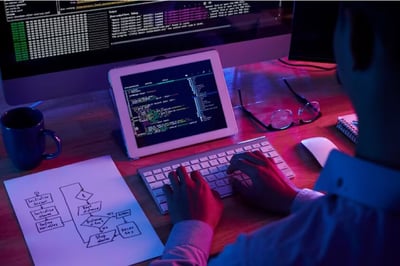 Are you a budding web developer? You might be thinking about the best web development tool to use. Even you might be wondering which is the most widely used CMS platform by most web developers. Without any doubt, HubSpot is widely used by most web developers. Are you wondering why? Here are some reasons why HubSpot is more often used for web development:
What Can You Do With HubSpot?
When you choose HubSpot, you can pay attention to meaningful development tasks. In turn, you can improve your career both on a CMS and a CRM platform. One of the important reasons to choose HubSpot for web development is that it will provide you with all tools required for developing a website that can bring dynamic experience to your customers.
As a web developer, you should remember one thing for sure. It is that HubSpot CMS is not like other website CMS platforms. It is an intuitive, scalable and flexible website Content Management System. Above all, it is an incredibly powerful and functionality-rich integrated marketing and sales tool. Moreover, this tool can function as a separate platform by the side of your website or as a website content management system itself. You cannot expect this flexibility in other CMSs out there.
Furthermore, the HubSpot CMS is part of the Growth Platform of HubSpot, which is a combination of CRM hubs and tools. Particularly, these tools and hubs are designed to help with the effective implementation of inbound marketing methodology. With HubSpot, you will be able to engage in combined management of the sales process as a cycle to aid you to captivate, transform, seal and enlighten more customers. As a result, you will see your business grow.
In short, with the content management system from HubSpot, your business will get better efficiency, greater power and superior benefits over other marketing and sales tools. You can enjoy all these as a package. Developers like you can develop websites using content structures and flexible themes in HubSpot. Also, your marketing team can swiftly make changes to the existing pages and can create new pages such that your customers can get a secure and customized experience. Undoubtedly, everyone wins with HubSpot Content Management System.
Who Should Use HubSpot CMS?
As the owner of a business, you will be thinking to develop a website to improve the reach of your business, isn't it? This is absolutely possible with HubSpot. The reason is that it has been designed explicitly with a marketing angle. It is the top choice for people new to web building. It is equally the choice of marketers, content creators and sites with a simple e-commerce slant and fundamental web pages. So, if you are in the market to find a user-friendly tool that will permit you to make changes and publish without requiring you to dig into backend technicals and learn to code, you will probably cover a lot of distance with HubSpot CMS.
Further, the website platform of HubSpot is the best choice for e-commerce businesses and also for any business that chooses inbound marketing. The Content Management System from HubSpot is an excellent tool for capturing leads and also with reporting on web traffic data. In turn, you can nurture sales and can gain insight into your audience and customer analytics.
Why Do Web Developers Choose HubSpot for Web Development?
When you talk with web developers using HubSpot, you will find that each one of them has a reason for using HubSpot for their web development. Here are some reasons stated by some web developers for using HubSpot:
Easy To Use Yet Powerful:
With themes available for HubSpot CMS, you can create advanced portals that authors can simply update themselves. Indeed, you can find many CMSs in the market. Most of them force organizations to select between the personalization of web developers and ease of use for marketers.
Nevertheless, when you take the case of CMS Hub, you have the option to employ the tools that you prefer for developing robust websites that are easy to edit for marketers. HubSpot makes it possible with:
Local Development Tooling: HubSpot provides you the option to use the workflows and tools that you would like to use. Then, you can simply sync your files to the Content Management System.
Content Editing Interfaces that are Friendly to the Market: On the basis of the templates, modules or themes you develop, you can simply create and update content with the help of user-friendly drag-and-drop page editing, style-editing tools and international content.
By developing guardrails and themes that give power to content creators to take ownership of site management, you no longer will have to make every small update and can pay attention to coding solutions to issues that are hard to resolve. For instance, you can use the extensive APIs of HubSpot to bring together your CRM Data and offer highly customized experiences to users.
Pay Attention to Meaningful Work and Not On Fixing Bugs:
HubSpot is a SaaS CMS with a thoughtfully organized and carefully selected ecosystem of integrations and applications. Developers using HubSpot pay attention to developing CRM-powered integrations crucial for business and digital experiences. They do not pay attention to the mindless maintenance of plugins. When you make complete use of the full platform of HubSpot in your development, you can offer better value to your end user with lesser effort.
SEO Made Easy:
When you develop a website using HubSpot, you will be building pages with better search engine optimization automatically. The reason is that the CMS will take care of the algorithms, analysis and ranking for you. Above all, with its integrated coaching and tips, HubSpot will help you improve and complete the right fields when you engage in content development. In turn, you will automatically align with what Google intends to rank on. The more you are Google-optimized, the better your chances that customers will spot your website on search engine result pages.
The Best Set of Features:
Another reason for web developers choosing HubSpot is the excellent set of features that this CMS offers. Here is a list of crucial features you can expect from HubSpot:
Protection of your website with enterprise-level and out-of-the-box security
99.99% guaranteed uptime
Drag & drop editor
Website themes
Password protected pages
Content creation and support in multiple languages.
SEO optimization tools and strategy
Logged-in visitor identification
Content Delivery Network on its own
Content Staging
Hosted videos
More than 600 integrations are available and the numbers are increasing
The flexible, intuitive yet easy-to-use back-end interface
Built-in conversational marketing functionality with conversational and live chatbots
Automated prospective list development from multiple site visits
Custom and powerful reporting including contact attribution reporting
Built-in Adaptive and A/B testing
Smart Content
Communication with Customers:
What makes HubSpot the best choice for e-commerce sites? It is nothing but built-in customer service integrations. When you start a website, you might need some additional research to be conducted when it comes to using third-party applications. But, with HubSpot, it will not be a problem. The reason is that straight out of the box, HubSpot will provide you with worthy feedback like customer satisfaction scores.
To help you serve your customers better, HubSpot offers other features that include customer messages or request management. Further, you can meet the needs of customers with the help of customer questions and behavior to develop a help page. With this facility, your time is saved as you need not have to answer repeated questions again and again.
With these many options offered by HubSpot to track and communicate with customers, the CMS is naturally good for the effective management of leads and sorting customers. Here, the sales dashboard will play a key role to help your business serve customers better.
HubSpot Makes Maintenance Easy:
When the security and maintenance of your website are handled by the HubSpot team, you can focus on developing useful content for your website for your visitors.
In general, developers using other CMSs will have to spend a considerable amount of time maintaining and updating their systems. But, with HubSpot CMS, developers can leave these time-consuming tasks to HubSpot. With HubSpot CMS, developers are relieved of:
Security Scares: When you go for HubSpot hosted solution, the team will take care of uptime, backup and all security needs. So, developers can stay relieved of restoring down websites, DDoS attacks and hackers.
Server Maintenance: With a hosted solution from HubSpot, developers are relieved of server maintenance. The team will take care of detailed infrastructure work.
Platform Updates: Are you a developer, who hates spending time updating your present platform? If so, HubSpot is the right choice for you as the hosted service will take care of the platform updates.
Conclusion:
So, for these reasons and many other valid reasons, most developers these days opt for HubSpot CMS as it offers plenty of benefits over other CMSs in the market.

Niranjan Reddy leads Hermitcrabs, Inc, an B2B Tech Inbound Marketing agency and eCommerce Agency, Google Certified & HubSpot partner. Who specialize in helping some of the world's largest B2B enterprise tech, tech Start-ups, professional service, and pharmaceutical companies increase and nurture their sales and marketing pipelines. Hermitcrabs, core services include inbound marketing, sales enablement, account-based marketing, modern lead generation digital strategies and web development in HubSpot COS, Wordpress, Magento, and Shopify.