Posted March 06 by Niranjan Reddy
Mar 06 by Niranjan Reddy
How, Why and Where to Hire HubSpot Developer?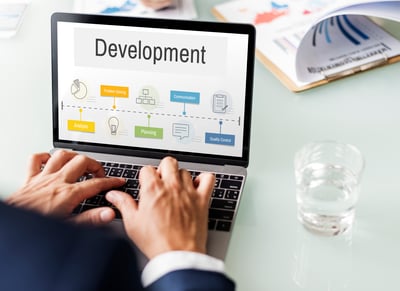 HubSpot, as you might have heard is a powerful and unique system. However, it comes with a learning curve. The learning curve can exist even for the most experienced web developers. To make it easier for businesses to hire the right HubSpot Developer, HubSpot has a CMS Certification program. This course validates and outlines that a developer has the right understanding and skills to develop HubSpot CMS Websites. When a person has this certification, it is an indication that he/she knows the best practices to develop a HubSpot CMS Website. The most valuable thing here is that the developer will have to take the certification again once a year.
Why Hire A HubSpot Developer?
You will get the answer to this question when you know how a HubSpot developer is different from a regular web developer. Indeed, any developer should have a solid knowledge of JavaScript, CSS and HTML. The reason is that these are the staples for web development. Apart from these things, a HubSpot developer should know the HubSpot Templating Language called HubL.
Are you planning to have a HubSpot CMS developed for your business? If so, you should hire a HubSpot developer because the professional will know HubL. This knowledge allows the developer for the creation and personalization of email templates, website themes and other content. Even, it will enable the developer to access and manipulate data from HubDB or HubSpot Database. This database permits any business to store and manage data within its HubSpot Account. Also, the developer can access HubSpot CRM and other sources for creating personalized and dynamic content.
Another reason to develop a HubSpot developer is that the professional will have complete knowledge of the entire Ecosystem of HubSpot. In turn, he/she can extend it and can combine it with other web applications.
Apart from the reasons mentioned above, you should consider hiring a HubSpot developer for:
HubSpot CMS Development:
The Content Management System of HubSpot is one of the most powerful CMSs in the market today. It can effectively help developers manage content and create a custom web design. Also, the scalability and security of HubSpot CMS are widely accepted. Nevertheless, to make sure that your website can take complete advantage of the features of HubSpot CMS, your portal should follow the best practices and guidelines that HubSpot provides. An experienced HubSpot developer can build your website considering the guidelines of HubSpot and its best practices. So, you can expect the best HubSpot CMS Development service from a HubSpot developer.
HubSpot App Development:
One of the best features of HubSpot CMS is its ability to associate with other platforms with the help of HubSpot Apps. Indeed, HubSpot has its own app marketplace. However, not all business use cases and platforms are supported by this marketplace.
You should hire a HubSpot developer because the expert can help you connect a platform with HubSpot that does not exist in the marketplace. The professional can do this by building a HubSpot App.
Now, you know the importance of hiring a HubSpot Developer to develop a HubSpot website for your business. But, your question now will be where to hire this professional. Here are some details to know:
Where to Hire HubSpot Developer?
Based on your project needs and budget, you have different resources from which you can hire a HubSpot Developer:
Begin your Search with Job Boards:
The most flexible solution available to you is to hire a Freelance HubSpot Developer. However, hiring from this source comes with some drawbacks. You can find them with ease from one of the freelance websites available these days. Also, they would have previous experience working on HubSpot Development projects for other clients. However, they are generally busy. Further, you might find it to hire them for a long period. The reason is that most freelance developers give importance to shorter turnaround times to increase their availability for other regular clients. Let us consider that your project demands strict confidentiality. In this case, HubSpot contractors can turn out to be a liability. Otherwise, you can lose them because of the bureaucracy required to get the project development up and going.
The best place to find freelance HubSpot developers is the developers' forum for HubSpot. You can find comprehensive resources at this place. Also, you can find job boards in this place, where you can place your project up for grabs by an expert in this platform with the willingness to work on your project.
Get Help from Staffing Agencies:
HubSpot has a marketplace that features more than 6500 agencies with expert developers. From this place, you can easily find a suitable time to handle your project. You can also use the many parameters available in this platform for filtering HubSpot Developers.
Based on the team you choose, you will get professionals with different levels of expertise and different budgets. So, you have complete liberty to choose the best-suited resources for your needs.
Get in Touch with HubSpot Partner Agencies:
HubSpot has many partner agencies. You can find them in the HubSpot Solutions Directory. In this directory, you will come across nearly 7000 HubSpot Agency Listings. Here, you will get the option to narrow down partners based on your industry, country, budget and based on the skillset you expect. Once you identify such a HubSpot Partner Agency, you can get its help as and when the need arises or even regularly.
Should You Hire A Freelance HubSpot Developer or a Full-Time HubSpot Developer to Work Inhouse?
The answer to this question relies on different factors. To choose the best among these two options, you will have to consider both your budget and the workload available. Hiring a Freelance HubSpot Developer will be a good idea if you:
Do not need cross-team collaboration
Require support with a short-term project
Require support as and when the need arises
Carry a smaller budget
A full-time developer will have sin-depth knowledge. With expertise, a full-time developer can spot gaps and can anticipate requirements better. But a freelancer might not be in a position to see the full picture of your business. A full-time developer will be a good choice if you:
Need constant communication
Need someone else to own the space
Have more complex ongoing requirements
Can pay a full-time salary
How To Hire a HubSpot Developer?
When you choose a job portal or a freelancer portal, you can hire a HubSpot Developer by following the steps listed below:
Create a job post customized to your HubSpot Developer Project Scope.
Once you get some HubSpot developers applied for your post, you can shortlist the top HubSpot developer talents.
Once you start getting proposals, it would be a good idea to create a shortlist of top HubSpot Developer profiles for carrying out an interview.
How to Identify Whether A Candidate is a Good Fit for HubSpot Development?
When you interview an applicant for the HubSpot Developer position, you should be in a position to get a sense of the technical skills of the developer. Also, you should check whether the shortlisted candidates are good at communication. You can spot a fitting candidate when you find a candidate with the following skills:
HubSpot Tech Stack Knowledge:
You should make sure that the developer you hire is aware of the ecosystem of HubSpot. The candidate should be good at HubL, CSS, HTML and JavaScript. Also, ensure that the candidate is aware of the technique of working with APIs when you shortlist.
Coding Knowledge:
You can call a well-documented code a professional code. It would be a good idea to hire a developer whose work can be understood by your team. Also, check whether the person you are hiring now can join a team that already exists in your organization.
Ready to Share Client References:
When you have decided to shortlist a particular candidate, it would be good to check whether he/she is ready to give references from past clients. With these references, you will be in a position to gain the much-required insights into the approach, work ethic and abilities of a candidate to complete tasks. With this information, you can make a wise decision.
Portfolio Availability:
You can assess the quality of the past work of a developer with the help of his/her portfolio. You can gain better insights into the experience of candidates with their portfolios. Also, you can identify whether or not the work of a shortlisted candidate aligns with your present business objectives.
Conclusion:
Having a HubSpot developer on your team can undoubtedly bring you better benefits when you intend to develop a HubSpot Website. The reason is that a HubSpot Website development is different from developing a regular website. At Hermitcrabs.io apart from our expertise in HubSpot Web Development, we are experts in HubSpot Integrations as well. So, our team can help you now only migrate to HubSpot if you previously have a website but also, we can help you integrate the tools that you have already been using with your HubSpot Website for hassle-free management of your website.

Niranjan Reddy leads Hermitcrabs, Inc, an B2B Tech Inbound Marketing agency and eCommerce Agency, Google Certified & HubSpot partner. Who specialize in helping some of the world's largest B2B enterprise tech, tech Start-ups, professional service, and pharmaceutical companies increase and nurture their sales and marketing pipelines. Hermitcrabs, core services include inbound marketing, sales enablement, account-based marketing, modern lead generation digital strategies and web development in HubSpot COS, Wordpress, Magento, and Shopify.