Posted March 29 by Niranjan Reddy
Mar 29 by Niranjan Reddy
What is CMS Migration and How to Plan for CMS Migration?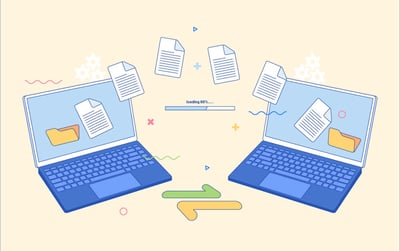 CMS migration refers to the process of moving a website from one Content Management System (CMS) to another. This can involve transferring not just content. Yes, it can involve moving design elements and functionality from the old CMS to the new one. Also, it tries to ensure that the new site operates smoothly and without any errors.
Why Migrate from One CMS to Another?
Do you think whether you should move your website from one CMS to another? If so, you should be aware of certain reasons why organizations move from one CMS to another:
When the existing CMS no longer meets their needs, organizations move. It can either be in terms of functionality or scalability.

When an organization wants to take advantage of new features and capabilities offered by a different CMS, it can move.

Let us consider that an organization wants to standardize its web development practices and consolidate all its websites onto a single CMS. In this case, moving from the existing to a new CMS will be a good idea.

Also, when an organization feels that the existing CMS is no longer supported and it is hard to maintain or update the website, it should move to a new CMS.
The process of CMS migration can be complex and time-consuming, and typically involves several stages. For instance, it encompasses planning, data migration, testing, and deployment. It is important to work with experienced web developers or a professional agency. Only then, it become possible to ensure that the migration is done correctly. Particularly, it should happen without any data loss or downtime.
Tasks To Be Completed Before the Migration:
You might have heard a popular saying that reads "A failure to plan is a plan to fail". When you intend to migrate to a new CMS, you will have to plan certain things. Here are some pre-migration things that you will have to look into. When you follow the checklist given below, you can make a difference between how successful or unsuccessful your migration turns out to be:
1. Build your Team:
When you have a team to take care of the work related to migration, it will be easier. You should have a collaborative, experienced and knowledgeable team. Your team should have a lead project manager and people from senior management, marketing and information technology. The team should also include any other stakeholders you feel is essential. Particularly, it is better to include stakeholders, who will be using the CMS.
2. Carry out a Content Audit:
Let us consider that you have your team ready now. It is time to conduct an audit to spot appropriate pieces of content that should be part of the migration. Also, the team should decide on outdated and inappropriate content to be deleted from the migration process.
In this step, you will have to go through your website. Also, you should evaluate all the subdomains to get a wholesome picture of all metadata, redirects, links and URLs to name a few. You should remember the importance of a comprehensive content audit at this phase.
3. Carry out a Data Assessment:
Data assessment is nothing but the evaluation of estimated risks, timelines and costs connected with the CMS migration. You should work closely with the shortlisted or selected CMS vendors through this process. During these associations, you can spot key problems like expected downtime.
4. Create a Preliminary Plan:
From the first three steps above, you might have gathered a lot of information. You can use these details for creating a preliminary plan. Ensure that you spot the crucial path with the longest sequence of activities to be completed on time for the CMS migration. You should plan things in such a way that the migration can be completed within the estimated due date.
To make things smooth, you can use project management software so that you can keep all your team members informed. Also, you can share the plan via a centralized platform so that everyone can stay aware. Also, remember that the plan you make in this step is just preliminary. It should change and you should update it just before the actual migration takes place.
5. Evaluate Security Factors:
Spot and address all essential security considerations like ensuring that the CMS migration happens in line with the existing compliance regulations. It is highly recommended that you should gather official approval from all relevant stakeholders. You might think about overlooking security factors. But, when you do this, you might have to face considerable issues and costs in the future.
6. Gather All the Essential Tools:
Now, the next thing you will have to do is to decide on the aspects of the CMS migration to be handled manually and automatically. Also, you will have to gather the required tools for each aspect of the migration. When it comes to moving large media libraries, documents and databases, automating content migration would be a good move. In this area, you should be able to get practical guidance from your new CMS vendor.
7. Refine the Plan:
In this phase, you should have a concrete knowledge of what your Content Management System Migration will appear like. You should have a broader idea of risks, timelines and costs associated with the migration. Now, you should use the information available for refining the plan. Once you make the required changes to the plan share the same with your external and internal stakeholders. In case, you spot gaps in the plan, you will have to address them now.
Now, you know the things to be done before your CMS Migration.
Things to Do At the Time of Migration:
You have an idea of the things you will have to do before the migration. But, what should be done at the time of data transfer? Here are some things to do:
1. Review your Data Architecture:
When you map out your inventory, spot the areas in your content that might move away in another way after you have migrated. Now, you should think the ways to approach these differences.
2. Test your Migration Live:
If time permits, you can perform a trial migration on a huge sample of data. In turn, you can spot any defects or flaws that might come up when you engage in real migration.
3. Make the Required Amendments:
After you have done a trial migration, you might spot some areas of flaws. To correct them, you will have to make the required changes to the migration method, system configuration and data. Otherwise, if possible, you can remove any unwanted content or data so that you can ensure faster and more efficient transfer.
4. Have a Contingency Plan:
Migrations can lead to major headaches. So, it is better to have a second plan in place if the migration fails for one reason to another. At this phase, you can draw up worst-case scenarios and see what can be done for resolving the issues that can come up. Further, make sure that you have a backup of all your content and data in advance. Store them safely even after the completion of the migration.
5. Transfer your Content:
Once you complete the steps mentioned above, you can proceed with the migration. You can decide whether to choose automated or manual migration.
Nowadays, to make the migration automatic, CMS to CMS tools are available.
After you Migrate:
After you complete the CMS Migration, you can follow the steps listed below to ensure that everything is right.
1. Test for Integrity and Data Accuracy:
Evaluate the data for spotting and fixing any issues with formatting. Also, it is better to sample your content to authenticate data integrity.
2. Monitor and Optimize:
It is only a matter of time after you complete the CMS migration. It can take minutes, hours, days or even weeks at the max before issues show up. For instance, you might face crawl errors all of a sudden. Otherwise, you might see that certain elements might load slower than expected in your portal.
Issues like these cannot be eliminated. Irrespective of how robust and developed your migration plan is, these issues can show up. The good thing here is that you can fix these issues when they come up. To make this process successful and efficient, it is better to have an ongoing quality control program in place. It is better to complete these with reporting and standard protocols.
3. Decommission your Old CMS:
Once the new CMS works fine after you have addressed all the unavoidable issues, you can close your old CMS. As part of this procedure, you will have to make changes to any workflow process that exist previously. In turn, they can align with the new CMS.
4. Train End Users:
You will have to educate end users on how to use the new CMS. Some people might feel stressed when they are forced to work with new rules and methods. So, it is better to be positive and patient. Also, ensure that your team gets the getting started guides and walk-through videos. These resources will help them get used to the new CMS.
Conclusion:
Migrating to a new CMS is not easy. You can follow the tips above to make the migration stress-free. You can also get help from CMS Migration, who can make things easy and stress-free for you.

Niranjan Reddy leads Hermitcrabs, Inc, an B2B Tech Inbound Marketing agency and eCommerce Agency, Google Certified & HubSpot partner. Who specialize in helping some of the world's largest B2B enterprise tech, tech Start-ups, professional service, and pharmaceutical companies increase and nurture their sales and marketing pipelines. Hermitcrabs, core services include inbound marketing, sales enablement, account-based marketing, modern lead generation digital strategies and web development in HubSpot COS, Wordpress, Magento, and Shopify.