Posted May 02 by Niranjan Reddy
May 02 by Niranjan Reddy
Benefits of Mailchimp Integration Service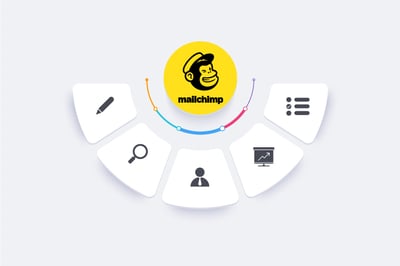 Mailchimp Integration services are great tools that help businesses to automate their marketing campaigns. These services provide a range of benefits, like improved customer engagement, simplified contact management, and centralized control over multiple mailing lists. They also allow businesses to reach more customers and gain valuable insights into their target audience. With these services, businesses can easily keep track of their contacts and create highly customized messages that are tailored to their target audience's needs. Moreover, they also offer the opportunity to easily split test campaigns for better results. Mailchimp integration service provides a range of benefits to businesses. With the help of it, businesses can easily manage and scale their marketing campaigns. It automates email marketing tasks and eliminates manual efforts required for sending emails. Additionally, it offers powerful features like analytics tracking, personalization options, list segmentation, etc., which helps business to track their campaigns performance and optimize accordingly. It also helps in integrating with other web services which further streamlines the process of content creation and delivery. All these features make Mailchimp integration service an essential tool for any business wanting to grow its online presence and reach new customers.
Integrating with Mailchimp can offer several benefits to businesses or individuals looking to manage their email marketing campaigns more effectively. Some of these benefits include:
1. Efficient Email Campaign Management:
Mailchimp offers various email campaign management tools and automation features. Integrating Mailchimp into your business can make it easier for you to manage your email campaigns, track open rates, click-through rates, and other metrics. It allows businesses to tailor their emails according to the target audience and track the performance of campaigns through detailed analytics. This can help businesses save time, money and resources as they don't have to manually sort through emails and create customized newsletters for each recipient. Additionally, Mailchimp Integration can help automate customer segmentation and personalize customer experiences with automated triggered messages. Businesses can also access automated A/B testing for testing subject lines, content, delivery times and more.
2. Advanced Segmentation:
Mailchimp offers advanced segmentation capabilities, allowing businesses to segment their email lists based on various factors such as demographics, behavior, interests, and more. This can lead to more targeted and personalized emails that are more likely to engage customers. Advanced Segmentation helps businesses to get the most out of their email campaigns. By using advanced segmentation, businesses can reach the right customers with the right message through targeted and personalized emails. This helps them to maximize engagement and further increase ROI. Advanced segmentation allows you to divide your subscribers into smaller groups based on demographic and behavioral data. This makes it easier for you to target your marketing messages and campaigns to the right people, helping you to increase engagement and conversions. With this feature, you can also create personalized emails with dynamic content that is tailored specifically to their interests and needs. In addition, advanced segmentation allows you to monitor the performance of individual segments, giving you valuable insight into what works best with different audiences.
3. Improved Deliverability:
Mailchimp has an excellent reputation for deliverability, which means that emails sent through their platform are less likely to end up in spam folders. By integrating Mailchimp into your business, you can improve the chances of your emails reaching your subscribers' inboxes. Mail chimp integration services offer powerful solutions for improving the deliverability of your emails. This service helps ensure that your messages are delivered to the intended recipients in a timely manner, regardless of whether they are using an email client or a mobile device. It also helps to protect the reputation of your domain by filtering out spammers and other malicious activities. With Mail chimp integration, you can enjoy better open rates and improved deliverability for all your emails. Mailchimp's list management tools help you keep your email list clean and up-to-date. By removing invalid email addresses, bounces, and unsubscribes, you can improve your sender reputation and reduce the likelihood of your emails being marked as spam. Mailchimp allows you to segment your email list based on various criteria, such as location, interests, or engagement level. By sending targeted emails to specific groups of subscribers, you can increase the relevance of your emails and reduce the likelihood of them being marked as spam.
4. Marketing Automation:
Mailchimp offers various automation features that can save businesses time and effort in managing their email campaigns. For example, businesses can automate welcome emails, abandoned cart emails, and other types of trigger-based emails. With Marketing Automation, businesses can manage their entire customer database with ease, create automated email campaigns, and track engagement in real time. Additionally, mail chimp integration service provides detailed analytics that allow marketers to make data-driven decisions about their marketing strategies. Mailchimp is a popular email marketing service with the ability to send an entire newsletter or run reports from one place. They allow their users to integrate those services with their website by installing a Mailchimp plugin.Not only will this save a lot of time and effort, but it also gives you access to new features such as segmentation, automatically sending follow-ups, and social media automation.Through Mailchimp integration, your website becomes more accessible and has increased opportunities for growth. It is easier to grow your business without having to worry about your email list when you are using Mailchimp's automation services.
5. Integration with Other Tools:
Mailchimp integrates with various third-party tools, such as Google Analytics, Salesforce, and Shopify. This can provide businesses with valuable insights and data, making it easier to track the performance of email campaigns and make data-driven decisions.
Mailchimp integration also offers several benefits for businesses, including:
Time and Cost Savings: Mailchimp integration automates several marketing and communication processes, saving businesses time and money.
Enhanced Customer Engagement: Integrating Mailchimp with other tools allows businesses to create targeted and personalized marketing campaigns, leading to higher customer engagement and conversion rates.
Increased Data Accuracy: Mailchimp integration eliminates the need for manual data entry, reducing the risk of errors and ensuring accurate data.
Improved Analytics and Reporting: Integration allows businesses to track and analyze data from multiple sources, providing valuable insights into the effectiveness of marketing campaigns.
Overall, Mailchimp integration helps businesses streamline their marketing efforts and improve their customer engagement, leading to increased revenue and business growth.

Niranjan Reddy leads Hermitcrabs, Inc, an B2B Tech Inbound Marketing agency and eCommerce Agency, Google Certified & HubSpot partner. Who specialize in helping some of the world's largest B2B enterprise tech, tech Start-ups, professional service, and pharmaceutical companies increase and nurture their sales and marketing pipelines. Hermitcrabs, core services include inbound marketing, sales enablement, account-based marketing, modern lead generation digital strategies and web development in HubSpot COS, Wordpress, Magento, and Shopify.