Posted March 24 by Niranjan Reddy
Mar 24 by Niranjan Reddy
Comparison of Inbound Vs. Outbound Marketing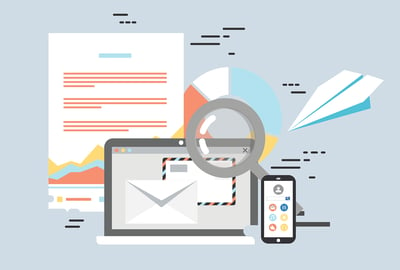 Have you ever been entrusted with the responsibility of updating or producing your organization's marketing strategy? If so, you might have thought about whether to use an inbound or outbound marketing strategy. When it comes to selection between these two marketing techniques, you might feel overwhelmed with which one to choose. Before we compare these two marketing strategies. Let us first understand what are they at the first instance.
What is Inbound Marketing?
Inbound marketing is a strategy that involves creating valuable content. The content you create should attract potential customers to your business. This content can be in the form of blog posts, social media posts, videos, and other types of content. Irrespective of the type of content it should answer the questions and needs of your target audience. Inbound marketing focuses on building relationships with customers. This relationship is built through content creation and distribution, search engine optimization (SEO), social media marketing, and other forms of content marketing.
What is Outbound Marketing?
Outbound marketing is a strategy that involves reaching out to potential customers to promote your product or service. This includes tactics like cold calling, television and radio advertising, direct mail, and other forms of traditional marketing. Outbound marketing focuses on pushing messages to potential customers. This is done often with the hope of generating immediate sales or leads.
Comparison of Inbound and Outbound Marketing:
Now, with the fundamental meaning of both these marketing techniques known, knowing the difference between the two will help. Here is a table that will help you better understand how they are different from each other:
| | | | |
| --- | --- | --- | --- |
| S. No. | Point of Difference | Outbound Marketing | Inbound Marketing |
| 1. | Meaning | Outbound marketing is a technique where the marketer approaches the target audience. The purpose of this approach is to find whether they are interested in the product or not. | Inbound marketing is where the marketer will take the step to draw the attention of customers towards their brand. Marketers do this with the help of company-created content. |
| 2. | Message to Intended Audience | Complicated, forced and broad | Useful, specific and educational |
| 3. | Distribution | Varied and inconsistent | Iterative and ongoing |
| 4. | Data | Not measurable and hard to track | Quantifiable and digital |
| 5. | Customers | Marketers sought out customers | Customers reach the marketer impressed by the content |
| 6 | Value Addition | No or little value | Provide value to customers |
| 7 | Contribution of marketer | Active | Passive |
| 8 | Analytics | No tools are available to evaluate the performance of outbound marketing strategies | Different analytic tools exist. These tools help marketers to spot the best content suitable for the requirements of the audience |
| 9. | Foundation Principle | Usage of marketing strategies to push products to customers | Use of marketing tactics to gain the interest of the audience. |
| 10. | Outcome | Marketer will get what he gets | Marketer will get what he wants |
| 11 | Approach | Business-centric approach | Customer-centric approach |
| 12 | Audience | General audience | Target audience |
| 13 | Communication | One-way | Two-way |
| 14 | Running Cost | High | Low |
| 15 | Usefulness to audience | Not useful | Educative to audience |
Benefits of Inbound and Outbound Marketing:
Now, from the comparison above, you might have understood that inbound marketing is beneficial as compared to outbound marketing. However, both carry their own benefits. Understanding the benefits of both will help you decide which is best for your needs:
Inbound Marketing:
Overall affordable as compared to outbound marketing

Ability to track the behavior of the audience and you can optimize campaigns accordingly

Ability to target appropriate audiences with particular messages

The massive potential reach and global audience
Outbound Marketing:
Focuses on building brand awareness completely

Appeals to audience segments that are not digital natives

Part of omnichannel marketing

Ideal for specific and local audiences
Demerits of Inbound and Outbound Marketing:
When you compare inbound and outbound marketing techniques, you should compare the demerits of both as well. Only then, you can arrive at an informed decision:
Inbound Marketing:
Takes time to show results

You will have lesser control over the experiences that customers get. The reason is that they may or may not see your content.
Outbound Marketing:
Customers can overlook your content as spam

Outbound marketing can interrupt customers with content they might not always wish to
When you weigh the advantages and disadvantages of inbound and outbound marketing, you will start getting an idea of which strategy will suit your business. It is not that you will have to rule out one of them completely, particularly if you operate on a large budget.
When you wish to choose one of these marketing techniques, you will have to consider the goal of your business. Also, you should consider other factors like the location of your customers and where they are based. Further, you will have to consider the service/product you offer, the creative resources you have and indeed your budget when deciding whether to choose inbound or outbound marketing.
Challenges of Inbound and Outbound Marketing:
When you are comparing these two marketing techniques, you should know the challenges that can come your way in both techniques. Only then, you can decide whether it will be possible to handle the challenges.
Inbound Marketing:
When you choose to do inbound marketing, here are some challenges you might have to handle:
Demands a holistic strategy: Inbound marketing might need you to buy tools so that you can implement cross-channel and integrated campaigns

Takes a lot of time and effort: Apart from developing content, you will have to test them out. Only after several efforts, you can spot the content that entices your visitors.

Needs Continuous Maintenance: The needs of customers are always evolving. So, to meet their requirements, inbound marketing needs ongoing maintenance.
Outbound Marketing Challenges:
Some of the challenges you might have to handle when you choose outbound marketing include:
Higher cost: Some of the outbound marketing techniques include buying billboard spaces, paying for banner ads and traveling to trade shows. All these costs more as compared to inbound marketing techniques

Hard to Evaluate the Effectiveness: When you choose outbound marketing, it might be hard to evaluate the effectiveness of the strategies you try. When you cannot know the results, it is hard to make improvements, isn't it?

Consumers can tune out of outbound marketing: Many people mute ads on television. Also, they make calls and complete other work only during ad breaks. Television ads are one of the important outbound marketing strategies. So, it is hard to pass on your message to the target audience.

More Generalized: In inbound marketing, customization of messages is possible. But you can follow only a generalized approach in outbound marketing. A personalized approach is always better than a generalized approach in marketing.
So, when you compare the challenges between these two, you will decide that inbound marketing is the best. Even though it takes time, you can expect long-term results from inbound marketing as compared to outbound marketing.
Inbound Marketing or Outbound Marketing – Which One to Choose?
When deciding between inbound and outbound marketing, there are several factors to consider. Here are a few of them:
Target audience:
Inbound marketing works best when you have a clearly defined target audience that is actively searching for your product or service. Outbound marketing may be more effective when you need to reach a broader audience that is not actively looking for your offering.
Cost:
Inbound marketing typically has a higher upfront cost, but it can lead to a lower cost per lead over time. Outbound marketing can be less expensive upfront. But, it may require a higher investment in the long term to maintain momentum.
Timing:
Inbound marketing tends to be a long-term strategy that requires patience and consistency to see results. Outbound marketing can provide more immediate results. However, it may be less effective over the long term.
Branding:
Inbound marketing is focused on building your brand and establishing your authority in your industry. Outbound marketing is more focused on generating leads and sales.
Content:
Inbound marketing relies heavily on creating valuable content that resonates with your target audience. Outbound marketing is more focused on creating a compelling message that captures attention quickly.
Ultimately, the best approach will depend on your specific business goals, target audience, and budget. It is important to carefully consider all of the factors involved. Then, you can create a marketing strategy that is tailored to your unique needs.
When to Use Inbound Marketing and Outbound Marketing:
As a thumb rule, you should use pull or inbound marketing when you wish to increase the visibility of your brand. On the other hand, outbound marketing or push marketing can come in handy when you are promoting a new product or service to customers. You will be doing them among customers, who do not know your product. But, they will be ready to try your product or service. Both these techniques of marketing are obvious. However, you can use both in combination with each other to achieve great results for your organization.
So, based on the purpose of your marketing campaign, choose either inbound or outbound marketing. This is the key factor in deciding your marketing approach. Your marketing campaign's goal should decide which technique to choose.

Niranjan Reddy leads Hermitcrabs, Inc, an B2B Tech Inbound Marketing agency and eCommerce Agency, Google Certified & HubSpot partner. Who specialize in helping some of the world's largest B2B enterprise tech, tech Start-ups, professional service, and pharmaceutical companies increase and nurture their sales and marketing pipelines. Hermitcrabs, core services include inbound marketing, sales enablement, account-based marketing, modern lead generation digital strategies and web development in HubSpot COS, Wordpress, Magento, and Shopify.