Posted February 24 by Niranjan Reddy
Feb 24 by Niranjan Reddy
How to Maximize Your Sales with Hubspot Reporting Dashboard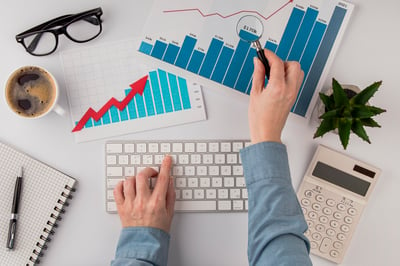 An extensive Customer Relationship Management (CRM) platform, Hubspot has almost everything that can help you run your business better. It not only provides you with an entire set of useful features that make collecting data and creating reports easier for you, but it has its own reporting system too. And we know that the right reporting is crucial to making the right decisions, recognizing issues, planning, and much more. So, reports must have all the required information. And for salespeople and leaders alike, complete visibility into sales metrics and getting them without delay is important.
This is where Hubspot's sales reporting plays a very significant role. You can precisely predict your team's performance with the help of insights provided by Hubspot sales reporting and train your team so they may achieve their goals. Hubspot reporting uses data in your CRM to provide you a clear picture of your sales process and you can view the performance of your sales pipeline. The reporting coupled with sales analytics in Hubspot gives you clear visibility into the state of affairs of your sales performance. This means you have to spend less time creating reports on spreadsheets and more time resolving your business's strategic issues. The reporting in Hubspot CRM is streamlined in its dashboards. These dashboards are simple and easy to use. One of the benefits of using these dashboards is that you can tailor them based on the data you want to review. Similar reports can be clubbed together and presented to the other team members.
What is Hubspot reporting?
When decisions are to be made in any business, the decision-makers focus on the sales and marketing reports to view the current performance and make a further action plan. This is where Hubspot reporting comes into play. It provides you with a general synopsis of how your website, sales, and marketing are performing. The data you and your team collect is usually in a raw and disintegrated form. Hubspot reporting transforms this data into a readable form to enable you to take action based on this. Since Hubspot integrates CRM and marketing into a single sales and marketing platform, it allows you to track the customer's journey from the start till conversion. This provides you an insight into how you can reach them in a better way. Hubspot reporting provides you with more transparent insights into your sale performance. It helps you in viewing the performance of your business across different metrics and working to improve it.
We will now see what are Hubspot reporting dashboards and how they benefit you.
What are Hubspot reporting dashboards?
Hubspot reporting is the main platform where you can view your customer database in the form of a comprehensive report tailored to your requirement. There are two reporting dashboards in Hubspot which are Sales and Marketing. These dashboards take out different data stored in Hubspot CRM like statistics of the customers, their personal information, deal stages, etc., and present them as one report on a single screen. This means you can see statistics, leaderboards, timelines, and comparisons simultaneously. So, it becomes easier for you to track and monitor your metrics. An outline of up to two reports can be presented by these Hubspot dashboards thus providing you with summaries of performances in different areas of sales and marketing. And these summaries are presented simply so are easy to understand. While the default marketing dashboard in Hubspot can take up to ten reports, the default sales dashboard can take up to five reports. The reports in the marketing dashboard center around the most pertinent metrics like page views, conversion rates, and email marketing performance. The metrics that the sales dashboard focuses on are sales performance, productivity, team activity, deal forecast, and target vs actual deals closed. Since dashboards can be customized, you can add all types of reports to them. You can just generate a report and can add it to one of the dashboards. This will give you a comprehensive picture of your sales and marketing performance and the customer journey.
Features of Hubspot reporting dashboards that would help you maximize your sales
As far as Hubspot reporting is concerned, dashboards are the main workplace. The dashboard is the place where you can keep yourself updated with all the sales, marketing, and service activities. Apart from this, you can see the relevant data through which you can get an extensive overall performance overview based on metrics and Key Performance Indicators (KPIs). Your data bank starts building up the moment you start your marketing campaign. Every activity in the customer journey adds to your data pool. the contact building, sending emails, running the landing pages, creating buyer personas, closing deals, writing blogs, and every other activity coming between these provides you with some data. And the reporting dashboards help you track and understand your performance in each activity. Thus, Hubspot reporting provides you with a complete reporting environment allowing you to monitor every piece of information pertaining to sales and marketing that could benefit your business. You can also see emerging patterns. Below we present some of the important features of Hubspot reporting dashboards that can help you maximize your sales.
Sales reports - When you want to see the conversions and sales made during a specific time period, the Hubspot sales reporting dashboard creates such a report and presents it to you. This sales report contains some essential metrics such as:
Sales performance
Daily/weekly/monthly sales
The landing pages convert most
Carts abandoned
Abandoned carts recovered
Pages and blogs converting customers
Pages and blogs converting content
The abandonment rate of carts
Apart from the above, you can add many other metrics to your sales reporting dashboard. Being fully customizable, you can customize it for reporting metrics, charts, color, accessibility, and time duration.
Marketing reports - When you add a marketing reports segment to your Hubspot reporting dashboard, it will bring out the results of all the marketing efforts you have made. So, the entire summary of all your marketing campaigns will appear in one place. You can see the impactfulness of your marketing efforts through the charts and graphs included in the marketing reports. Again, since these dashboards are fully customizable, you can easily change their appearance and distribution. You can view the results of your marketing campaigns in different ways like pie charts, tables, and bar charts. You can view the following metrics in the reports on your Hubspot marketing reports dashboard:
The inbound persona of your contact
Source, title, and day-wise contacts
First conversions
Maximum converting landing pages and blog posts
Time of each session
Performance of individual pages
Traffic on different pages like landing pages, blogs, and other pages of the website
Social media marketing
Active marketing campaign
Daily, weekly, and monthly email subscribers
Analysis of traffic from the campaign
So, you can create a dashboard with different reports and reach a logical conclusion just by viewing these reports.
Performance assessment report - As the name itself suggests, this report in the Hubspot reporting dashboard will help you in evaluating the overall performance of your sales, marketing, and services teams. You can choose a specific duration to view the performance. It provides you with a synopsis of the progress made by your sales and marketing teams. It displays the contacts assigned to the team and the contacts that the team has worked on. Besides, you can also view the number of deals closed and the number of deals canceled and their details. This gives a clear picture of how your sales and marketing teams are performing and the areas where improvement is needed.
Productivity assessment - Like performance, productivity is also an important part of the working of sales and marketing teams. In fact, productivity plays an important role in good performance. Analyzing how effective your marketing strategies and team are is important. Equally important is to know the impact your marketing campaigns are producing and if they are worth the budget allocated for them. The productivity assessment report provides you an insight into all these issues You can customize the Hubspot reporting dashboard to view the effectiveness of your sales and marketing efforts. You can set a time period and see how many calls and emails your team has done during this period. You can also check the notes, meetings, and tasks done by your team during the selected time period. This information can then be compared with marketing and sales performance reports to see the actual results making it easier for you to check the effectiveness of your campaigns and efforts.
Deal forecasting report - Hubspot comes with Artificial Intelligence (AI) powered data analytics. This means that you can not just view the data but you can do much more with it. This data analytics helps you in forecasting future trends and opportunities on the basis of current data. You can use it to even create predictive reports that would help you in forecasting the revenue that can be achieved at every stage. So, you always remain updated with all the relevant information about every stage of the process and can plan better so that you are always ahead of the competition.
The Hubspot Deals Per Order plugin is a simple way of splitting orders into different stages so every deal can be tracked individually. Through this plugin, you can change the possible individual sale from your store to Hubspot deals. This means you can easily monitor the total sales and revenue generated during the month or over a specified period of time.
Deals actually closed vs goal - There are gains and there are losses in the sales process. And it is one of the tough parts of the sales process. This simple report in the Hubspot reporting dashboard will give you a clear picture of the deals actually closed by your team and you can compare the numbers with the goal set for them. Apart from that, this report will also tell you about the possibility of winning the deals that you and your team have created. Just a simple glance at the report will tell you how your team is doing. It will give you the number of deals created by you, the number of deals actually closed, and the number of deals lost. The reporting dashboard will also show the revenue generated from the closed deals. You can customize your dashboard to view the closed deals and closed contacts, and to set the time period and accessibility, etc.
Recent Activity - The Hubspot reporting dashboards help you in staying up to date with every activity of your sales and marketing teams on the dashboard. With the recent activity reporting feature, you can easily monitor the marketing metrics. It also makes tracking and measuring recent emails, calls, notes, meetings, and tasks very easy. Once again, you can customize the Hubspot reporting dashboard to get the reports that show these recent activities. And you can set the properties like the duration of time for which the report is sought, the color, chat, and accessibility features on the dashboard.
Contact reporting - The data you collect is a treasure trove for your business. And your contacts are your most valuable assets. You can meet new contacts through every contact you already have thus providing you with a host of opportunities to widen your network. The contact report on the Hubspot reporting dashboard will give you deep insight into valuable information about the contacts like your ideal pipeline stage, their industry, job title, dates when contacted last, and other characteristics.
Custom reports - We have already described a number of reports above that will help you greatly in monitoring your sale process and the sales team and they should prove enough. But then every business is unique and its requirements are different. So, Hubspot reporting allows you to create reports of your own to fulfill the requirements of your business. You can go on digging deeper into the data and take out more information and numbers and more to analyze. The customer report allows you to add different sales metrics. You can add metrics such as lead-to-close time, average deal size, cost of acquiring the customer, the number of activities done by a salesperson on average, and the individual performances of the members of the sales team. All these metrics will add to the information you already have through other reports and will help you in planning and tracking better.
So, you can see that the Hubspot reporting dashboard creates precise and clear reports of sales and marketing efforts and teams. It provides you with all the information you need to improve your sales and take your business forward. Hubspot sales reports help you in analyzing market trends and customer behavior. Apart from this, the reports provide you with a clear picture of the lifecycle and buying stage along with the revenue predicted. Hubspot marketing reports help you in tracking engagements and conversions. Basically, your Hubspot reporting dashboard has more information than you have. So, if you have not used the Hubspot reporting dashboard till now, do it now and see how impactfully it boosts your sales and takes your business ahead.

Niranjan Reddy leads Hermitcrabs, Inc, an B2B Tech Inbound Marketing agency and eCommerce Agency, Google Certified & HubSpot partner. Who specialize in helping some of the world's largest B2B enterprise tech, tech Start-ups, professional service, and pharmaceutical companies increase and nurture their sales and marketing pipelines. Hermitcrabs, core services include inbound marketing, sales enablement, account-based marketing, modern lead generation digital strategies and web development in HubSpot COS, Wordpress, Magento, and Shopify.