Posted March 02 by Niranjan Reddy
Mar 02 by Niranjan Reddy
Webflow vs Hubspot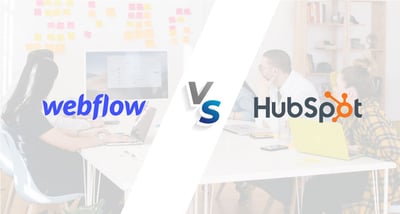 There are so many website platforms and more and more companies are opting for Content Management System (CMS) platforms for their websites. And in the space of website CMS, Webflow, and Hubspot hold their own spots and are usually the top choice of companies for CMS. The comparison between Webflow and Hubspot is a continuous debate as the question of which one is better often comes up from the companies intending to take their websites to the next level. The fact is that both have their own advantages and disadvantages. Both have their own distinct features. We will present a detailed comparison between Webflow and Hubspot in this article to help you better understand the differences between the two and make an informed decision for your company. But before that, let us understand what Webflow and Hubspot platforms are?
What is Webflow?
Webflow is a CMS platform that was launched in the year 2013 and is a no-code platform. Webflow has a visual website editor with which you can design and create templates and custom pages. Since it is a no-code platform, you can easily build a website on it even if you don't have any knowledge of coding. This Content Management System comes with an optional package that allows you to add e-commerce capability to your website. You can choose this option with Webflow's paid plan. Another feature of Webflow is that it comes with Search Engine Optimization (SEO) tools so you can optimize your website on your own.
What is Hubspot CMS?
Unlike Webflow, Hubspot CMS is a cloud-based content management system. It has been built on top of the Hubspot Customer Relationship Management (CRM) system. Its salient features include a drag-and-drop website builder with which you can build templates, create custom pages, and publish blog posts. It has everything you need to maintain your website so you can handle all areas of your website. These include marketing, analytics, media management, leads, and SEO. Another feature of the Hubspot CMS is that you can scale it with the growth of your business and you can add operations like sales and marketing and other services to it.
Let us now individually look at the advantages of both platforms.
Advantages of Webflow:
Webflow is a strong platform and people don't need any special skills to access it. Some of its major advantages are:
Its designing and editing tools are quite robust so you don't need to depend on anyone for handling the design and content of your website
Webflow offers pre-built templates so you can get your website up and running pretty quickly. And Webflow being a no-coding platform, you can customize these templates according to your requirements
The SEO and analytics tools are in-built into Webflow so you don't need any add-ons
A smooth, working website needs staging environments. Webflow takes care of this important aspect by offering a staging feature where you have a staging environment to see if any changes are required and if yes then can make the needed changes before your website is published live
With Webflow CMS, you can create engaging pages on your website as it allows you to create dynamic content along with data-driven pages.
Advantages of Hubspot
Hubspot is as strong a platform as Webflow but it scores in certain areas when compared to Webflow. Let's look at its advantages:
Webflow does not have any unique analytics whereas Hubspot provides an exhaustive overview of how the visitors to your website interact with it. There is greater visibility of the locations from where the website traffic is coming, acquisition source, etc.
Hubspot allows you to create gated content wherein you have the option of offering incentives to those people who sign up for a service or take a subscription.
Hubspot gives you more control over how you design and build your website. With Hubspot, you can create and customize complex features and can control your code so that it becomes more responsive as well as easily accessible, and SEO-friendly. Hubspot also offers global style features that you can control to remove any inconsistency in styles on your website
One major advantage of Hubspot is that it has an in-built Customer Relationship Management (CRM) system that Webflow does not have. In fact, it has a full bouquet of products to meet the requirements of sales and marketing people
Hubspot has been developed with the concept of Inbound so Search Engine Optimization (SEO) is at its core. Therefore, it comes with a whole range of SEO and analytics tools. You are not required to do many tasks like adding schema markup manually thus saving you valuable time.
A big advantage of Hubspot CMS is its HubDB database feature. It is a relational database feature more like a spreadsheet that uses rows, columns, and cells and works in different ways. It is able to pull data into CMS. This means you can use this data from HubDB to create dynamic pages as well as templates thus providing more dynamic content to your website.
And the last but not the least advantage of Hubspot is that you can scale it with the growth of your business or as and when you need additional dynamic functionalities.
Having seen the individual advantages of Webflow and Hubspot, let us look at how they stack against each other when it comes to different types of users.
Comparison of Webflow and Hubspot for Developers
Webflow - Since Webflow is a no-code platform, it takes less time to build a website on it which is a major advantage for developers. Add to it the benefit of being able to do more on it because there are lesser limitations, and it is a big advantage as this provides you with more flexibility. You have more freedom in designing your website. So, developers find it more appealing. It is easier to use for them and they don't need to bother about learning coding skills. Webflow being a front-end development platform, visual designers can create their ideas with a high level of precision. Moreover, if they want or if required, they can add custom code also.
Hubspot - Keeping in mind the requirements of developers as well as content creators and the need to balance these, Hubspot CMS has been designed to meet these requirements. It offers drag-and-drop features, module architecture, and flex columns to fulfill these needs. This enables smooth collaboration between the developers and the marketers. However, in the majority of cases, the design and development are restricted to drag-and-drop content blocks.
Overall, both Webflow and Hubspot provide flexibility in design and development to the developers. Both platforms offer themes and templates that can be customized. And both platforms allow the developers to build from the start.
Comparison of Webflow and Hubspot for Marketers
Webflow - The collections and page templates of Webflow allow marketers to create new blog posts faster. They can also quickly create landing pages for their campaigns. The data is saved directly into Webflow CMS by lead collection forms or you can choose a CRM and integrate it with Webflow CMS to pick and filter this data and take appropriate action on it. Webflow is centered around marketers and so provides easily changeable and customizable templates. It also offers many CRM integrations that allow you a wider range to choose from and more flexibility.
Hubspot - If you are already using Hubspot CRM, the Hubspot CMS would become more powerful for marketers if it is integrated with Hubspot CRM. And the two integrate seamlessly. The benefit of this is that both capturing the leads and the marketing activities are in the same place thus making the operations smoother. Moreover, this gives you the confidence that you have the features needed to transfer data between the two. And that too without the help of any third-party intermediatory. The marketers need to ask but one simple question themselves before choosing a CMS, "Which CRM am I using or planning to use?" Because ultimately it will be the smooth integration between the CMS and the CRM that will impact the success of your marketing efforts. A Webflow CMS can be integrated with a Hubspot CRM. But it is always preferable and easier to stick to one platform instead of integrating two different platforms. And Hubspot clearly scores in this.
We will now compare Webflow and Hubspot for some other factors.
Speed and efficiency
Any website's performance greatly depends on its speed. The fact is that both Webflow and Hubspot use Amazon's AWS server which works on super-fast Content Delivery Networks (CDN). This means that the page loading time becomes considerably less because each user reaches the website through the server that is nearest to them and they don't have to depend on a single server that may be located far away from them. While Webflow has been using the Amazon CDN for a long time, Hubspot has only recently started using it. So, we can say that the website performance on both platforms is not much different and is almost at par.
CMS Flexibility
Webflow offers a huge range of options. It provides you with templates that are fully customizable or you can choose to develop your site right from the beginning. If you want to create customized functionalities or include more complex functionalities, this is a great asset. Besides, you can easily integrate it with other third-party systems like Hubspot, Mailchimp, Salesforce, etc. as the integration process is quite simple.
As for Hubspot, as we know it has been specifically built for Hubspot CRM, so you get a limited choice as a developer. Although Hubspot may have used this as a business strategy for developers it is restrictive. Hubspot also offers templates and other options for customization but if you want to start coding from scratch, you need to subscribe to their top plan which would immediately escalate your cost. But still, when used with its own CRM, Hubspot CMS offers an unmatched user experience and makes the lives of sales and marketing people so much easier.
Functionality and integration
Webflow offers a lot of flexibility as far as blog pages are concerned. It gives you the choice of creating multiple types of templates and CMS instances. You can use different layouts to build different pages like a CMS blog page, a business information page, or an industry page. All these pages can be reproduced so as a marketer you get the option of creating an unlimited number of these types of pages. And when you integrate Webflow with other applications such as Google Analytics, Zapier, Mailchimp, Salesforce, etc., managing your email marketing, social media scheduling, and analytics will become very easy.
For Hubspot CMS, if you are running your sales and marketing activities on Hubspot CRM, its exceptional functionality gives an incredible performance. The best part is that you can run it with minimum setup and get tools such as SEO planning tools, Blog email newsletters, Content calendar, Social media posting, Smart content, and reporting. It also offers multiple dashboards so you can compare data in different tabs at the same time. So, the advantage here is that as compared to Webflow, Hubspot pulls much more data into one place. And in this era of fierce competition, data gives you the power to make strategies for sustaining in the market. Moreover, it presents an exhaustive view of people's engagement with your website that Webflow doesn't provide.
Now that we have presented a comprehensive view of how Webflow and Hubspot compare with each other, you can make your choice of CMS suited to your requirements. If you are looking for a strong platform with multiple essential features, you can go for Webflow. However, if you want to keep total control over your site and want it to be flexible, Hubspot should be a better choice for you. Another factor is that if you want to minimize your cost and require multiple templates, then Webflow is the right option for you. And if you want to use your CRM to integrate your social media, emails, and blog, Hubspot is the one for you. So, go ahead, take your pick.

Niranjan Reddy leads Hermitcrabs, Inc, an B2B Tech Inbound Marketing agency and eCommerce Agency, Google Certified & HubSpot partner. Who specialize in helping some of the world's largest B2B enterprise tech, tech Start-ups, professional service, and pharmaceutical companies increase and nurture their sales and marketing pipelines. Hermitcrabs, core services include inbound marketing, sales enablement, account-based marketing, modern lead generation digital strategies and web development in HubSpot COS, Wordpress, Magento, and Shopify.