Posted February 11 by Niranjan Reddy
Feb 11 by Niranjan Reddy
5 Reasons on how Pillar Page helps you in SEO Rankings?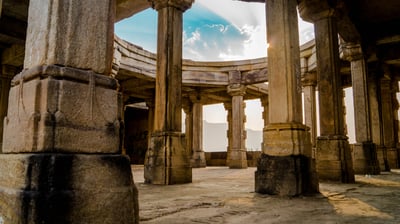 Gone those days where people only search for the keywords to get results. The way people search these days has changed with the evolution of digital technology.
Just Imagine you are having a conversation with your friend and end up with a question. You here search for a question and expect a more specific answer instead of just typing a keyword and clicking on a different website for the exact answer.
Search engines aim at providing what exactly the users are looking for. Google search algorithms are constantly evolving to give a user the best answer possible.
So how do you rank for these search queries?
In this blog, we will explain how to rank for those queries and how the pillar page will play a significant role in this.
What is a Pillar page ?
A pillar page is a broad overview of a particular topic.
Confused?
Consider this example
You have a topic called Digital Marketing.
This will be your Pillar page. So Digital Marketing is a broad topic and you will have many subtopics for that.
Subtopics may be, Importance of Digital Marketing, How Digital Marketing help your business etc.
These subtopics are called topic clusters where they are related to the main topic of Digital Marketing.
Now you create a pillar page for a specific topic and write relevant blogs which acts as a cluster topic for pillar page.
You can link back to your pillar page from the Cluster topic page.
People looking for any queries related to digital marketing you will have more chances of ranking.
This is because Google understands what exactly your content is about when you link back to the main topic of Digital Marketing. As a result, It will rank you better.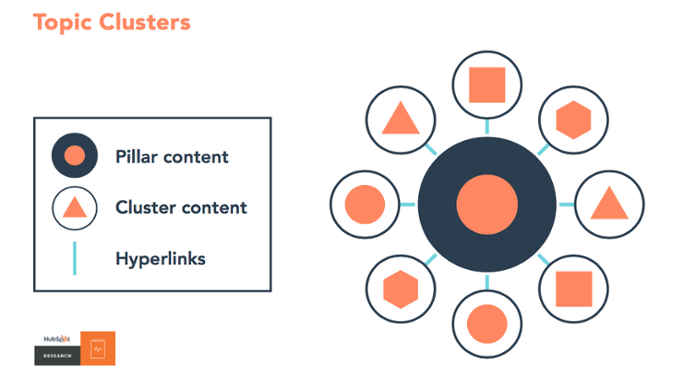 Image credits: Hubspot
5 Reasons why pillar pages are important for SEO?
1. People are searching for longer queries
2. Search engines aim at providing exactly what searchers are looking for
3. Can reach more number of audience
4. Help in giving users specific results
5. Gain more internal links
1. People are searching for longer queries
We are seeing a growing number of longer form queries. People are more specific in their searches.
There are many contents out there. People want to filter all those irrelevant content and only look for the exact one.
So they narrow their search queries to get those results.
Increase in voice search could also be a reason for the increase in conversational queries.
People are using voice assistants like Siri and Google assistant for their searches.
This will be more in the future as Amazon echo and google home is gaining its popularity.
It is predicted that 50% of all searches will be voice searches by the year 2020.
2. Search engines aim at providing exactly what users are looking for
Search engine algorithm has changed. If people are searching for conversational queries, we should be able to rank for those exact queries.
Search engines aim at providing more accurate information for the users.
This can be achieved by organizing your content.
For the specific topic with the pillar page, the blogs related to that topic with long tail keywords should be hyperlinked.
By doing this, we can see better results and rank for conversational queries.
3. Can reach more number of audience
By ranking for conversational queries, you will have a chance of reaching more number of audience.
Studies say that 64% of searches are four words or more.
By following all these content strategies, you rank for both keywords and conversational queries.
With less competition for these long tail keywords, you can reach more number of audience. A better way to connect with people.
4. Help in giving users specific results
The results are disorganized when you focus on a particular keyword or a topic. It is very hard to find the exact results for the user.
Consider this graphic on how content strategy works for most websites.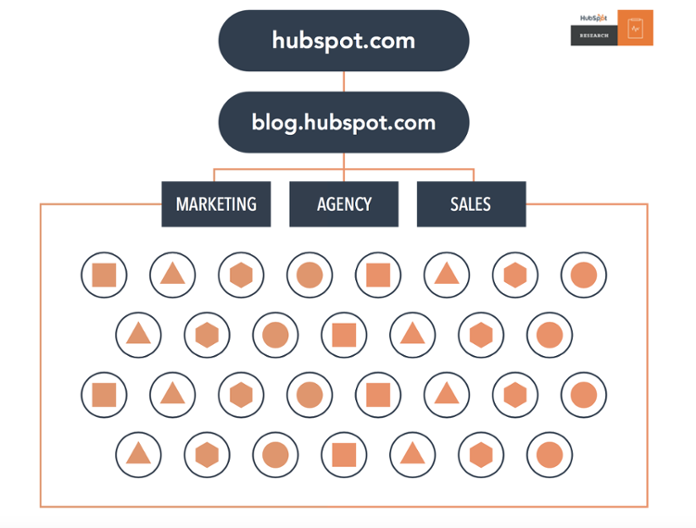 Pic credits: Hubspot
Generally what happens here is you write content for a particular topic or a keyword and post as a blog.
By doing this the content is not properly organized and the user searching for queries will not end up in finding the specific answer he is looking for.
Now compare the above graphic with this.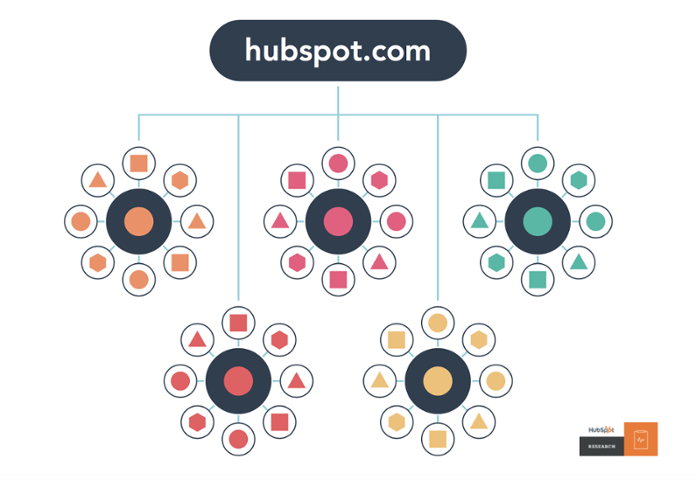 Pic credits: Hubspot
In this above Image, content is organized for SEO benefit.
This is achieved by creating a pillar page topic and hyperlinking all the cluster topics to the pillar page.
This will make Google easy to show the relevant topic the user is looking for and will help rank higher in search engine result pages.
5.Gain more Internal links
Internal links are an important ranking factor for SEO.
Internal links connect your content and give Google an idea of the structure of your website.
They can establish a hierarchy on your site, allowing you to give the most important pages and posts more link value.
Here pillar page topic and cluster topics are interlinked which helps Google ranking and your audience as well.
So Internal linking strategy can boost your SEO.
Now you know the importance of the pillar page and why it is considered as the most significant part of SEO.
So rethink on your SEO strategy if you are just focusing on keywords and not the topics that the audience are looking for.

Niranjan Reddy leads Hermitcrabs, Inc, an B2B Tech Inbound Marketing agency and eCommerce Agency, Google Certified & HubSpot partner. Who specialize in helping some of the world's largest B2B enterprise tech, tech Start-ups, professional service, and pharmaceutical companies increase and nurture their sales and marketing pipelines. Hermitcrabs, core services include inbound marketing, sales enablement, account-based marketing, modern lead generation digital strategies and web development in HubSpot COS, Wordpress, Magento, and Shopify.