Posted November 30 by Niranjan Reddy
Nov 30 by Niranjan Reddy
Tools to Test Site Speed of The Hubspot CMS Website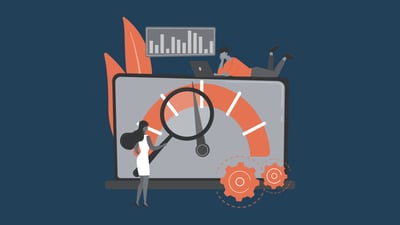 When someone visits your Hubspot CMS website, they first notice how quickly the desired page or image loads. If the page loads fast, they are happy and can get on with their work straightaway but if the page takes forever to lead, they get frustrated and may leave the site and look for the information they need on some other website. In this age when people are always looking for quick results, even the smallest delay in loading pages or images can put the visitors to your website off. This means you are going to lose a prospective customer. So, you can imagine the effect it may have on your business. Thus, your Hubspot CMS website speed is a serious issue and needs to be considered a priority. There are multiple reasons of people prefer one website over another for seeking certain information or buying a product. These include the pricing, quality, and speed of the website. While the other two are certainly important, the speed of the website is one of the major reasons people choose a particular online store or streaming service, or online service like a travel website.
Since the speed of your website plays such a vital role in retaining visitors to your website, it is important to understand how testing the speed of your website can help you in delivering a great user experience and make them visit your site again. And for this reason, knowing how to test the speed of your website becomes important. If you have any doubt that your Hubspot CMS website is lagging and you are losing customers due to this, it is high time you tested the stepped of your website. We have compiled a list of the best website speed-testing tools that would ensure that the visitors to your site have a positive experience, and we would discuss them in detail. But before we start with that list, let us first understand what we mean by website speed.
What is website speed?
Website speed is the speed with which the content on your website loads for users of your site. It is how quickly or slowly a user can access the pages on your website. The website speed is the average speed of loading multiple pages on your site, the time it takes for the different elements in the page like text or images to become fully visible to the user. This website speed is an important factor in search engines like Google determining which websites to display at the top of the search engine results. So, your website will definitely not show at the top of these results if it is slow to load. You can see how critical this website speed business is. So, knowing which tools to use for testing the speed of your website is important for optimizing the stepped of your website. Let us now look at the best tools that are available for testing your Hubspot CMS website speed.
Hubspot CMS website speed testing tools
Google pageSpeed insights
It would be sensible to look to a search engine if you are trying to enhance the speed of your website thereby improving your Search Engine Optimization (SEO). So, the first website speed testing tool on our list is Google PageSpeed insights. It is one of the most popular website speed testing tools that has been the preferred choice of website owners for many years now. Google PageSpeed Insights, created by Google, is a simple tool that measures the speed of your website on a scale of 1 to 100. The more your website scores on this scale, the higher the speed of your website. Google PageSpeed Insights can test the speed of both desktops as well as mobile sites. The biggest advantage is that the test results are followed by suggestions on how you can improve the performance of your website. It provides you with detailed results that include render-blocking code, page sizes, TTFB, etc. Most importantly, Google PageSpeed Insights tests the speed of your website against the factors that are vital to Google's core web. So, it splits the time it takes for the page on your website to reach each stage of the page-loading process. You can have a more subtle understanding of how your page load looks like and the effect it has on the user experience through Google core web vitals.
Pingdom
This is another popular website speed-testing tool that has been around for quite some time now and is simple to navigate. Just like Google PageSpeed Insights, it also ranks the speed of your website from 1 to 100. It has a mix of options and simplicity and provides useful information that can be used by both beginners and advanced users who can find ways to improve the website speed as it offers suggestions for improving speed. Pingdom provides you with page size and content size along with page load time and performance grade. The detailed analysis offered by Pingdom can help anyone, from a novice to expert resolve issues and make quick changes. You are able to monitor your website and get uptime alerts every minute. It presents results in such a way that can be understood easily Pingdom provides an incisive set of tested metrics coupled with content information and file requests. You can conduct location-based testing on Pingdom so you can select the location nearest to your user base. It is a wonderful speed-testing tool to generate client-facing reports and provide your developers with specific information required to resolve any issue. All the page loading criteria of your website are provided with a simple explanation individually that helps you identify the priority areas of improvement. So, we can say that Pingdom is one of the most user-friendly website speed-testing tools around.
GTMetrix
This is yet another free website speed-testing tool, which is very efficient in breaking down the performance and keeping things simple. Its interface is easy to use and its design easy to navigate. GTMetrix provides you with page speed, performance score, timings, and many more things along with information on the ways to fix the issues reflected by the test. You just have to enter your URL and it gives you nicely compiled information about your speed test. GTMetrix breaks down the test results in multiple ways that include a visualization of the speed of your website displaying page load as a timeline of screenshots at individual core web vital as well as an assessment of where you need to optimize your page. You also get a waterfall chart that records the loading time of each object on the page. It provides a list of potential issues that are prioritized on the basis of their perceived importance. GTMetrix provides quicker insights and that too for free as compared to many other available options. It also offers a Pro-level upgrade that allows you to access page settings, monitoring, and alerts. Even in the free plan, the terminology is easy to understand and you can handle many website speed issues without the need for employing a coder.
Uptrends
This is next in our list of website speed testing tools. Testing your website speed on Uptrends is very easy. Just type your domain and you can select any of the 11 server locations around the globe. You can then test the speed of your website across multiple desktop browsers as well as mobile. For the desktop test, you can test the website for different speed scenarios by picking up the screen resolution for any one of the four browsers i.e. Chrome, Firefox, IE, and Phantom JS, and bandwidth throttling. Uptrends provides you with core web vitals, page size, Google page speed score, load time, and requests. It also offers suggestions for improving the performance which it does by prioritizing each category on the basis of its impact on the loading time. You get a nice in-depth waterfall graph that can be further opened to get more information. It also generates data pertaining to domain groups that enable you to see those other domains with which your webpage is interfering. It provides multiple ways of visualizing the loading of a page's assets. Beginners might find Uptrends a little difficult to use as its interface has fewer tooltips and instructions to explain the meaning of the metrics. Overall, Uptrends is a very well-designed website speed-testing tool.
Dareboost
Dareboost provides you with both website speed testing and monitoring services to enable you to maintain and improve the website speed. It carries out detailed analysis for both desktops as well as mobile from many locations around the world. Like many other tools on our list, Dareboost also provides free website assessment but with some extra features. It carries out analysis for more than 80 types of data thus helping you to identify the areas that need improvements. Its user-friendly design presents reports that can be comprehended easily. The dashboard is simple but provides a lot of information including the First byte. The reports include many key pointers providing very useful insights for starters as well as website developers. The series of charts provided by Dareboost give you a quick overview of page loading speed as well as website performance. Once you know the meaning of each data, you can easily see your progress. A special feature of Dareboost is that it provides you with a video breakdown of the loading process. You can playback the video and see the page loading in real-time and can even slow it down. You can also see each frame with the help of its slider. Dareboost, for sure, has some interesting features and stands out for its interactive video playback.
WebPageTest
WebPageTest is yet another free website speed-testing tool and has been built by a chrome engineer. It's an open-source tool for treating the performance of your website that allows you to test your website from any one of its 40 locations across multiple devices. As compared to other free website speed-testing tools, WebPageTest provides more advanced data and insights. It provides you with reports through which you can identify issues and improve the speed of your website. It considers the browser type, internet connection speed, and type of device to provide definite results. It allows you to create custom settings each time you run the speed test. WebPageTest also tells you if your website is slow on one type of browser and very fast on the other. The reports on WebPageTest include a waterfall chart, a visual page load timeline, a summary of core web vitals, and page load videos. There is also a special test available where they run the test thrice and display the data of each run separately. With its advanced testing, you can decide the number of tests you want to run. WebPageTest provides you with a large amount of data through which you can get deep insights into the performance of your page.
Site 24x7
It is a simple free tool for testing the website speed. It helps in monitoring websites, servers, networks, and applications. The page speed is not determined by HTML. CSS, and Javascript only that is implemented on the front end. In many instances, the server environment or the host can have a direct impact on the speed of your page. The Webpage analyzer tool of Site 24x7 is specially designed to analyze these factors influencing page speed. It analyzes the server environment in relation to the web page speed. It helps in integrating many other system administration tools. Its waterfall graph is easy to read as it details what loads on your page and when. The Webpage analyzer tool may not be as strong as some other site speed testing tools but its in-built integration with other system administrators makes it a nice domain-side approach to testing the speed of the website.
Website speed is a vital factor in attracting and retaining visitors to your website and can not be brushed aside as just another nuisance to your visitors. A slow speed will impact your site ranking as well as SEO. You need to focus on improving the speed of your website to boost clicks, leads, and sales. And we have listed quite a few nice options to choose from for testing and improving your website speed. Each of these is unique in itself and you can check and choose which one works the best for you. Speed testing is something you need to do regularly and repeatedly. Using the right website speed testing tool is the obvious thing to do for facing new challenges, improving the performance of the website, and providing the best user experience to the visitors to your website.

Niranjan Reddy leads Hermitcrabs, Inc, an B2B Tech Inbound Marketing agency and eCommerce Agency, Google Certified & HubSpot partner. Who specialize in helping some of the world's largest B2B enterprise tech, tech Start-ups, professional service, and pharmaceutical companies increase and nurture their sales and marketing pipelines. Hermitcrabs, core services include inbound marketing, sales enablement, account-based marketing, modern lead generation digital strategies and web development in HubSpot COS, Wordpress, Magento, and Shopify.