Posted September 15 by Niranjan Reddy
Sep 15 by Niranjan Reddy
Ultimate Guide to The Contact-Based Workflow in HubSpot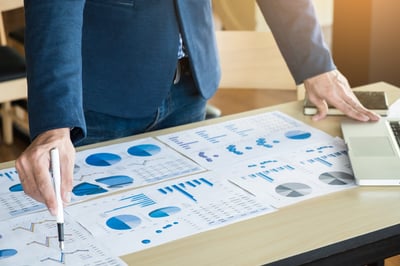 Today, HubSpot is being used by both B2B and B2C businesses for driving traffic and converting leads to boost sales and revenue. Being a very powerful marketing software, you can leverage its various tools and features to maximize your sales and connect individually with your customers. The various automation features of HubSpot simplify your sales and marketing processes and make the work of your teams a lot easier. And one of the most interesting and useful of these features is called workflow. Simply put, workflow is a set of automated actions. When you create a workflow, you keep all your marketing initiatives on a single platform. This means tracking and analyzing the actions becomes a lot easier. Let us explain workflows in detail.
What is a workflow?
By definition, a workflow is a set of actions that should be completed in a sequence or parallelly so that the desired result can be achieved. And as far as HubSpot is concerned, it sets up workflow as an automated process so that under specified conditions, tasks, emails, and information are triggered on the basis of certain conditions set by the marketing team or individual members. You can create smart workflows on HubSpot so that they run in the background for your daily marketing activities. Once you create workflows, you can follow up on leads by sending automated emails. This way the margin of error gets reduced because of automation which runs on pre-set criteria, which could otherwise be higher if emails were sent manually. So, a workflow sends personalized emails to individual customers and prospects and keeps stimulating them on the basis of their actions like opening the mail, clicking any link, or mail bouncing, etc. Your marketing team is saved a lot of time and effort which they can use in more productive activities like planning strategies. The possibilities are endless and you can customize these workflows according to your business needs. However, workflows are not used only for nurturing leads through automated emails triggered by set conditions. You can use these workflows in multiple applications and have innumerable possibilities.
In this article, we are going to specifically discuss the Contact based workflow in HubSpot.
What is a Contact-based workflow?
Let us first understand what is a contact-based workflow. An object-based workflow, the Contact-based workflow was originally designed by HubSpot for categorizing and nurturing the contacts with marketing email content of high quality. But now, many more functionalities have been added to it. These include the creation of related records and transferring the information of property among related objects, communicating internally as well as externally. It can also be integrated with third-party applications so that a smooth user experience can be created for actions like registering for an event, team slack notifications, and internal task management. There are three options in HubSpot for creating a contact-based workflow. We will look at them one by one.
Contact-based workflow types:
You can do a whole lot of things with contact-based workflows. With contact-based workflows, you can set a delay, trigger a webhook, send internal notifications, create a task, create a record, use third-party integrations, set or clear a property value, and can do much more. When you create contact-based workflows in HubSpot, you keep many activities on one platform like you keep the email for automation, using your created list, and tracking it, all in one place. The three types of contact-based workflow options in HubSpot are as under:
The first one is the Standard workflow. It is also called Blank workflow. You can set conditions like someone joining your mailing list, filling out a form, enrolling for a program, or any other condition. Whenever someone meets any of these pre-set conditions, the standard workflow is triggered. Here, the first action or delay corresponds to the time when the contact is enrolled in the workflow. However, if delays are added somewhere else, then they correspond to the previous action and not the time when the contact is enrolled. Some uses of the standard workflow are following up with the contacts through email after they have submitted a form, after the addition of leads into your contact database you can assign them to your team, and automating actions like creating tasks for the contact owner.
The second type of HubSpot workflow is the Specific date workflow. Here, all actions are related to a fixed date. Contacts are triggered when starting conditions are met. The contacts stay in the workflow till the time action commensurate with the fixed date is scheduled to be executed. Delays are fixed according to the fixed date. In fixed date workflows, all the actions take place simultaneously on the fixed date and time. This type of workflow can be used for fixed-date events like sending reminders to those who may have registered for a webinar or sending out holiday notices. You can also send invitations to the conference or its reminder as well as you can follow up.
The third and the last type of Contact-based HubSpot workflow is the Contact date property workflow. In this workflow, all the workflow actions revolve around a contact date property. As in the standard workflow, contacts get enrolled in the workflow when they fulfill enrollment triggers. They can also be enrolled manually. But here, contacts remain in the workflow only till the first action relative to the contact date property is scheduled to be executed. Any delays added at some other place are not relative to the previous action but to the contact date property. In specific date workflow, all actions get executed on the same date and time but in contact date property workflow, actions get executed at different times which happens on the basis of the date in their contact date property. Some uses of contact date workflows are sending personalized or special offer emails to the contacts on their special days like birthdays or anniversaries, sending welcome emails when a contact's account gets activated, and automating many tasks.
How to create contact-based workflows?
The purpose of creating workflows in HubSpot is to automate your processes and make your team more efficient. The process of creating workflows is very simple and easy. We will explain the steps here.
Log in to your HubSpot account
Go to Automation and then to Workflows
Go to the top right-hand corner and click 'Create workflow'
From the types of workflows, choose 'Contact-based' in the left panel
Select 'Name your workflow' and give a name to your workflow
Go to the right panel and under 'Choose type' select Standard or Specific date, or Contact date property, whichever workflow you want to create
For standard workflow, create a blank workflow and then add the enrollment triggers, delays, and actions
For the specific date workflow, click the 'Date of event' dropdown and set the date of the event around which the actions will center and executed
Similarly, for contact date property workflow, click the 'contact date property' dropdown and choose the contact date property around which the actions will be centered
Click 'Save'
And you are done.
How do you set enrollment triggers for contact?
As we know, in a contact-based workflow, a contact enters the workflow when he meets the enrollment triggers. So, setting enrollment triggers is as important as creating the workflow. Here's how enrollment triggers are set.
Go to workflow editor and click 'Set enrollment triggers'
Go to the right panel and choose the 'filter type' for enrollment trigger. Select the trigger from there and click 'Apply filter'
This will set the triggers and the first time contacts meet the enrollment triggers, they will enroll in the workflow by default
For re-enrollment, go to the right sidebar and click 'Re-enrollment' and in it click 'Allow re-enrollment
Click 'Save'
And that's it.
To set delays, click 'Delay schedule and timing'
From the right-hand panel, select the date and time of the next action
Contact-based workflow goals
Workflow goals can be used in a contact-based workflow to measure how successful your workflow has been in cultivating your contacts and help you in keeping the focus on the purpose of the workflow. These workflow goals can also be used to set who can get into a specific workflow and who can be removed from there. This means all the contacts who fulfill workflow goals get unenrolled automatically before the execution of the next action. Workflow goals commonly used are:
Contact has to be moved to the next lifecycle stage, like from the contact stage to the customer stage
A specific number of exchanges have taken place with the contact, like form submissions or email clicks
When the actions of the contacts mean they are engaging
There is no doubt that contact-based workflows are the most robust workflows out of the automation options offered by HubSpot. Contact-based workflows give you the option of engaging with the contact in different ways based on different criteria. This is a broad guide to provide all the needed information about contact-based workflows and we are hopeful that you must have understood everything about contact-based workflows through this article.

Niranjan Reddy leads Hermitcrabs, Inc, an B2B Tech Inbound Marketing agency and eCommerce Agency, Google Certified & HubSpot partner. Who specialize in helping some of the world's largest B2B enterprise tech, tech Start-ups, professional service, and pharmaceutical companies increase and nurture their sales and marketing pipelines. Hermitcrabs, core services include inbound marketing, sales enablement, account-based marketing, modern lead generation digital strategies and web development in HubSpot COS, Wordpress, Magento, and Shopify.