Posted October 10 by Niranjan Reddy
Oct 10 by Niranjan Reddy
How to Reduce Costs with HubSpot by Managing Contacts?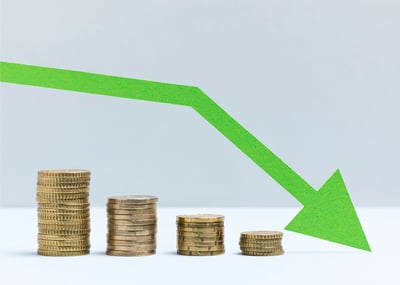 Every business wants to save costs wherever it can. Everyone these days wants to get more for less money. When it comes to HubSpot, contact management is something that people want to save costs on. But to do so, you must know how to manage contacts in HubSpot because when you get a complete understanding of contact management in HubSpot, you can devise strategies for effective contact management and save costs. But even before you jump into understanding contact management in HubSpot, you must know what are contacts in HubSpot. So we will start with knowing what the contacts are.
What are contacts?
You make a lot of efforts in your sales and marketing and all of these are aimed at contacts. They are what make your marketing efforts tick. They are the life and blood of sales and marketing efforts. A contact can be described as a person who engages with you for your business. Contacts can be people whom you target for your marketing, they can be people to whom you sell your products or services, they may be your employees, people with whom you engage personally or online, or they may be your partners. So, it becomes important that you create your database with those people or prospects with whom you can engage regularly. Contacts don't only mean names and email addresses. They are real human beings with whom you have to actually deal and make relationships. Contacts are a vital part of your business's journey to success and its future.
Having understood what are contacts, let us understand contact management.
What is contact management?
You keep collecting a lot of data about your contacts. This is a continuous process. This collection of data is most beneficial if it is organized properly. The process of collecting contact data and organizing it is called contact management. When you use HubSpot's Customer Relationship Management (CRM) tool, you interact with your contacts and track those interactions through it. Your teams align with each other and manage relationships with customers at every stage of their journey with you. Contacts are stored in the CRM and it is a common platform, your marketing, sales, and customer service teams, all have access to this. This encourages transparency and everyone knows which leads are being nurtured and which deals are nearing closure. Having a robust contact management strategy through the usage of HubSpot's contact management tools can save you costs. So, if you want to reduce costs in HubSpot, you must create a winning contact management strategy.
Building contact management strategy
Before embarking on the journey to create a contact management strategy, there are some essential things that you must have. The first thing you need to know is the persona of your contacts. This includes their identity and personality. This will give you an image of your customers who are the nucleus of your contact management strategy. The second thing to know is the information about the company with which your contact is associated. Company details are as important as contact details, particularly for B2B businesses. Here, HubSpot CRM helps by automatically taking out company details associated with individual contact and attaching this information to the individual contact's information.
Once you have the contact persona and the company information with you, you are ready to build your contact management strategy in HubSpot. Contact management strategy usually involves the following steps:
Creating a contact database health check schedule:
Constant analysis of the contact database is important. You must keep your database up to date by removing the data that is not required anymore. The frequency of cleaning up your database depends largely on your sales cycle. The longer the sales cycle, the longer the database evaluation time. With a constantly updated database, you can set correct priorities and reach those people who are genuinely interested in becoming your customers. This way, your marketing team can adjust their efforts to deliver more engaging and personalized content to the prospects that can lead to their conversion to your customers. Therefore, to increase the efficiency of your sales and marketing teams, you ought to have an updated and clean database that would give them more qualified leads.
Set up contact database cleaning process:
Having set up a contact database check-up schedule, the next step is to set up the cleaning process for this database. The process includes knowing what to clean and how to organize the data in your CRM. Creating this process on HubSpot saves a lot of time and resources. Your aim is that your contact database should not include any unnecessary contacts while ensuring the accuracy of the data and is organized properly. You can delete unnecessary contacts, identify duplicate contacts and merge them, and assess the contact property values.
Bring your marketing strategy in line with your contact management process:
Now that you have set up the frequency and process of evaluating the contact database, you must know how to use this cleaned database to bring results. Here, three parts of your marketing strategy align with your contact management strategy. The first one is the content strategy. This means you have to create a structure that would bring your content before your most convertible contact. Next is the lead nurturing strategy. This means delivering the right content to the right contact at the right time. This is a vital part of any marketing strategy and plays an important role in a lead becoming a customer. And the last one is the segmentation strategy. How you form different groups from among your contact based on their preferences or other characteristics like location, gender, etc. plays a critical role. When you have listed and categorized your contacts properly, it will give a huge boost to your marketing ROI.
All this implies that after building your contact management strategy, you must look again at your marketing strategy to see how you can take utmost advantage of the newly updated contact database to get the best results. Having an updated contact database and a firm hold over your contact database saves you a lot of money and helps you get optimum results out of HubSpot because HubSpot charges only for the contacts that you use for marketing.
How to save money with HubSpot by the contact management:
Now coming to the real issue of this piece. You have adopted and implemented your contact management strategy in HubSpot. HubSpot comes with a host of amazing features including forms, live chats, landing pages, email marketing, etc. Besides, HubSpot offers free storage of up to one million non-marketing contacts and charges only for the contacts you are marketing to. When your contact management strategy is in place, this gives you the power to choose which are the non-marketing contacts and which are the marketing contacts, thus giving you a distinct advantage. Also, when you have one million free contacts in your database, you can continuously keep converting from among them and then fill your database with more free contacts. So, pay only for marketing contacts and keep adding to your non-marketing contacts to convert them later.
Now the question is which contacts are considered marketing contacts in HubSpot? Marketing contacts are those whom you are contacting through your marketing strategies and tools like email marketing or targeted ads. You can keep all your contacts in your database but pay only for those to whom you market. This way you can focus your marketing budget more toward your marketing efforts rather than paying for the unused contacts.
Having done the contact management correctly, it is important to know which HubSpot contacts plan will work best for you a super your needs. There are flexible plans available from HubSpot to suit every type of user. Choose the plan that best suits your present requirements and you can change it as you go along according to your changing needs. If you are already using HubSpot, you don't have to go through the hassle of categorizing each and every contact in contact management. HubSpot provides marketing contacts eligibility flow. In a few clicks, you can know which are your marketing contacts. You can produce a list of the contacts whose emails bounce and those who have unsubscribed. So, it becomes very easy to update your contact database. Even if you are new to HubSpot, it is simple to identify marketing contacts. You can just keep marking your contacts as marketing contacts as you go through your contact database. This saves a lot of time and effort and as a result, reduces your costs.
So, manage your contacts rightly, pick up the right contacts plan from HubSpot and start to grow. With an efficient contact management strategy, you can convert more leads into customers. HubSpot's marketing contacts are designed to help you keep all your contacts in one place without having to incur the cost of unused contacts and with effective contact management, you can reduce your costs considerably by identifying the right marketing contacts. So, you don't have to worry about paying for every contact in your contact database.

Niranjan Reddy leads Hermitcrabs, Inc, an B2B Tech Inbound Marketing agency and eCommerce Agency, Google Certified & HubSpot partner. Who specialize in helping some of the world's largest B2B enterprise tech, tech Start-ups, professional service, and pharmaceutical companies increase and nurture their sales and marketing pipelines. Hermitcrabs, core services include inbound marketing, sales enablement, account-based marketing, modern lead generation digital strategies and web development in HubSpot COS, Wordpress, Magento, and Shopify.