Posted September 08 by Niranjan Reddy
Sep 08 by Niranjan Reddy
How to Track the Key Business Metrics With the Help Of Hubspot?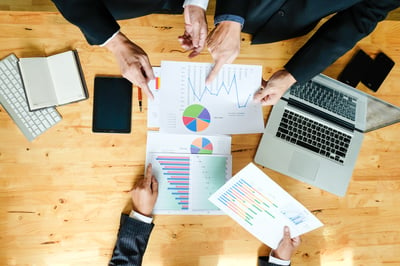 To get ahead in your business, you will accept that you need both data analytics and marketing. But, you might not be aware of how they work in combination to provide the best approach to your business. The data from your marketing campaigns can be used not only for improving future campaigns but also for evaluating how your business performs as a whole. With the analytics, you can make suitable changes to your business plan, services and products to win the hearts of your customers.
Key Metrics To Track:
As a business owner, you might be aware of the fact that performance metrics can help you evaluate the progress of your business. When talking about the metrics that any business should use for evaluating its success, it is possible to classify the metrics under different categories. What are these categories? They are metrics related to sales, marketing, website, customer success metrics and engagement metrics. Different metrics are to be evaluated under each of these categories to evaluate the success of your business or at least the progress of your business. Let us delve into some details about the metrics to evaluate under different categories, where HubSpot can help.
Website Metrics:
When you analyze your website, you will be interested in gaining knowledge of the complete story of how visitors engage with your website. In addition to knowing the number of visitors to your website, you will be interested in knowing where they come from and the longevity of their stay on your website. Even, you should know how quickly visitors are getting out of your website. To evaluate the performance of your website, you will have to evaluate many metrics. However, page views are one of them to evaluate and let us find how HubSpot can help:
Page Views:
Page views is a metric that counts the number of times a page on your website is seen by a visitor. Any time, a page on your website is loaded in a browser, it will be counted as a page view. Just in case, a visitor refreshes or reloads the same page once more, it will be counted as two page views.
How to Evaluate Page Views?
If the number of page views shows an upward trend, it is an indication that your website has handled SEO rightly. Also, it is an indication that your business is successful in its brand awareness efforts. This metric will tell you about the popularity of the pages on your website and the traffic that your website receives as a whole.
The higher number of page views can indicate SEO initiatives and ad campaigns that thrive. Nevertheless, it could denote something negative. For instance, the page views might be more because visitors might be frequently reloading your pages, which is a sign of performance issues. Otherwise, they might be wandering around your website without a clear goal, which can indicate poor website structure and/or navigation.
In the same way, lower page views need not necessarily be a bad sign. In case, you wish that users should follow a particular path, a lesser number of page views can mean they are efficiently converting without loading many pages.
How to Track Page Views in HubSpot?
Follow the steps given below to track the page views:
Sign in to your HubSpot Account
Go to Reports and Analytics Tools
Tap "traffic analytics"
Choose the pages for which you wish to know the page views.
Now, choose the pages tab
From the drop-down menu, choose page views

On the screen, you will get to see a graph that shows the progress of your website.
How to Improve Page Views?
You can improve the number of page views by promoting suitable content in the sidebar. The other things you can do is add internal links and you can also write eye-catching headlines. Even, you can follow many other strategies.
When talking about website performance metrics, you can see other metrics like bounce rate, time per page view and other details.
Customer Success Metrics:
When businesses intend to track customer service success, many organizations have been looking for the past metrics that matter truly. When they might keep an eye on the email response times, on-time deliveries and other numbers, these metrics do not provide any information on how customers think about a business. The customer success metric for any business revolves around the experience that customers got. Here, the HubSpot service hub can help you keep track of the metrics that matter so that you can evaluate the overall delight customers have got from your business.
Meeting the Needs of Customers Metric:
Meeting the needs of customers means providing a wide range of ways for people to get required assistance and information along with different communication channels. To meet customer needs, HubSpot Service Hub offers different techniques when keeping track of the success of your method.
Knowledge Base:
The HubSpot Service Hub Knowledge base offers do-it-yourself support to your customers. With it, you can stock FAQs, useful articles and other information that your prospective customers constantly ask for. You can organize it into varied categories and can make it searchable and can evaluate its success by keeping an eye on how people use them frequently and the purpose of the usage.
Help Tickets:
Ticketing and Help Desk Software from HubSpot will let you not only login but also organize and keep track of all help requests from customers. With every detail present in the same place, you can get details like employee response time, the volume of tickets in a given time and other support metrics. With these details, you can spot the places that need improvement.
Multiple Channels of Communication:
You know that all customers are not comfortable with all channels of communication. Many of them prefer varied techniques of communication and the Service Hub of HubSpot offers a wide range of communication options like live chats and phone calls to name a few.
Sales Metrics:
The volume of sales in a given period will help you evaluate the turnover for that specific period. The number of sales made is another indication of how effective your marketing efforts are paying back. Even, it shows the efficiency of your marketing and sales team in closing deals with customers. You can evaluate the sales growth using different metrics. One of these metrics is the performance of sales representatives in your organization.
Track Sales Representatives using HubSpot:
With the sales rep tracking facility offered by HubSpot, you can get to know the types of deals each sales representative in your organization closes. Also, you can rank them on the basis of the revenue they brought to the company. In general, it can be deceiving when the records of a few sales representatives are a bit higher or lower than the average. You can get to know the number of deals in comparison with the value of won deals with the two visuals offered by Hubspot. They are Total Won Deals and Total Won Deals Revenue.
Your organization can benefit from this metric from Hubspot. The reason is that you can find a sales representative, who is constantly making a lesser amount of deals and analysis of the data might show you that the representative is closing only a fewer amount of deals that can bring higher revenue to the organization. If a person is performing lower than the average, you can think about training him so that his records will also improve.
Marketing Metrics:
You will not deny the fact that setting up marketing campaigns alone is not enough. Your marketing team should know how far the campaign pays them off. Thanks to the marketing Hub from HubSpot. It has a separate analytics dashboard that will help you get to know the performance of your marketing campaigns. With these key performance indicators, your marketing team can think about the changes to make in their marketing strategies. They can understand what works well and what does not.
With knowledge of qualified leads, number of comments received, number of content shared and time spent on a marketing page and many other key metrics, HubSpot can help a lot to your marketing team.
Other Key Metrics:
A business can evaluate its performance in different domains on the basis of the results it gets from evaluating metrics. Here, HubSpot provides the opportunity for companies to evaluate their performance from different angles. Here are a few of them for your understanding:
Growth of revenue
Average fixed costs
Average variable costs
Contribution margin ratio
Break-even point
Cost of goods sold
Gross profit margin
SAAS Sales metric
Qualified leads
In short, with HubSpot, all departments in your organization can benefit. Particularly, the metrics offered by HubSpot are easy to use and evaluate, thereby providing a bigger picture of the growth of your organization from different angles.

Niranjan Reddy leads Hermitcrabs, Inc, an B2B Tech Inbound Marketing agency and eCommerce Agency, Google Certified & HubSpot partner. Who specialize in helping some of the world's largest B2B enterprise tech, tech Start-ups, professional service, and pharmaceutical companies increase and nurture their sales and marketing pipelines. Hermitcrabs, core services include inbound marketing, sales enablement, account-based marketing, modern lead generation digital strategies and web development in HubSpot COS, Wordpress, Magento, and Shopify.