Posted November 22 by Niranjan Reddy
Nov 22 by Niranjan Reddy
How to Build Sites on HubSpot CMS for Marketer Experience?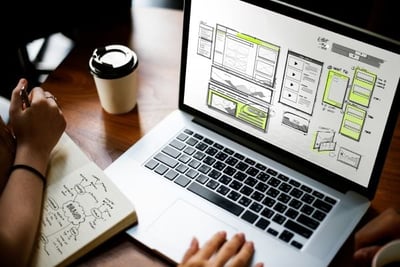 As a marketer, you will be particular in ensuring that your business website should provide the best online experience to visitors. Thanks to HubSpot's website tools that will help you develop user-friendly websites! Not only for creating but also for editing your website content, you can use the pre-built themes and easy-to-use drag-and-drop editor on HubSpot.
Let us consider that you already have a website built for your business. Now, for improving the inputs you need for marketing your business, you can use the HubSpot tracking code. With this tool, you can track the behavior of visitors and can capture form submissions. HubSpot even provides you the option to host specific parts of your website like landing pages. Using this facility, you can convert leads to improve the reach of your business.
HubSpot CMS Features Helpful for Marketers:
For marketers to build the most useful websites to grow their business, HubSpot CMS offers a useful set of features like those detailed below:
SEO Recommendations
Website Themes
Fully-Integrated CRM
Drag-and-drop Editor
Adaptive Testing
Contact Attribution Reporting


How To Build A Website On HubSpot CMS for the Best
Marketing Experience?
Here are the steps you will have to follow to build a website on HubSpot CMS:
1. Choose A Theme and Set up Templates:
A theme offered by CMS is a set of templates and other tools that will channelize your content creation. You can start the website-building process by choosing a theme. Then, you can update the settings of the theme so that you can gain complete control over how your website and its pages should look like.
HubSpot also offers the facility to build individual templates like blog and page templates. Beyond default themes offered by HubSpot, developers can also use CLI for creating and modifying themes locally. You also have the option to browse the Asset marketplace of HubSpot to buy additional templates and themes.
2. Build Pages and Create Conte
n

t:

Once you have chosen and personalized a template or theme, you can use it for developing website pages. The CMS offered by HubSpot has a content editor. With this editor, you can personalize your content with bespoke fonts, videos, images or other files that you have uploaded to HubSpot. Here are the things you can do in this second step in the website creation process:



Create and personalize pages
Use a starter template for creating a landing page
From the drag-and-drop area, edit page content
Use pictures in HubSpot contents
Add videos if required to your HubSpot Content
3. Set Up a Blog Page:
When the landing page and about us page will talk about your business, you should also have a blog page. On this page, you can have contents that are useful to visitors and provide answers to their queries. As a marketer, you might feel that a blog page is not essential. But this page can attract visitors to view your services and pages.
You can use the blog page for creating engaging content to grow your subscriber base. HubSpot CMS offers different features like comment moderation, blog authors and blog tags to manage blog content.
Through the HubSpot CMS, you can also set up blog subscription emails so that subscribers can get notified as and when you post new blog content. Here are the things you can do on this page of your marketing website:
Creating a new blog
Managing blog settings
Creation and management of authors of blogs
Creation and management of blog tags
Setup blog subscription options in HubSpot
4. Use Advanced Editing Features:
Once you are comfortable working with the content editor of HubSpot, you have the option to take your business portal to the next level with advanced features. For instance, you can experiment with different versions of the same page so that you can get to know which one gets the most form submissions and views. When you are in this stage of website building with HubSpot, you can do the things listed below:
You can run an A/B Test on your page
You have the option to create an adaptive test for each page
Smart content rule creation and management
Partition the assets of your HubSpot website
5. Take your Website Live:
Once your website is ready to move on, you are ready to take your website live. You can do this by connecting a bespoke domain. You can connect your website to HubSpot and can update your DNS records with your DNS Provider. Then, you will have to associate subdomains for various types of content on your website. Using a CMS Hub Subscription, you can also associate your base domain with HubSpot.
6. Optimize the Performance of your Website:
Now, you have your website live. When your business grows in online presence, you will have to constantly refer to different reports to see what is influencing your visitors the most. For this purpose, HubSpot CMS offers tools like website analytics at your fingertips so that you can arrive at quick decisions when some strategies are to be changed.
In turn, you can direct more visitors to your website. The thing to remember here is that optimizing the performance of your website is an ongoing process. You will have to do it frequently to keep improving. Also, you should do this to make your website stay in limelight in the present competitive web space. Here are certain things you can do at this phase of HubSpot CMS website development:
You can create topics for your SEO strategy
View SEO recommendations offered by HubSpot
Integrate Google Analytics with your HubSpot Content
Evaluate your website traffic and traffic analytical tool offered by HubSpot.
7. Join the HubSpot Community:
You can get more out of HubSpot Tools and can engage with other users by becoming part of the HubSpot Community. When you become part of this community, you will get chances to see example websites of peers. Also, you will be able to get tips from experts, further, you will be in a position to learn how to troubleshoot common issues and you can also submit feedback to any tool you have used recently.
Conclusion:
HubSpot CMS has been helping marketers from around the world develop great user-friendly websites. You can follow the steps above to build a HubSpot CMS website that satiates you with the best returns.

Niranjan Reddy leads Hermitcrabs, Inc, an B2B Tech Inbound Marketing agency and eCommerce Agency, Google Certified & HubSpot partner. Who specialize in helping some of the world's largest B2B enterprise tech, tech Start-ups, professional service, and pharmaceutical companies increase and nurture their sales and marketing pipelines. Hermitcrabs, core services include inbound marketing, sales enablement, account-based marketing, modern lead generation digital strategies and web development in HubSpot COS, Wordpress, Magento, and Shopify.