Posted July 11 by Niranjan Reddy
Jul 11 by Niranjan Reddy
Best Web Chat Tools For Customer Support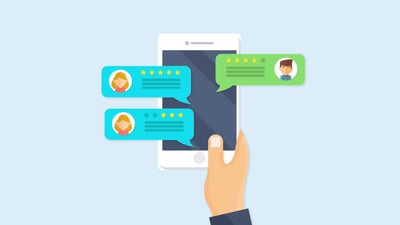 If you want your business to succeed, you have to be available to your customers round the clock. In today's fast-paced world, customers do not want to wait for support or answers to their queries. They want instant solutions. And they prefer to talk to a live person rather than reading documents or web pages where things may be unclear or confusing or they might not be getting what they are looking for. In simple, if you are not available to your customers when they are looking for support from your side, you are sure to lose them. So, what do you do? Well, live chat or web chat is the answer. It provides both the speed and quality that your customer is looking for.
Web chat is the best way of improving customer satisfaction, a vital factor in the success of every business. It has an important role to play in retaining customers. Therefore, it becomes not only important but essential to have a live chat feature on your website.
What is Web Chat?
A web chat feature is a pop-up window on your website that allows the visitors to your site to type a message in the window and instantly connect with a customer care executive, talk live and get an immediate answer to their queries. Moreover, it shoots instant messages to the customers in case an executive is not available so that the customer is not kept waiting. A good web chat experience for the customers leads to an increase in sales and customer base. On the other hand, a negative live chat experience like slow response time may result in a loss of sales and a bad name for your brand or organization. So, it becomes imperative to have good software for live chat so that the satisfaction level of your customers remains high.
And this precisely is the purpose of this article. To bring the top web chat tools available in the market to you and to describe each one of them in detail. Here they are.
Best Web Chat Tools
1. LiveChat
LiveChat is one of the leading software in live chat. It comes with many features and is very easy to use. This is what makes it the preferred choice of users. Apart from providing the live online chat service, it also offers features like analytics and reports. Besides, it can be integrated with over 170 apps. Another good feature of LiveChat is that you can send files and links to your customers. It allows you to add survey forms so that you can monitor the performance of your sales team. All the previous chats are stored in an archive so you can access them at any time. But the best part is its speed. It loads pretty fast providing a great user experience. LiveChat has in-built tools which help you in customizing your chat box. Another plus is that you can send targeted messages to your customers on the basis of their profiles which leads to a better conversion rate.
Price - LiveChat offers four price plans. It starts with a $16 per agent per month plan which is named the Starter plan. The second plan is the Team plan which costs $33 per agent per month. The third plan is the Business plan which will cost you $50 per agent per month. And the last plan is the Enterprise plan in which you can customize the plan as per your need.
2. HubSpot
HubSpot is a customizable web chat platform. So you can customize the design of your chatbox as per your line of business. Hubspot comes with features like live chat and a chatbot builder. You can chat with your visitors in real-time. If you are looking to just have a feel of how web chat works before making a decision or you don't have enough budget to buy a web chat software, Hubspot is perfect for you, because it is free. Live chats on Hubspot are transferrable which means if one agent is talking to some customer and feels that his query is more suited for a different department, he can easily transfer it to the appropriate person. Hubspot has in-built tools that help you personalize the chat. You can also send canned messages to your customers. It has a centralized inbox where all your chats are stored so that you can refer to them later whenever required. Hubspot also provides you an option to chat through Hubspot mobile app.
Price - As said earlier, Hubspot web chat is free to use.
3. LiveAgent
LiveAgent is a web chat tool that combines live chat with a help-desk system. It allows your team to work on multiple channels. It works by assigning tickets so that the customer is connected to the right executive. Multiple chat boxes allow your team to attend to more customers. LiveAgent can be integrated with all the leading social media platforms like Facebook, Instagram, Twitter, etc. The setting up of LiveAgent and its integration with other platforms is simple and easy. It comes with a universal inbox from which tickets can be viewed and responses can be sent. You can analyze your team's performance with the help of survey forms that it provides. You will find many tools in its backend platform that can help improve your team's productivity.
Price: LiveAgent offers four price plans. It may look a bit expensive but it is quite useful. It has a Forever free plan which is free. Then there is a Ticket plan that comes for $15 per agent per month. The third plan is the Ticket plus Chat plan which costs $29 per agent per month. And the fourth plan is the All-Inclusive plan which comes for $39 per agent per month.
4. Zendesk
A highly customizable web chat tool, Zendesk allows you to talk to your customers in real-time on the basis of their behavior. The main feature of Zendesk is that it offers chatbots, offline forms, and analytics through which you can monitor your team's performance. Its chatbots are powered by Artificial Intelligence (AI) so they automatically answer customers' queries at all times of the day. Another feature of Zendesk is its JavaScript API through which you can spruce up your live chat. You can use its automated triggers to reach targeted customers. Another interesting feature of Zendesk is its offline and pre-chat forms which enable you to reach offline customers also. This helps you in understanding the customer profile so that your representative is better equipped to engage the customer when live chat takes place. And you can integrate it with the other popular platforms like Wix, Shopify, Squarespace, Drupal, etc.
Price - Zendesk offers four different price plans. The first one is the Suit Team which costs per agent per month. The second plan is the Suit Growth plan which costs $70 per agent per month. The third plan is Suit Professional which comes for $99 per agent per month. And the last plan is the Enterprise plan which is a customizable plan and you need to get in touch with the Zendesk team for this one.
5. Olark
The next on the list of the best web chat tools is Olark. This is highly customizable so you can easily change the colors and shape of your chatbox. Setting up Olark is quite easy and its live chat can be used on multiple channels. It comes with many automation features which raise the level of engagement with your customers. Features like creating canned responses to queries, forwarding chats to the relevant departments, etc. make the interaction with the customer more fruitful. Olark can be integrated with your CRM for a better customer experience. Through its co-browsing feature, your representatives can see the visitor's screens which help in solving the problem faster. Olark can be connected to some third-party apps from any android or IOS device which let you chat with your customer even when you are on the move. You also get live reports and analytics on Olark to assess the overall performance.
Price - Olark offers a two-week free trial. Its pricing plans start from $29 per agent per month.
6. Freshdesk
Freshdesk is another software that is really good for live web chat. Its features are quite comparable with the other web chat tools described above. It works as both a conversation as well as a messaging tool. Its chatbot builder is very simple and easy to use so that even beginners can use it. With Freshdesk, you can have multichannel live chat and send canned responses. All the messages from the customers can be seen by your team in one place thereby enabling them to respond faster. Your agents can easily collaborate with each other by asking them to view their chats. The chatbots of Freshdesk are powered by Artificial Intelligence, making it possible to have a real-time conversation with the customers.
Price - Freshdesk offers a free plan for up to 10 agents which is a basic plan and does not offer any free chat sessions. Its paid plans include a Growth plan which costs $15 per agent per month. The next plan is the Pro plan. Its price is $49 per agent per month. And the third paid plan is the Enterprise plan whose price is $79 per agent per month.
7. Podium
This is one web chat tool you should use to better the experience of your customer. It has features of both web chat as well as messaging. So you can converse with every customer that comes to your website. It offers features like a custom button and avatar to customize your chat widget. The chat window of Podium provides a smooth chatting experience. Podium's bots can gather important information and provide it to your agents to prepare them better for the upcoming conversation. A special feature of Podium is that it enables you to fix meetings with interested prospects within the chat widget itself. It can be integrated with google analytics for better tracking and information. You can also send canned responses from Podium as per the customer profile.
Price - Podium offers three price bands. The first one is the Essentials plan priced at $289/month. The next is the Standard plan which costs $499/month. And the third and last plan is the Professional plan which is priced at $649/month.
Conclusion:
So we have described the seven best web chat tools for you in this article. These are in tune with the present trends in the market and are suitable for different types of users. While choosing a web chat tool for your team, you must keep in mind your team's needs, your business size, and how large an audience you want to address. But what is most important is that you can respond to your customer in a quick time, all the time. So choose the one that best suits you and choose wisely.

Niranjan Reddy leads Hermitcrabs, Inc, an B2B Tech Inbound Marketing agency and eCommerce Agency, Google Certified & HubSpot partner. Who specialize in helping some of the world's largest B2B enterprise tech, tech Start-ups, professional service, and pharmaceutical companies increase and nurture their sales and marketing pipelines. Hermitcrabs, core services include inbound marketing, sales enablement, account-based marketing, modern lead generation digital strategies and web development in HubSpot COS, Wordpress, Magento, and Shopify.