Posted September 07 by Niranjan Reddy
Sep 07 by Niranjan Reddy
Best Practices when Migrating to Hubspot CRM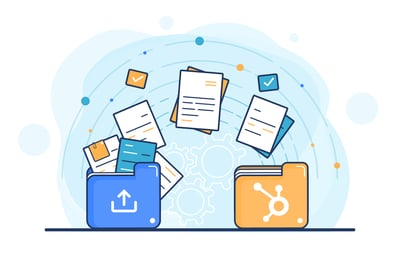 HubSpot is a tool that is used by businesses that look for an all-in-one inbound marketing software. It is popular for its many features like content marketing, marketing automation, lead management, landing pages, content marketing, search engine optimization and more. When HubSpot is effective in its way, Zoho CRM is equally effective. Yes, it is a fully featured customer relationship management tool that helps businesses of different sizes. With this tool, it will be easier to create workflows, track opportunities, manage leads and you can do much more with this tool. When these tools can make many things easier for your marketing, sales, accounting and other departments, when they are integrated, things will be easier for your team.
Why is Migration Important?
The sales team in your organization works relentlessly to win over their prospects. To achieve this, they constantly adapt to the requirements of prospects. The sales managers want their team members to thrive within the CRM that they use. When the CRM does not contain the past data, the sales team will not be in a position to learn from the past data to plan things. With organized data, the sales team can take steps to improve sales velocity, get rid of unwanted efforts and can report on effective sales strategies.
Are you an agency partner looking for a move from marketing to sales consulting? Are you overseeing the data migration to the CRM for the first time? If yes, it is natural that you will feel overwhelmed. But, with HubSpot CRM, you can make this happen to the best of your satisfaction.
The Sales Hub Enterprise version of HubSpot is powered by CRM data. With this tool, your sales team can get potent insights and tools like those mentioned below:
Reporting dashboard, predictive lead scoring, calculated fields, deal pipelines and goals help your sales team gather client data to spot the best leads.
Further, the sales enablement tools they get with this CRM will help your marketing and sales team with organizing tasks, management of inbox, reporting and call transcription and email tracking. In turn, these teams can immediately reach qualified leads without any sacrifice on personalization.
Playbooks and sales automation will aid with the avoidance of time-consuming admin-related tasks and will help teams keep track of successful past sales strategies so that they can be implemented in the future.
These are just a few tools you will get with HubSpot as it encompasses plenty of other tools as well. All of them can permit you to translate the data related to your client into a sales process that succeeds. When the HubSpot CRM is enriched with past data, it will help your sales team achieve lasting success.
Best Practices When Migrating:
To make the migration to HubSpot CRM smooth, you will have to take the right steps. The best practices you can follow in this regard can be brought under four main heads. They are:
Planning your HubSpot migration
Selection of the right migration service
Preparing for data migration to HubSpot and
Executing the migration.
Each of these steps encompasses a lot of practices so that you can get through each step without any hindrances whatsoever. Even, you should do certain things after migration to continue to reap the benefits.
1. Planning for the Migration:
In the process of migrating to HubSpot CRM, before you delve into setting up reporting, details of data mapping and other functions of your new CRM database, it is crucial to cease and take a look from different angles to spot what your migration project is going to encompass. These key components will be crucial to each person involved in the migration:
Bring in the right people
Spot the method you are going to follow for migration
Determine the data that you should move
Prepare the data to be moved
Prepare the new database for HubSpot
Start planning with a cut-off date in place
2. Selection of the Right Migration Service:
Once you plan the things, you are now moving to the HubSpot CRM. So, it is time to decide the method you are going to follow for this migration. Before you choose a method to move, explore the options available and commit yourself to an option. Choose a method considering the resources you have and based on your specific requirements. Here are the details about the different migration options available for you to choose from:
Native CSV Import from HubSpot
Import2 CSV Import
Use HubSpot API
Go for one-click HubSpot CRM data migration
3. Preparing for Data Migration to HubSpot:
Before you instigate any step for data migration, you will have to do some setup work in your HubSpot Database. Of course, you might have done many of them earlier. Nevertheless, here are certain things to make sure that you have covered all the key elements that will straightly have an effect on the success and perfection of your HubSpot Migration.
HubSpot users setup
Inclusion of personalized fields in HubSpot
Personalization of page layouts in HubSpot
Turn-off any integrations
4. Execution of Migration:
Of course, you have planned every detail in advance. But, the day of HubSpot can be stressful. Also, to reduce the stress you might have delegated certain things to professionals. But, it is natural to feel overwhelmed on migration day. Here are certain things you can do:
Ensure your availability at the time of migration
Make sure that no change is made at the last minute by any team member.
Set a cut-off date when your team should stop entering data into the old CRM
Make a personal plan for handling issues. Just in case something happens wrong at the time of migration, this contingency plan will come in handy.
So, these practices can help you with safe migration to HubSpot CRM. What if you will have to transfer complex data that cannot fit into a .csv file? Fret not! HubSpot offers a CRM data migration service based on which HubSpot will take care of the migration on your behalf.
4-Step Process Followed by HubSpot:
When you get the migration service from HubSpot itself, the following steps will be followed by the CRM for the safe migration of your complex data:
The HubSpot team will begin by auditing your present CRM system and also your data. The team from HubSpot will spot the data that should be migrated to HubSpot CRM. Based on the findings, the team will suggest to you if at all any cleaning of data needs to be done before migrating.
Thereafter, the team will frame the import strategy on your behalf. For instance, the team will map your data to your new HubSpot process and will define the time required after spotting the technical approach suitable for migration.
Before the team moves all your data, it will perform a test so that it can validate that everything in its database is complete and correct. This test will be in the form of the migration of a small amount of data.
Once the team is completely satisfied with the test migration, it will take care of the full migration so that you can start using your data in HubSpot at your convenience.
Risks Associated with Migrating Data to a New CRM:
The migration of data from one CRM to another is similar to moving data from one PC to another. So, you might think that it is a straightforward approach. Nevertheless, it involves a change in the software, database and storage. When you do not have the right process in place, there are chances that many things can go wrong. Here are some risks associated with moving data from one CRM to another:
Loss of crucial data
Non-compliance with privacy and data regulations
Dirty data, which means inaccurate, insufficient or inconsistent data
Poor data structuring and semantic clashes
Insufficient onboarding
How To Reduce These Risks?
Again, to reduce these risks associated with moving your data to HubSpot CRM is to follow the best data migration practices. Apart from the ideas discussed above, you can follow the other practices like those mentioned below when migrating data to HubSpot CRM:
Take note of everything you wish to migrate
Get the right people into the job and set requirements and expectations from all those involved
Map the whole process of data migration
Prepare and clean your data before migration
Move data into HubSpot SandBox for validating and testing
Take live migration and data usage testing
Choose a service that provides post-migration support if you outsource and data migration
Conclusion:
Indeed, HubSpot can provide a single place for managing data related to your sales, marketing and other departments. So, moving to HubSpot from any CRM you are presently using is a good idea. Make sure to follow the best practices or get expert help to make sure that your crucial data is safely moved to the HubSpot CRM.

Niranjan Reddy leads Hermitcrabs, Inc, an B2B Tech Inbound Marketing agency and eCommerce Agency, Google Certified & HubSpot partner. Who specialize in helping some of the world's largest B2B enterprise tech, tech Start-ups, professional service, and pharmaceutical companies increase and nurture their sales and marketing pipelines. Hermitcrabs, core services include inbound marketing, sales enablement, account-based marketing, modern lead generation digital strategies and web development in HubSpot COS, Wordpress, Magento, and Shopify.