Posted December 02 by Niranjan Reddy
Dec 02 by Niranjan Reddy
How Does WordPress to Hubspot Migration Work?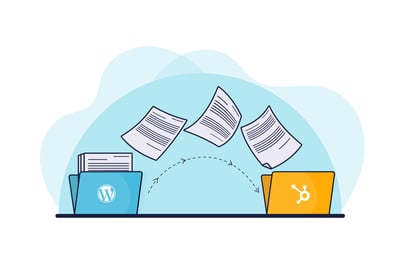 The Corona pandemic has posed many challenges to organizations and several new normals have emerged in the marketing space after the pandemic. Customer behavior has changed and competition has become more intense in the digital world. Facing these changes and challenges requires new thinking and strategies. In the new business environment, business goals need to be defined more precisely that begin with newer strategies for fostering leads. And the most critical part of this whole change process is the choice you make to ensure that your website runs smoothly and functions strategically. It is the choice you make between two equally strong platforms to run your website - WordPress and Hubspot CMS. You might be running your website on WordPress for a long time and might have gotten good results. But in the changed scenario, where more and more companies are shifting to online business, just blogging will not suffice to sustain you in the competition. That can serve you only up to a certain extent. But for survival in the post-pandemic business world, you need a complete inbound marketing strategy. And it is provided by Hubspot.
Hubspot has been specifically created for marketing, which is the core function for generating leads. Hubspot doesn't just streamline your marketing and sales campaigns, it encompasses the whole process of the customer journey, from being just a lead to the closure of the deal. Fulfilling your content needs is just one functionality of Hubspot. Apart from this, it offers optimization, website development, and management. So, it is always a better bet to migrate to Hubspot to get additional features and functionalities that will keep you in good stead for achieving your marketing goals. Hubspot is much more than a Content Management System (CMS). It is a one-stop shop that will make a whole lot of difference to your daily marketing operations and make them much easier. If you feel your WordPress website is not able to meet the demands of the current market situation, it is time to migrate to Hubspot. When your organization is growing and so are your marketing operations, you must look to switch to Hubspot which will help you handle your new marketing responsibilities in a more efficient manner resulting in better results.
But the question before you is how you go about migrating from WordPress to Hubspot. How does WordPress to Hubspot migration work? No worries here. In this article, we will describe the complete step-by-step process of migrating from WordPress to Hubspot. So, let's start.
1. Review your existing site before starting to migrate
The first thing you need to do after making the decision of shifting from WordPress to Hubspot is to thoroughly review your existing website. Review what you like about the current site and what you don't like. What's good about it and what's not? Review the overall system of the website to make sure that migrating the website to a new platform would be a good move. Migration of the website could mean a major overhaul of the site. So, you can do a complete audit of your website. It is time to think of and make a list of all that you want to have on your website, the things you want your CMS to do for you. Bring out your ideas and see how they can fit in. Analyze what has not worked in your existing website and what you would like to include in the new one to ensure its success. Carry out an analysis of the user behavior, customer feedback, and campaigns on your website. This is how you would get to know what to keep (features or pages) and what to eliminate from your migrated website. Take the help of tools like market analytics and web analytics. Knowing what to keep and what to remove would save development costs and may improve the loading time also. So, now you have a fair idea of what you want to include in your Hubspot CMS.
2. Make a list of pages to be migrated
Once you have conducted a thorough audit of your current website, you are ready to take the plunge into migrating to Hubspot. So, the next step is to make a list of pages you want to migrate from WordPress to Hubspot. The pages you want or you already have. As you are migrating your site to a new platform, you should strive to maintain only high-quality pages. Search engines don't like low-quality pages, So, it would be better to combine low-quality pages and create a high-quality page for the new site. The most common pages that you would need to migrate are the Home page, About page, Landing page, Product page, and Contact page. You can take the help of Google spreadsheet for migrating pages from WordPress to Hubspot. When you have your list of pages to migrate ready, added their details including the URL to the Google spreadsheet. This way, you can always recheck if you have missed anything. This exercise will also help you to identify any redundant pages or pages that don't serve your purpose anymore. So, you can restructure your pages. You can also save a snapshot of the present rankings of your pages. This will help you in measuring the success of the new website against the earlier one.
3. Start building your pages
This is the most significant part of the whole migration process from WordPress to Hubspot. You have the list of pages you want to migrate readily available to you and now it's time to start creating those pages on Hubspot. The first thing you need to do is to select the right naming system for your pages, files, and folders because an unclear system of naming pages will only create a mess. An organized naming system is very important as otherwise you may be cluttering your system with multiple users creating their own systems. Hubspot suggests that its customers use themes in place of template packs. So, after selecting and implementing the right naming system, change the template pack to Hubspot themes. Hubspot themes come with a drag-and-drop editor. For creating pages on Hubspot, go to Marketing on your Hubspot portal and then to Landing pages. Then click on the create button. The type of pages on Hubspot are Landing pages, Website pages, and Blog posts. Website pages are the ones that are used for introducing the company. Landing pages, on the other hand, are aimed at conversion and have form submission details that are not available on the website pages. Select the type of page you want to create and give it a name according to the naming system you have chosen. Choose a template given by your theme and start designing your page. Design each of the pages you want to migrate in this manner. Once you have created the page, check and recheck that all text, videos, images, forms, etc. have been added correctly and nothing has been missed.
4. Import blog posts from WordPress to Hubspot
When you have migrated all the pages to Hubspot, you can now shift your blog posts from WordPress to Hubspot. You can use Hubspot's Blog importer tool for importing blog posts from WordPress. You will be able to import blog posts along with their images and categories without much fuss. It is much simpler than migrating the whole website. Let's describe the process.
Login to the Hubspot portal.
Go to settings and in the settings, go to Website and then to Blog. You will see two options there. "Create a new blog" and "Import your existing blog".
Go to "Import your existing blog" and click on "Start new import" and choose the blog posts option. Again, there will be four options available under this. These are - Smart copy, WordPress connect, CSV Upload, and XML Upload. Choose WordPress connect and click on Next.
You will then need to enter your blog homepage URL and select the blog platform and the blog you want to import.
After setting up the import, click on the "Copy blog posts" button. This will start the migration of WordPress blog posts. The time taken to migrate the complete blog will depend on the number of posts you have on your blog.
So, you can see it is very easy to import your blog from WordPress to Hubspot.
5. Connect domains and add redirects
The next step in WordPress to Hubspot migration is connecting domains and adding redirects. After creating all your pages on Hubspot CMS, you can connect your domain to Hubspot and add redirects to it. The process is again simple. Login to your Hubspot portal and go to settings. Then go to "Website". In "Website", go to "Domains and URLs" and click on "Connect a domain". Now, select your primary domain and add its name and complete the process. For adding redirects, go to Settings and then again to "Domains and URLs". Here, click URL redirects. On the upper right side, click "Add URL redirect".
These redirects help the search engines to follow your pages from the previous site to the current one.
6. Change/Configure the Domain name system (DNS)
This is necessary because when someone types your web address in the browser, it will lead to your new website. You must connect your domain name to your Hubspot website or else your beautiful new site would not be visible to anyone. Once you successfully make the changes in DNS, your Hubspot pages will begin to point toward that domain. Now, your website is ready to be tested. You can check if everything is working fine or if something more needs to be done.
So, this is how you can migrate your WordPress site to Hubspot. We have tried to explain the whole process in detail. As you must have seen, the migration process is not very complicated and you can do it yourself also. However, if you or your team are quite new to Hubspot or lack expertise, you may take the help of the Hubspot web development team. Once you have migrated from WordPress to Hubspot, you can immediately start tracking your conversions. Being a one-stop solution for lead generation, Hubspot offers all the support to you for implementing a continuous inbound marketing campaign, so, you can work and grow your business and sales. Hubspot is a new generation web development platform.

Niranjan Reddy leads Hermitcrabs, Inc, an B2B Tech Inbound Marketing agency and eCommerce Agency, Google Certified & HubSpot partner. Who specialize in helping some of the world's largest B2B enterprise tech, tech Start-ups, professional service, and pharmaceutical companies increase and nurture their sales and marketing pipelines. Hermitcrabs, core services include inbound marketing, sales enablement, account-based marketing, modern lead generation digital strategies and web development in HubSpot COS, Wordpress, Magento, and Shopify.