Posted November 29 by Niranjan Reddy
Nov 29 by Niranjan Reddy
What Cannot Be Migrated to HubSpot CMS?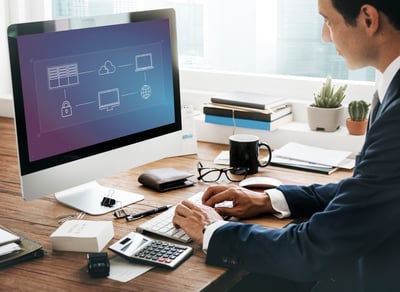 It should be stated that HubSpot is a unique resource. With this resource, you can make your average website a mere branding tool for your business. Even, with the help of HubSpot, you can make your website an all-around marketing machine. With the website you create using HubSpot, you can drive business growth without any doubt. However, for market and business managers, who do not know the value of HubSpot when they launch their website initially can also move to HubSpot after they realize its value. Thanks to HubSpot CMS Migration that will make migrating a website into HubSpot easy!
Once a website is migrated to HubSpot, the owner of the website can start to use the advantage of the Content Management System of HubSpot. It provides users with smart content, personalization, analytics, templates and management tools along with easily navigable design to name a few as it offers a lot more.
When you think about bringing together HubSpot CMS with HubSpot CRM, you will get even better features that include monitoring, social media posting, workflows and email marketing to name a few. You can move much of your content in other platforms like WordPress and Joomla to HubSpot CMS.
Dedicated Migrations Teams in HubSpot:
HubSpot has dedicated Migrations Teams. These teams offer a wide range of services that meet a wide range of business requirements that range from a personalized theme that goes in line with your present website and branding to finishing the website migration. Here is what you can expect the HubSpot Migration Teams to do for you:
Website Migration: The Migrations team in HubSpot can recreate your present website within the HubSpot Platform. The team can transfer not only content but also the feel and look of your website.
Blog Migration: The Migrations Team in HubSpot can recreate your present blog within the HubSpot Platform. In general, as against migrating other pages in a website, blog migration is the toughest task. This holds if you have been posting blog posts regularly on your present website and have gathered a lot of blog posts. But, the migration team can transform the content, feel and look of your existing blog.
Template Setup: The Migration Team of HubSpot can also create a set of landing pages, website and blog templates that look very much similar to the style of your present website within the HubSpot Platform.
Asset Migration: The team will offer you with building blocks that you require for moving your marketing automation to HubSpot.
Consulting: The team is available even for customized consultation with dedicated specialists in migrations so that you can achieve your migration goals with ease.
Email Template Rebuilding: You can also get customized email templates optimized for your HubSpot platform from this team.
Coming back to HubSpot CMS Migration, before knowing what cannot be migrated, it is better to gain basic knowledge.
What Does HubSpot CMS Migration Mean?
HubSpot CMS Migration is a term used for denoting the process of moving your website from your old CMS to HubSpot. It typically encompasses moving landing pages and blog content.
Indeed, many businesses are using classic platforms like WordPress as their CMS. Even though HubSpot CMS is comparatively new, migrating to HubSpot CMS is a popular choice among website owners. But, when it comes to migrating content from one CMS to another, there is always a risk of data loss.
For this risk involved in migrating, developers are generally hired to lead the process of content migration to make sure that everything is efficiently and safely transferred without any data loss. These developers might create XML files for exporting detailed data like tags, authors, URLs, post titles and of course the content itself. All these are then imported by them to HubSpot CMS.
Know About HubSpot Migration Service:
As mentioned earlier, HubSpot has many teams of migration experts. The Website Migration service offered by HubSpot encompasses migrating your website content to a defined set of system and page templates that look very much like your present website. When you get in touch with the HubSpot Migration Service, you will be designated a Migration Specialist for managing the website migration and for guiding you through the process.
This service is offered by HubSpot as a standardized service and it is not customized for websites. The Migration Service of HubSpot will match your website design as closely as possible with the help of the HubSpot Modules that are normally used.
What is Included in HubSpot Website Migration Service?
The HubSpot Migrations team will move not only the content of your website but also its design to the HubSpot platform. Further, the team will provide you with coded files, global groups and a universal set of templates to match your external website. Just in case, there is a change in the URL due to moving your posts to HubSpot CRM, the Migrations Team will create URL mappings to safeguard the SEO Credit of pages that required URL changes.
What Cannot Be Migrated to HubSpot CMS?
Irrespective of whether you take care of the migration yourself or hand it over to the Migrations Team at HubSpot, it is not possible to move certain things from your old website to HubSpot CMS. Here is a list that provides you with details about the things that cannot be migrated:
It is not possible to migrate the comments that your blogs received previously. However, HubSpot has plans to create a blog comments module in some years to move even comments from your old website to HubSpot
Menus, image-based menus, or mega menus with non-linked content like paragraph content or descriptions will turn out to be dropdown menus when moved to HubSpot
Further, you cannot get Flash with multiple files/embedded links associated, Flash navigation and Flash Website transferred to your HubSpot Website.
Live Chat
Login fields
Standard Facebook and Twitter posts will be transferred. But third-party bespoke social widgets will not be moved.
Dynamic shopping carts cannot be moved. Of course, the shopping cart icon will move. Nevertheless, if there are some items in the shopping cart at the time of migration, they cannot be shifted
Banner notifications and popup forms are not included
Third-party plugins are not included. This encompasses custom social media feeds, author plugins and Facebook or Disqus commenting.
How To Request a Migration?
When you have decided to get help from the HubSpot Migrations team, you will have to follow the steps given below to request the migration. The entire process will take around two to three weeks:
To begin the process of migration, you can get in touch with your account representative. This representative will get in touch with the Replatforming Team at HubSpot internally. In case, you do not know how to contact your account representative, you can get in touch with the HubSpot support team. This team will connect you to the right person.
The Replatforming team will evaluate your website to see if migration will meet your requirements. In case, they find that your website is fit to get through the migration process, you will get a link from our account representative. This link will have the migration agreement. From this agreement, you will get to know the terms associated with a migration like:

How particular assets like forms will change during the migration process?
An estimation of the duration of the migration process
The number of pages to be migrated

In case, you agree to the terms listed in the agreement, your account representative will send you a link through which you can complete the payment process.
Now, the replatforming specialist will send you an introductory email and will be ready to answer any questions you have about the migration process. Then, your migration request will get into the migration team's queue.
When the migration team gets into the migration process of your website, you can get to see the status in your HubSpot Account. Here is how to see the status:

Sign in to your HubSpot account and click on your account name and look for Account $ Billing in the top right corner
Now, tap the migrations tab
You can get to review the migration status on the timeline:

Migration Confirmed: If you find this status, it means that the agreement papers have been signed. But, the migration work is yet to begin.
Migration in progress: This status means that the re-platforming team has started the process of your website migration
Migration completed: Yes, this information in the status means that your website migration has been completed. From the date of completion listed, you will get 60 days to report any design issues in your new HubSpot website.

Once the Migration process is completed, you will be notified by the Migrations team about the same.
Conclusion:
Now, you know what can be migrated and what cannot be to your HubSpot CMS. If you are wondering whether to move to HubSpot, you should remember that moving to HubSpot can be beneficial in many ways. For instance, it has a drag-and-drop editor, you can get membership benefits, integrations are easier in HubSpot, you can add smart content to your website and you will get SEO recommendations to improve your website ranking.

Niranjan Reddy leads Hermitcrabs, Inc, an B2B Tech Inbound Marketing agency and eCommerce Agency, Google Certified & HubSpot partner. Who specialize in helping some of the world's largest B2B enterprise tech, tech Start-ups, professional service, and pharmaceutical companies increase and nurture their sales and marketing pipelines. Hermitcrabs, core services include inbound marketing, sales enablement, account-based marketing, modern lead generation digital strategies and web development in HubSpot COS, Wordpress, Magento, and Shopify.