Posted July 08 by Niranjan Reddy
Jul 08 by Niranjan Reddy
The Best Content Management Systems - Both Free and Paid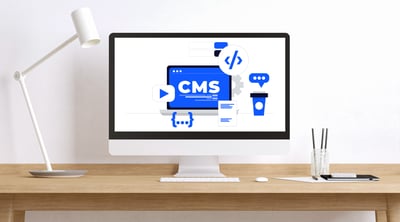 You are a content creator or receiver and you want to have a website of your own to post your content. You may not be so big a business to hire a website creator. You have two options to build a website and write and manage content on it. Either you learn a coding language because web pages are mostly written in a coding language or you use a Content Management System (CMS). Webpages are written in HTML, CSS, and JAVA programming language and you may have to learn these coding languages to write content on your website. This may become too tedious or complex for you. Learning a coding language and then writing so much code, are not only time-consuming exercises but also are not that simple for a person who wants to quickly build a website and get on with the business of getting content on the web. This is where a CMS helps. A content management system makes it possible for you to build a website and write content on it without learning any programming language.
What is a Content Management System?
A content management system is nothing but just software that enables you to build a website and manage content on it without having to learn any coding language. You don't need to have any specific technical knowledge to create content on a CMS or manage it. A CMS handles all the basic functions of your website like creating web pages, storing images, and many more. This means you can concentrate on the other more advanced aspects of your website. It gives you a graphical user interface that lets you not only create but modify and remove content from your website.
There are a number of content management systems available in the market. Some are free and some cost you money. If you start searching for a good CMS for your website, you may get drowned in a sea of options available. You may get overwhelmed by the alternatives and may get too puzzled to select one. We will make it very easy for you to choose a really good CMS for your website. Here, we describe the best content management systems, that are available in the market. Each has its own advantages and disadvantages. But they are the best among the available CMS. So, read on.
The Best Content Management Systems
CMS Hub:
If you are a marketer or a business owner, CMS Hub is for you. This is so because it is a combination of CMS and CRM (Customer Relationship Management) system so you are provided with many marketing, sales, and operations tools making it an all-in-one system. Since CMS Hub is built on Hubspot's CRM, you can easily get apps and templates in the Hubspot marketplace. Even if you don't have any technical knowledge, you can easily build a customized website on CMS Hub because it has a drag and drop editor and an in-built SEO tool. They offer different plans and you can choose the one that suits you. The minimum plan is a Starter plan that will cost you $25 per month.
WordPress:
This is the world's most used content management system today. In fact, around 40% of websites on the internet are driven by WordPress making it the most popular CMS. It was launched as a blogging platform but with time it has developed into a highly recommended and most used CMS. From small bloggers to the largest companies, all use WordPress as their content management system. Its biggest advantage is that it is easy to understand and use. With more than 50k plugins and a large number of themes, it gives you the flexibility to customize your website as per your requirements and it is SEO (Search Engine Optimization) friendly. WordPress as a platform is free but you have to spend on domain name and web hosting, the cost of which varies according to the host.
Joomla:
Joomla, as a CMS, was launched in the year 2005 like WordPress, is also a free CMS platform but again, you have to pay for hosting and domain name. It is another popular CMS and has a lot of templates and plugins, though not as many as WordPress. It is also an open-source platform so you can receive a lot of support from the other people using it. Moreover, it is very flexible. However, one disadvantage of Joomla is that it is not as user-friendly for beginners as for the developers and people with experience in website creation. Joomla has one advantage: it provides good tools to manage users. In fact, it has a built-in function through which you can manage hundreds of users.
Drupal:
Drupal is the next in the list of the best content management systems and is also an open-source free platform. It is at a high level as far as security is concerned. Its security features like control of user access, preventing DoS attacks, auto-updates, and database encryption make it the first choice of government agencies like banks and other departments apart from other fields like travel and e-commerce where huge content needs to be managed and which require a high level of security. In Drupal, you can choose from a large collection of themes. Although, downloading the Drupal software is free but building a website on it costs a lot more than WordPress or Joomla.
Wix:
Wix is possibly the simplest and the easiest CMS platform to build a website. It is most useful for beginners who want to build a website without learning to code. The best part is that you can build a website in minutes without knowing a word of coding. This is possible due to the drag and drop tool offered by Wix that makes it easier to add things to your website. Like other free CMS platforms, you can create a free website on Wix. When you build a free website on Wix, you get a subdomain URL to give it a Wix brand. So you will need to shift to a paid plan to remove this branding. The one disadvantage that Wix has is that once you choose a template, you will not be able to change it. But it is very reliable with an estimated uptime of 99.98%. Your website will be on almost all the time.
WooCommerce:
This one is the most popular CMS platform among e-commerce companies across the world. The reason is its flexibility and ease of management. Its CMS is specially designed for the e-commerce industry enabling you to manage innumerable products very easily. Like many other CMS platforms, WooCommerce is also a free CMS but again, you will need to pay for hosting and domain name. It has a number of themes so that you can design your website as you want to. Many plugins are also available to add functions to your website. A very good feature of WooCommerce is that it makes inventory management very easy so that you are always aware of the stock in hand.
Shopify:
Shopify is another popular e-commerce hosted CMS platform and is ideal for e-commerce sites where retailers can sell their products through their own online stores which they can set up and manage themselves. There is no constraint on the size of your business on Shopify. It can be small or big. The payment processing is in-built. There is no need to buy hosting or any plugins in Shopify. It has over 4000 apps by which you can add features to your website and there is no limit to the products you can sell on it. Shopify CMS platform's basic plan starts from $29 per month. But if you are a first-timer in online retailing, this platform is ideal for you. You get a lot of facilities on Shopify like selling your products on social media and selling through online marketplaces.
Squarespace:
If you are a beginner, this one is again for you. Squarespace is the most favored CMS of creative people like musicians, photographers, artists, etc. At the same time, it is flexible enough to be used for other businesses also. Its best feature is the beautiful and amazing designs that differentiate it from other content management systems. And you can customize them according to your needs. It has an intuitive website builder and third-party extensions so that you can add functionalities to your website. But it is not so useful for content-heavy websites although it has an SEO tool too. Squarespace is not a free CMS platform. It has different plans and the minimum plan starts from $12 per month. But Squarespace is the best CMS when it comes to managing a portfolio site in a simple way.
TYPO3:
TYPO3 CMS platform is an open-source platform and is free. It is not very popular but is very useful, particularly for enterprise-level websites. It is not an easy platform to understand so it is best for those developers who have considerable technical knowledge. It can manage very big websites so many large companies use this CMS for their websites. In fact, it can manage multilingual sites also. TYPO3 offers as many as 6000 extensions to choose from. But upgrading and maintaining the site is the responsibility of the owner of the site. And the security features are in-built. So, you don't have to worry about the security of your site.
Magento:
Magento is another open-source platform powered by Adobe. It is once again an e-commerce platform but with a big difference. Beginners may find this platform difficult to understand or use but it is very popular among B2B companies and enterprise businesses. The best feature of Magento is that it can be easily customized with a lot of extensions available to add functions to your website. A large number of products and customers can be handled easily on Magento, so you can expand your online business. Magento comes in two versions, Magento open-source and Magento Commerce. It is a very flexible platform that lets you build a website that you want or need to build. It can be a little expensive and the cost could go up to $2000 per month.
So, we have described the top Content Management Systems above. These are some of the most popular CMS platforms being used extensively around the world. There are some general use platforms and certain user-specific platforms. We have told you about all, you can choose which suits you the best.

Niranjan Reddy leads Hermitcrabs, Inc, an B2B Tech Inbound Marketing agency and eCommerce Agency, Google Certified & HubSpot partner. Who specialize in helping some of the world's largest B2B enterprise tech, tech Start-ups, professional service, and pharmaceutical companies increase and nurture their sales and marketing pipelines. Hermitcrabs, core services include inbound marketing, sales enablement, account-based marketing, modern lead generation digital strategies and web development in HubSpot COS, Wordpress, Magento, and Shopify.