Posted September 19 by Niranjan Reddy
Sep 19 by Niranjan Reddy
Customer Relationship Management Vs Content Management System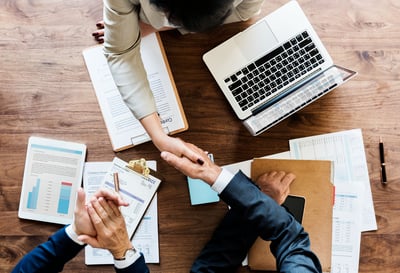 Customer Relationship Management Vs Content Management System
When you start building a website for your web-based business, you will notice one thing for sure. You will understand that website building involves much more than creating an attractive home page. Yes, you will identify that you require a workplace to post and edit your website. Further, you will have to keep track of your customer base and also you will have to evaluate the performance of the content you post on your website. Now, naturally, you will think that it would be good if all these workflows can function in harmony with each other. This is where having a couple of important technologies on your website will help. They are CRM and CMS. These two remain at the core of the success of many online businesses. Even, they can provide the right base for the success of your web-based business as well. You need not have to think about whether it is too early or too late to add CRM and CMS to your website.
What are CRM and CMS?
CRM is the short term used for denoting customer relationship management, while CMS stands for Content Management System. The former keeps track of interactions with customers and potential customers so that your business can serve them better. On the other hand, the latter aids with the management of your website content via an easy-to-use and clear interface. Most importantly, you can use both of them without any technical knowledge.
Suitability of CRM and CMS: CRM:
Customer Relationship Management is suitable for any organization that looks to find more sales opportunities and is interested in capitalizing on them. Further, any organization looking for effective lead and customer management can benefit from CRM. Particularly, the sales team in any organization can take advantage of CRM. The reason is that it will help the sales team know what customers need and they can accordingly serve them and can close more deals. Even, sales personnel looking for improving sales can find sales insights offered by CRMs effective.
In the same way, service and customer support teams can benefit from CRM undoubtedly. The reason is that through CRM, the customer service reps in any organization will gain access to contact details and support ticket systems to serve customers better.
In addition to the sales and customer support team, one team that can benefit hugely from CRM in any organization is the marketing department. This department can run campaigns using email marketing automation. The marketing team will find CRM a valuable asset without any doubt.
CMS:
CMS is suitable for anyone interested in the effective management of website content. Irrespective of whether it involves managing e-commerce stores, articles, blog posts, or any other form of website content, it is possible to be done with effectiveness with a CMS. Not only text-based content but it is also possible to manage video and audio content with CMS. So, CMS has an expansive range of potential users.
So, CMS can be of great help to marketing content creators and website designers. Further, digital marketing specialists, SEO experts, and editors will find it helpful. Freelancers and small business owners can benefit from an efficient Content Management System. To be precise, anyone running a website will find it useful.
Even, CMS is highly helpful for collaborating on the creation of content for any website. So, any team or individual with web operations should have a CMS. Organizations can coordinate and collaborate all marketing, support, service, and sales activities with a CMS.
Know About HubSpot CRM:
When you start searching for the best CRM, you will come across many names. For instance, names like Pipedrive, Keap, Insightly, Salesforce and HubSpot will hit your eyes. Among these, HubSpot's CRM has gained immense popularity not just because it is a free CRM but also for many other reasons.
The uniqueness of HubSpot's CRM is that it suits well for small teams and small businesses. Besides being free, it provides users with access to core CRM capabilities like crucial sales enablement features, deals information, company records, and contact management to name a few. Even, from HubSpot CRM, you will get tools that will help with boosting productivity like activity and task tracking, notifications, and email tracking. Even, from the CRM of HubSpot, you will get free sales and marketing tools like those listed below:
Calling from within the platform
Chatbots
Live Chat
Ad Management
Landing Page Builder
Email Marketing
Forms
Further, HubSpot stands special for offering paid plans too with improved CRM features. This CRM platform is embedded in a larger sales hub. In case, you look for a CRM with a full set of features along with extra sales tools, HubSpot can meet your needs.
If you are a freelancer particular about keeping track of your clients, you will find HubSpot's Free CRM Tier very helpful. According to the review of this CRM, many users have expressed that it has a very clean interface and it is easy to use. Further, many appreciated the email-tracking capability of HubSpot CRM. Also, many users are happy with the ability of this tool to view high-level and detailed lead information.
Know About HubSpot CMS:
Not only CRM but HubSpot offers its Content Management System as well. However, HubSpot offers its CMS as an add-on to its popular HubSpot Marketing Hub. So, marketers using HubSpot Marketing Hub can manage almost all their digital elements right from a single login.
Even though HubSpot has been offering its CMS for a long, it has always remained in the shadow of the Marketing Hub offered by HubSpot. But, HubSpot decided to ensure that businesses online have a CMS that supports their efforts to benefit their website to develop their business. So, HubSpot turned the CMS into its own product line and gave it a new name called CMS Hub.
Of course, you can find many Content Management Systems out there. But, working on most of these CMSs can be painful. The reason is that many of them have hard-to-comprehend configurations, loads of plugins and the presence of threat of hacks is always on. But, as HubSpot CMS is SaaS-based, it makes CMS Management easy for users like you.
Comparing Traditional CMS and HubSpot CMS:
| Traditional Content Management System | HubSpot CMS (CMS Hub) |
| --- | --- |
| It is An expense to your business | An investment that will help your business grow |
| It adapts to your systems | It adapts to your customers |
| Redesigns are frustrating | Constant optimization happens automatically |
| Builds your servers | Architecting experiences |
| Security is an add-on feature | Security is built-in |
| Rigid to the marketing team | Flexible to the marketing team |
In short, compared to traditional CMS, CMS Hub is beneficial in many ways. Many businesses that have moved from traditional CMS to the CMS Hub have expressed that the traditional CMS slows down their operations. Further, many moved to HubSpot CMS to stay away from security threats. In their review, many users are happy with CMS Hub for letting them do the works they need to get the best outcomes.
In short, against comparing whether to use CRM or CMS, it is better to use both of them for the betterment of your business.
What to Know about CMS and CRM Integration?
For the benefit of your online business, both CMS and CRM should work together. Your prospective customers interact with your business website, isn't it? So, your customer tracking system should interact with your website management system. A good CRM and CMS Integration will connect all the activities on your website to your Customer Relationship Management system for instant reporting and analysis, such that actionable insights can be obtained. With this integration, you will be in a position to compare how your website performs compared to the other businesses online. In turn, you can understand whether some changes should be done to your content and marketing strategy.
How to Bring Together HubSpot CMS and CRM?
HubSpot has its Content Management System in the top HubSpot CRM. So, you can gain access to all the tools required for analytics, managing contacts, and capturing leads all at the same place as your CMS. Every communication that happens in the content management system hub in HubSpot is saved in the CRM. In turn, easy reporting becomes possible. Whenever new leads get into your business via your website, the details of the contact will be saved automatically in your Customer Relationship Management system as contacts. From there on, you can arrange lists and can easily track every communication starting from the initial interaction with a particular customer until the purchase has been made by the customer.
The HubSpot CRM and CMS keep things easy but powerful. When these two tools from HubSpot are completely integrated on a single platform, you will be in a position to save a lot of time when you try to bring together software tools. You can use the time saved for nurturing your leads, improving the experience with your customers, and improving your web-based business. In short, both the CRM and CMS from HubSpot can help you take your online business to the next level.

Niranjan Reddy leads Hermitcrabs, Inc, an B2B Tech Inbound Marketing agency and eCommerce Agency, Google Certified & HubSpot partner. Who specialize in helping some of the world's largest B2B enterprise tech, tech Start-ups, professional service, and pharmaceutical companies increase and nurture their sales and marketing pipelines. Hermitcrabs, core services include inbound marketing, sales enablement, account-based marketing, modern lead generation digital strategies and web development in HubSpot COS, Wordpress, Magento, and Shopify.