Posted July 19 by Niranjan Reddy
Jul 19 by Niranjan Reddy
Best CRM Software That Boosts Sales & Marketing Efforts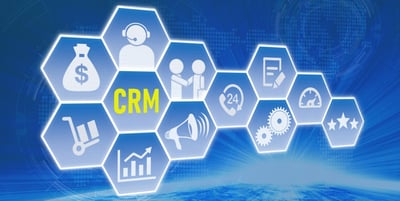 Companies use Customer Relationship Management (CRM) software to provide better services to their customers, to connect and engage with them as well as the new prospects. It is a very important tool for any company and helps immensely in increasing sales and customer satisfaction. CRM is vital for any organization to stay in the competition and succeed. A good CRM helps you in tracking your customers, following up with them, and getting repeat orders. It also helps in identifying leads. You can store the customer data in the CRM for referring at any time. Further, a good CRM is very useful in tracking and analyzing the performance of your sales and marketing team. It also helps you in getting clear insight into your customer's expectations. Overall, a good CRM provides a good customer experience thus enhancing your business.
With so many CRM software available in the market, it is a hard task to choose the best among them. There is a number of factors that need to be considered before zeroing in on any one CRM software. The first thing you keep in mind is the purpose of buying the CRM. Then there are other factors. Whether the cost of the CRM fits your budget or not, whether the features you are looking for are available or not, the ease of setting it up and using it, can it be customized according to your requirements, what kind of reports it generates, and more importantly what is the level of automation and integration, etc? You have to carefully look at all aspects so that you pick only the one that meets all your requirements. It should ease the workload of your team and streamline your processes so that your team becomes more productive
This is where this article is going to help you. We have picked up some of the best CRM software and are going to describe their features to make it easy for you to select the CRM of your choice. So here it goes.
The Best CRM Software
1. Hubspot
Hubspot is a very innovative CRM software and an intuitive tool. It provides you with an advanced CRM and a meeting scheduler. The main benefit of Hubspot is that it can be used for both sales as well as marketing. It provides one of its kind insight into customer behavior. It offers solutions specific to the position of the user. So you can use the features which are more suitable for a particular person using it. Hubspot is a very useful tool for small and medium-sized organizations. It has a large number of integration capabilities so you can integrate it with much other software. And this helps in centralizing the data. If your team gets centralized data from all the data providers, it will save them a lot of time and effort and improve their performance.
Pricing: Hubspot offers a free plan. It comes with 90+ report templates. But its paid plans come with report builders and start from $40 per user per month. With report builders, you can build precise reports.
2. Salesforce
Salesforce CRM is the world leader in CRM software and is among the oldest ones in the industry. It is also the most popular one. Salesforce provides CRM solutions for all the three major teams in an organization, namely sales, marketing, and customer support. It comes with advanced customization and reporting tools in many modules. A sales CRM allows you to streamline your sales cycle while a marketing CRM comes with social media listing and posting feature. A Salesforce CRM can be used in almost every type of industry like manufacturing, energy, consumer goods, healthcare, etc. Whether you want to generate leads or serve your customer or retain them, Salesforce CRM helps you everywhere. It is very customizable to suit your business. Salesforce can be integrated with a number of other platforms like Mailchimp, Google workplace, Quickbooks, etc. This helps you in reaching your sales goals more efficiently. In short, Salesforce can be used for any type of business from a start-up to a small or large business, and for functions ranging from sales to marketing and customer support.
Pricing: Salesforce offers multiple price plans. Its Essentials is a basic plan that is priced at $25 per user per month. A maximum of 10 users can be added to this plan. Then there is the professional plan costing $75 per user per month. There are two different plans for this. One is for complete sales solutions and the other one is for service solutions. In this plan, you get custom applications. An Enterprise plan is priced at $150 per user per month and an unlimited plan at $300 per user per month. These plans come with additional features to enhance the capabilities of the CRM software. And lastly, there is a Pardot growth plan for marketing automation that costs $1250 per user per month and up to 10000 users can be added to this plan.
3. Zoho
Zoho is a complete CRM package designed majorly for sales purposes. It is easy to use and your team won't need much training to get used to it. The best feature of Zoho is that it can be used by people in different locations or on the move to work together as a team and achieve their targets. Your people may work remotely and accomplish more. It is highly customizable and multiple pipelines can be created to suit individual customers. This means more leads, faster sales, and a precise assessment of the performance. You get notifications in real-time whenever a customer engages with your business. You get analytics that provides you insight into the best ways to approach a lead and the most appropriate time for it. In Zoho, you get performance reports which can be customized. Its sales assistant, powered by Artificial intelligence (AI) helps in identifying new prospects.
Pricing: The Zoho CRM is quite pocket friendly as far as its pricing goes. Its basic plan is $14 per user per month. But it does not lack features. The next plan is the Enterprise plan which is the most preferred plan among the companies. This is because it comes with an AI-powered sales assistant and a customer journey command center. And the third plan is the advanced plan Ultimate which is priced at $52 per user per month and comes with more advanced features.
4. Freshsales
Freshsales is another simple CRM solution. It is most suitable for small and medium-sized businesses that want a quick setup. It has in-built tools that provide ease of communication. With the help of its Artificial Intelligence assistant, you can understand the profile of your customers and the leads generated. Anyone can learn its interface easily. A very useful feature of Freshsales is that there is a facility for you to run email marketing campaigns and manage deals. Freshsales works on a unified platform which means your CRM software can easily work in combination with the other business platforms. It not only provides you the customer data but also gives you indications about when and how should you reach out to the customer. Freshsales CRM comes in over 30 languages and provides a large number of options for customization.
Pricing: Apart from a free plan, Freshsales offers three paid plans. The first plan is the Growth plan, which is priced at $15 per user per month. The next plan is the Pro plan which comes at $39 per user per month. And the last plan is the Enterprise plan for large usage. It is priced at $69 per user per month.
5. Pipedrive
Pipedrive is also a CRM that is very easy to use. Its main area of focus is to increase sales. Besides that, it also helps in account management. Pipedrive is a very flexible CRM software. Its automatic tracking of calls and emails and organizing them makes the task of salespeople very simple and easy and saves them a lot of effort. Pipedrive has very powerful visual tools where you can get information at a glance and get data so that you can visualize the sales process. There is no need to repeat the tasks as you can automate all such tasks with its special automation feature. Since it is a visual platform, making analysis becomes very easy with Pipedrive. It also comes with software for android and iOS mobile phones. The best part of Pipedrive CRM is that you can easily set it up even if you do not have any IT experts or team in your organization.
Pricing: Pipedrive offers a free 30-day trial. Apart from this, it offers four paid plans. Its Essential plan is the basic plan that comes for $14 per user per month. The Advanced plan is priced at $24 per user per month and includes workflow automation. The third plan provides in-depth forecasting at $49 per user per month and is named the Professional plan. The fourth plan is the enterprise plan which is priced at $99 per user per month.
6. Apptivo
Apptivo is a very powerful CRM software with a lot of features and many customization options. If you are looking for a highly integrable platform with mobile platform support, Apptivo is perfect for you. Many data entry and other repetitive tasks can be automated on Apptivo to save time. It not only helps you in customer relationship management but also helps you in conversion and sales planning. Knowing your sales pipeline is very important. Apptivo provides you sale pipeline along with analytics to know what kind of pipeline you have. It also comes with email templates so that you can send customized emails to keep in touch with your regular customers. It also comes with tools that assist in competition analysis.
Pricing: Apptivo CRM offers very affordable price plans. It starts with a free version. Then its basic plan named Premium starts at $8 per user per month. Or you can go for the Ultimate plan which is priced at $20 per user per month. It comes with more storage and round-the-clock phone assistance. If you want a customized price plan suiting your needs, you can ask for the Enterprise plan.
7. Insightly
The last in our list of the best CRM software is Insightly, an all-in-one solution with an easy user interface. With Insightly, you get better control of your sales operations since it provides a complete picture of your customers. It provides you with email tracking allowing you to see when the customer opens the email or clicks any links on it. One key feature of Insightly is the customizability of reports and processes according to your line of business. It enables each of your team members to build personalized dashboards so that they can easily get the data they need for their specific jobs. It has a lead routing feature that connects the right customer to the right person. However, one downside of Insightly is that its AI tool comes with its highest-paid plan only.
Pricing: There are three paid plans offered by Insightly. The first is $29 per user per month. The second one, the Growth plan is priced at $49 per user per month. This plan comes with some extra integrations. And the third plan is the Enterprise plan which is priced at $99 per user per month. This plan allows you to connect with any application and takes your customer relationship to the next level.
Conclusion:
So, this is our list of the best CRM software. The main features you need to look for in a CRM are workflow automation, third-party integrations, ease of use, access to mobile, what kind of advanced features it has, its customer service tools, and analytical tools. We have described the major features of each CRM software and are sure this will help you in selecting the best CRM software for your business.

Niranjan Reddy leads Hermitcrabs, Inc, an B2B Tech Inbound Marketing agency and eCommerce Agency, Google Certified & HubSpot partner. Who specialize in helping some of the world's largest B2B enterprise tech, tech Start-ups, professional service, and pharmaceutical companies increase and nurture their sales and marketing pipelines. Hermitcrabs, core services include inbound marketing, sales enablement, account-based marketing, modern lead generation digital strategies and web development in HubSpot COS, Wordpress, Magento, and Shopify.