Posted August 26 by Niranjan Reddy
Aug 26 by Niranjan Reddy
7 Essential Business Automation Tools Need to Setup to Grow your Business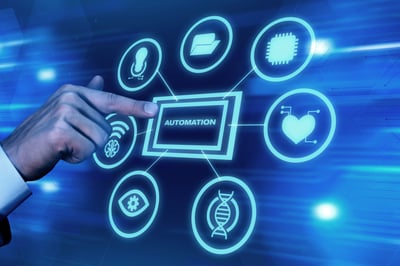 Automation tools aid with scaling the effect on your team by completing day-to-day manual tasks. They do it by freeing up your team to pay more attention to customers. In turn, they can use the time saved to arrive at strategic decisions. Teams from across operations, sales, service and marketing benefit from automation to support tickets, route leads, quote management, qualifying leads and personalizing outreach across their organization.
When talking about automation tools, HubSpot's automation tools are known to bring immense benefits to users. The automation tools that HubSpot offers are CRM-Driven, which aid the team with personalization of the experience they provide to customers and most importantly, they can organize their business operations around a sole source. If you are looking for ways to automate your business operations, here are the top 7 business automation tools you can consider using:
1. HubSpot Marketing Automation:
The marketing automation functionality is one of the most powerful tools for its wide set of features. It is popular for its customer sentiment. Obviously, HubSpot has a complete growth suit that encompasses not only marketing automation software but also support, sales and operations automation. All these are integrated automatically when you opt for HubSpot CRM. The combined effect of having all your growth activities in a single place will help you explore tons of creative automation possibilities. These possibilities are almost not possible when you use separate tools for automating sales, marketing and operations separately. With HubSpot marketing automation, you can expect a wide range of features. Nevertheless, here are a few of them:
Automatically send follow-up emails
Smart content
Smart lists
Custom code to trigger actions
Associate with outside applications
Workflows for triggering sales activities
Over these years, the capabilities of the HubSpot platform have grown on many levels. New features are released constantly and integrations are always added to HubSpot marketing automation. HubSpot has expanded from a small inbound marketing tool to a robust CMS and CRM that not only small organizations but also enterprise-level and mid-level organizations are now adopting for the profound automation features.
These are just a few marketing automation features you can expect from HubSpot. But, there are other features as well from which you can choose the automation that suits your business well. When choosing the automation features, you should make sure that you pay attention to creating the best experience for customers.
2. HubSpot Operations Automation:
HubSpot offers operations software called Operations Hub that will let you easily curate, clean and sync data related to your customers. Even, with this product from HubSpot, you can automate many of your business operations. With the best automation features of this tool, the entire operations team in your organization can stay aligned with connected and clean data related to customers. Above all, with this software, it will be possible for your business to adapt to the constantly changing requirements of your customers. When everything works under the HubSpot's CRM platform, your organization will get the power to deliver the best customer experiences free of any friction.
Programmable Automation:
With the automation features part of the Operations Hub of HubSpot, you can get programmable automation. With this feature, you can take code custom automation actions for every business process including renewals, management of the territory, lead rotation and much more. With automation that can be programmed, you can write Python or Javascript code straight into your HubSpot workflows to make even the most state-of-the-art processes related to your organization automatic.
Data Quality Automation:
The operations hub of HubSpot has a couple of unique automation features against other hubs. One is the programmable automation explained above and the other is data quality automation. With this automation, you can fix data priorities, capitalize names and do other data clean-up works to align your organization and can customize your customer experience better.
3. HubSpot Customer Service Automation:
The Service Hub of HubSpot offers automated customer service. The service automation of HubSpot helps with getting rid of the unwanted manual process such that you can pay attention to resolving issues faced by your customers. With this tool, you can get automation of help desk and automatic ticket routing. Also, feedback surveys that can be automated are an added advantage. Above all, with its hassle-free association with HubSpot's CRM platform, you can do more.
Deep Relationship With Your Customers:
When your business grows, customized and timely resolution of issues faced by customers begins to reduce. Also, when your business grows, the service interactions take place in a silo. The service hub of HubSpot has been built on the foundation of unified customer data. So, it offers automation that humanizes your team against digitalizing them. With this tool, your customer service agents will be empowered to craft customized and scalable experiences and can provide excellent visibility all across your internal teams.
Work Together Better with Unified Data:
When your teams start to develop, they practice disparate systems for servicing customers, selling, marketing and dealing with messy data. With the automation engine from HubSpot, you can get a single unified CRM platform that brings together data from varied functions. Even, you can integrate your most liked applications like Slack and Jira with HubSpot.
4. HubSpot Sales Hub:
Sales automation is the process of bringing down the unwanted time spent on lengthy manual sales tasks. When you implement sales automation, your sales team can save time with tasks like collecting data on leads, updating CRM records or engaging in unwanted paperwork. Rather, they can spend time on critical sales activities.
When it comes to effectively following up, tracking engagement and customizing outreach are essential tasks. But, the problem is that these tasks demand time and attention to execute well.
HubSpot Sales Hub is an all-in-one sales automation tool that has been created for optimizing the entire sales process. Right from behavioral trackings like opens, clicks and replies to the automated entry of data, scheduling, follow-up automation and email templates, Sales Hub has been designed to close more leads. Above all, closing leads can be done at a faster pace with this tool.
Popular HubSpot Automation Features:
All tools discussed above are part of HubSpot CRM and from all these tools, you can expect the following popular features:
Integration of workflows
Custom code actions
Conversation routing, surveys, ticketing and customer support automation
Sequences sales automation
Multi-channel marketing automation
Workflows automation engine
When you use two or more hubs of HubSpot together for automation, your data will be automatically connected to the platform. In turn, you can easily and powerfully track the entire journey of your customers right from their first visit to your website until they close a deal and become happy customers.
5. Use Zoho for Creating Contracts:
You might have heard that Zoho is helpful with billing and invoicing. But, Zoho can turn out to be an effective tool for every business for automating contracts. Irrespective of whether you get into an agreement with your employees, contractors or clients, Zoho can help you with a quick generation of contracts automatically.
You might argue that contracts are not the most attractive part of any business. However, it is important to have your contracts in order and Zoho is ideal for this purpose. With this tool, you have the option to create your own custom template or you can use one of the premade templates for common contracts. You can enter everything from details of services provided, payment plans, due dates and other service-related details. Even, this tool has a built-in document editor so that you can avoid frustrating typos.
6. Connect Everything with Zapier:
With Zapier, you can automate tasks between varied platforms. These zaps or workflows can be set in such a way that particular actions take place whenever an event happens on one of the associated websites.
With Zapier, you can link more than 3000 platforms like WordPress, Google Sheets, MailerLite and Monday.com. Irrespective of the applications you use, Zapier is sure to work. Zapier can handle even the most simple tasks like automatical saving of attachments from Google Drive to Gmail to more complex ones like permitting a MailerLite Subscriber list to be updated whenever a new row is added to a Google Sheet.
7. Streamline Business Process with Kissflow:
The goal of Kissflow is to make business process automation simple. This tool will help with consolidating your business processes and workflows under a single platform. This space is called Kissflow's Digital Workplace. Further, Kissflow also offers many other business process automation products. Kissflow designs each product with the motto of simplifying some key aspects of your business. They all work in tandem with each other.
Conclusion:
In short, in the present fast-growing business world, your business can stay ahead of the competition only when some processes are automated. When repeated processes are automated, you can save the precious time of many of your employees working in different departments. Rather than focusing on repetitive tasks, they can pay attention to tasks that matter to achieve business growth.

Niranjan Reddy leads Hermitcrabs, Inc, an B2B Tech Inbound Marketing agency and eCommerce Agency, Google Certified & HubSpot partner. Who specialize in helping some of the world's largest B2B enterprise tech, tech Start-ups, professional service, and pharmaceutical companies increase and nurture their sales and marketing pipelines. Hermitcrabs, core services include inbound marketing, sales enablement, account-based marketing, modern lead generation digital strategies and web development in HubSpot COS, Wordpress, Magento, and Shopify.